#1 in the Nation
Patients get a new lease on life at Saint Barnabas Medical Center in the top living donor kidney transplant program in the U.S.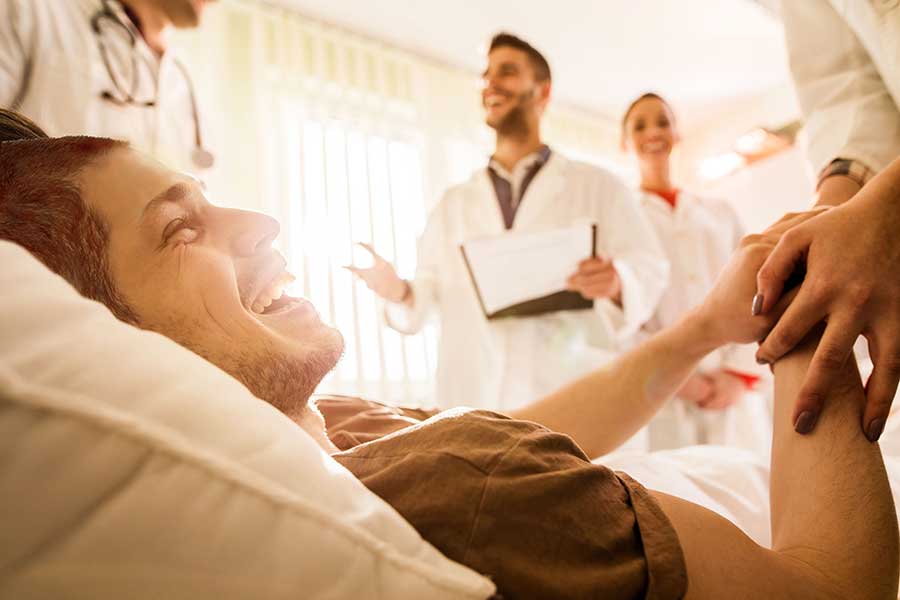 For patients on kidney dialysis or heading for it soon, kidney transplant can be a ticket to greater freedom and a better life. And often such organs come from the recently deceased. But a kidney from a living donor—from someone who volunteers to give one of his or her two healthy organs—is the best option for patients with chronic kidney disease.
"There are more than 100,000 kidney-disease patients across the country waiting for a transplant, and patients on the list for a deceased donor can wait seven years or more, with much of that time spent on dialysis," says Shamkant Mulgaonkar, M.D., chief of the Renal and Pancreas Transplant Division at Saint Barnabas Medical Center who leads the team that is creating new options for patients needing a kidney transplant. At the medical center alone, 1,700 people are on the waiting list for a kidney. But New Jersey's first and only Living Donor Institute is helping to reduce that number. And it has now been ranked the number-one living donor kidney transplant program in the U.S., part of the third-largest overall kidney transplant program.
"The driving force for us is having one of our patients sitting in the office in front of us and knowing that the person is struggling on dialysis or concerned about starting it soon," says the doctor. "So at Saint Barnabas Medical Center, our team of transplant specialists has created innovative options to connect living donors with these patients."
The institute was created by world-class experts in the Renal and Pancreas Transplant Division at Saint Barnabas Medical Center. These specialists bring life-changing and lifesaving transplants to more than 335 people each year. Half of these are through transplants from living donors.
"The wait for living donors is much shorter, and the kidneys donated can function well for twice as long as do those from deceased donors," Dr. Mulgaonkar says.
Living donors are typically people who are willing to donate to a family member or friend who is on dialysis or will soon begin it. Often, however, the donor and the patient do not match. They may have different blood types, for example. Or an adult kidney may be too large for a child to use.
However, these donors may match someone else on the transplant list. So the team at the medical center has created another option, the Kidney Paired Donation Program. In a database are patients who have a willing-but-incompatible donor who could be paired with other people in the same situation. Other types of living donors at Saint Barnabas Medical Center are "altruistic" donors, who give simply out of generosity. They do not necessarily know anyone who needs a kidney transplant.
The results of living-donor donations can be far-reaching. Living donor Tamara Lomax, for example, donated a kidney to a stranger. The team at the medical center found a match, so she donated her kidney to that patient. That patient's donor was paired to a second patient, and the matches continued. In all, four patients received kidneys because of Lomax's initial altruistic donation.
"Because of another altruistic donor here, we have a chain that so far has resulted in 13 patients getting kidney transplants," Dr. Mulgaonkar says. "And we have the potential to make more matches on this chain. It's an amazing program."
This kidney donation chain of 13 is the longest such chain in any hospital that was started by an altruistic donor, he says. "We have a very large, experienced team that makes these complicated kidney paired donations happen," he says.
With innovative matching programs like this, plus advances in transplant surgery, the Saint Barnabas Medical Center team now offers more patients the option of life-changing living donor transplant than any other center in the country. Almost every weekday, a child, teen or adult gets a new kidney at the medical center.
"It's an emotional highlight to see these patients get better," Dr. Mulgaonkar says. "Our team is driven to help more and more of these individuals, and so we'll continue to be innovative, participate in exciting research, and educate others about getting involved in our living donor program."
A gift for the groom
In the annals of unique wedding gifts, this has to be right up near the top: a kidney for the groom. And from a stranger, no less. This amazing "matchmaking" story of both love and generosity came about when Kathleen Pruss joined the Renal and Pancreas Transplant Division's Living Donor Program at Saint Barnabas Medical Center. "Living donors" are people who donate one of their two healthy kidneys to someone in need of a transplant.
Using their experience and a powerful database, the Saint Barnabas Medical Center transplant team found a recipient for Pruss' kidney. The match was dialysis patient Rodney Williams, 61, a retired insurance agent from East Orange. When he found out he had a kidney donor match, the news meant he would no longer be heading into another year of dialysis.
Last June, after his successful transplant surgery, Williams began a new life with his new bride, Laurie Croom. And Pruss lives with the knowledge that her unselfish gift means the couple can enjoy multiple trips to visit places near and far, instead of multiple trips every month for Williams' dialysis.
Over the last decade, the Kidney Paired Donation Program at Saint Barnabas has facilitated more than 180 kidney transplant chains. In November, at an event in the auditorium at Saint Barnabas Medical Center, Williams had the opportunity to meet and thank the donor who had provided his new kidney. On that day, donors and recipients from 20 recent paired kidney donations gathered for handshakes, hugs and laughter.
Said Williams: "What Saint Barnabas is doing is saving lives."
To learn more about kidney transplants or the Living Donor Institute at Saint Barnabas Medical Center, visit transplantkidney.org.