1 Room Leads 2 Lives
Billiards, anyone? Or a formal dinner? A convertible space in North Jersey can have it all.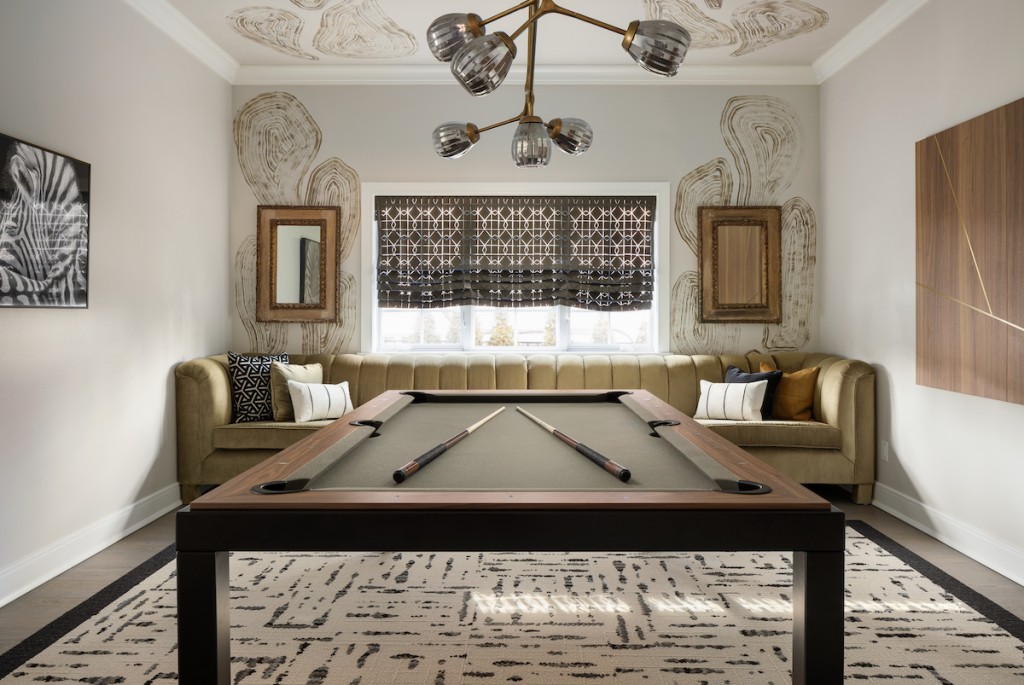 He was shooting for a billiards room; she wanted the practicality of a formal dining room. A new-construction home in North Jersey presented a dilemma for Steve and Rania, formerly of Astoria, Queens, and the parents of five children. Fortunately, a happy compromise was as near as the right designer.
Indeed, principal designer Jaclyn Isaac, owner of Shrewsbury-based Doni Douglas Designs, came up with a plan to use one room to grant both wishes. Today the homeowners marvel at the ease at which the billiard table can be converted when company's coming. On those special occasions, hydraulics adjust the height for dining and what resembles wall art turns into a tabletop by Andrew Coslow. Vital to the design plan are acrylic chairs slim enough to be stored until called into action.
"The pool table is amazing," says Steve, who is an enthusiastic fan of how Isaac equipped a formal dining room for everyday fun.
While the family vacationed in Greece for two months, Isaac got to work—she surprised them with how she took the contemporary design from paper to reality, finishing in 2019 right before the pandemic. For a flavor of Greece, murals evoke what Rania describes as a "wavy feel" extending across the ceiling, where a smoky-glass-and-brass chandelier by Arteriors adds an abstract touch. The murals help the high ceiling make its own aesthetic statement.
Just right for hosting many guests, a 14-foot-long gold velvet banquette creates a lounge effect. For a sense of drama, gilded-finish vintage mirrors flank windows accented with a laser-cut leather geometric pattern in olive green. Completing the picture are custom design carpet tiles in shades of olive, cream and black over red oak floors.
Visible from the kitchen, the living room also had to rise to the challenge of family living. To maximize seating, there's room for the entire family on the olive velvet curved sofa by Rowe Furniture, paired with two side chairs in white performance fabric from Mitchell Gold + Bob Williams and a dark bronze table by Michael Aram.
The room delivers a pop with a gallery of Thom Filicia black-and-white monoprints and a cut-pile wool, linear-contrast rug over large format porcelain tile in limestone. This creation from Abbot Collection/Loloi Rugs "is almost like an art piece on the floor," says Isaac.
With children ages 5 months to 7 years, the couple appreciates that the living room's freestanding marble fireplace is water-based. "It's so the kids can touch it and not burn themselves," says Steve. "Yet it looks 100 percent like fire."
Coming home from Greece to see how design elements came together under Isaac's direction was quite a treat. "We loved it all," says Rania. "She was great to work with, friendly—and knew what I wanted."
By Donna Rolando
Design by Jaclyn Isaac
Photography by Mike Van Tassell