5 Hot Sports
Move over football, basketball and baseball. High school athletes are scoring points in these fast-growing alternatives.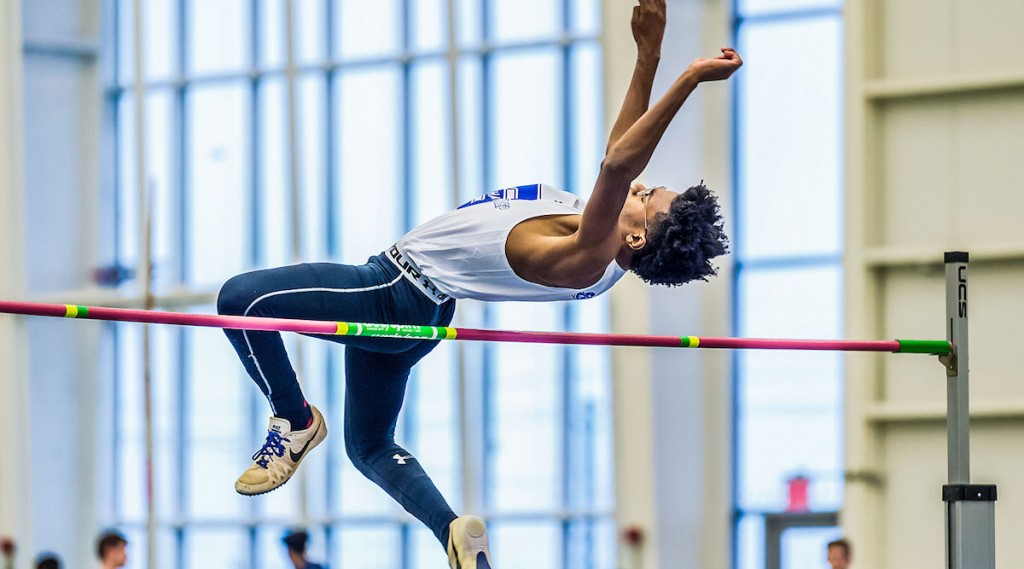 WHEN YOU THINK OF HIGH SCHOOL SPORTS, you may imagine the heroic game-winning touchdown, free throw or home run. The "big three" games, of course, imitate massive national industries that light up the tube and grind out millionaire stars.
Now picture again. There's a different world of competitive high school athletics flourishing in Morris and Essex counties, ones that go beyond Hoosiers and Friday Night Lights. Says Chatham High School athletic director Bill Labrera: "There seems to be a growing interest in sports that are not in the original pantheon of high school programs."
The reasons are several, some of them paradoxical. The growing concern over traumatic brain injuries has blunted the appeal of football for many, while pop-culture sensations such as Game of Thrones have fueled the popularity of other contact sports. Many of today's high schoolers eschew the bold individualism of wrestling but also the rigid team dynamics of baseball and basketball. And some varsity athletes have abandoned games known for hardcore competition in favor of more "accessible" sports that don't require years of experience—yet play these very seriously. After talking with area coaches and athletics directors, we picked five:
FENCING
This nontraditional sport, which some have likened to "physical chess," draws a decidedly nontraditional athlete. "Kids gravitate to fencing that I don't think would really play any other sports," says Newark Academy athletics director Ted Gilbreath. "With other sports, you can look at a kid and say, 'That's an athlete.' But fencers can be all these different body types, and as long as they're putting in a lot of practice and honing their technique, they can get really good." Adds Millburn High School coach Robert Baum: "You don't have to be tall or powerful—just fast and smart."
For Chatham coach Jerry Duffey, the growing allure of fencing is simple. "What it all comes down to is people who want permission to hit somebody else with a sword," he says. "A lot of people come be-cause they watched a movie or TV show, also drive participation. "Speed and fluidity. We play with skates when most sports are played wearing sneakers." Millburn athletic director Frank Bifulco believes part of the appeal is that ice hockey "is a contact support, but in my eyes it's a safe contact sport. There's a respect for the game. The kids take it seriously and learn how to play it in the correct manner."
Coaches and athletics directors also point to the proliferation of youth clubs fueling participation at the high school level, notably among girls. "In just the last five years, there have been five new girls' high school programs," says Kevin Hannon, coach of the Chatham/Madison High School girls' ice hockey team, now entering its third season. Hannon and Driver agree that the success of women's professional and Olympic ice hockey has also contributed to the school sport's popularity, and Morristown-Beard athletics Montclair YMCA. "I have a very diverse demographic," says Jenkins. "That may have something to do with it."
Indeed, today swimming draws from a multi-national pool of participants. "I've got Central American kids, South American kids and Eastern European kids," says Bloomfield coach Lenore Imhof. "I've got Bengali girls who have to wear a certain type of clothing when they enter the pool; in certain cultures, to put on a bathing suit and go into the water is not something you see every day."
Experience levels are diverse too. "At Mendham many swimmers join the team each year who are taking the sport for the first time," says coach Allissa Cembrook. In fact, Jenkins reports that some of Bloomfield's team members need swimming lessons upon joining. "I don't really care if they ever swim fast," he says. "But at least when they leave the program, while others recognize that it's a top-five sport for getting you into college." That's because there are "roughly 70 to 80" college fencing programs around the country, he says, and "the high school programs are not big enough to fill them. So colleges are constantly recruiting kids with zero experience."
Better still for local college-bound fencers, "colleges will take a kid from New Jersey with experience from New Jersey but no rating before they'll take a ranked fencer from another state," says Duffey, "because they know high-school fencing in New Jersey is even harder than college fencing." And if you're a female high-school fencer from Jersey? "You can nearly write your own ticket."
Mendham High School athletics director Ned Panfile admits this sport was a revelation to him. "It's so different," he says. "I love going to their meets. It never occurred to me, as a football guy, that you can have fun while fencing. And they have a blast."
ICE HOCKEY
"Participation in this sport has more than doubled in the last nine years," reports Bruce Driver, Morristown-Beard School girls ice hockey coach and former New Jersey Devils captain, who says the same characteristics that drive spectatorship director Joanne Dzama adds that having girls-only games makes it a more comfortable option than it used to be.
"I'm about to be 45," says Dzama. "I played ice hockey when I was little, but I played with the boys. When I was entering ninth grade, my older brother warned my parents that I wasn't going to have an enjoyable experience if I continued to play with them. Unfortunately, when girls are forced to play on a boys' team, they may not excel as they should. So I transitioned to field hockey. Girls today want to play against girls. They want to have that locker-room experience and that opportunity to shine. As a female athletic director, I think that's a wonderful thing to see."
SWIMMING
When Bloomfield High School athletics director Steven Jenkins conducted a survey to learn what sport students would most like to see added to the school's athletic program, he fully expected the answer to be lacrosse. "It got like three votes," says Jenkins. "Swimming was overwhelmingly what they asked for. For a lot of our kids, it's a novelty because they don't have an opportunity to swim. The Township of Bloomfield doesn't have a pool." Neither does the high school, which fields its swimming program via the they're going to know how to swim." Many students are drawn to swimming because it's individual, says Jefferson Township High School coach Rachel Koenig. "Other sports depend on how the team plays as a whole. But each person swims individually, and they can set per-sonal goals for themselves each day. At the end, the team is scored as a team, but other than in relays you do not have to rely on the performance of someone else."
TRACK AND FIELD
If there's one sport high school kids are running and jumping to these days, it's track and field. Many point to the sport's inherent variety as the key. "There is truly something for everyone," says Millburn coach Amanda Dilworth. As Nutley High School athletics director Joe Piro explains, "If you're fast you can be a runner. If you're not fast, you can be a thrower. If you don't throw far, you can be a jumper." Chatham coach Patrick Barry adds, "An athlete may be good at only one aspect but still be able to shine."
It's the sweet spot between individual and group achievement that lies at the heart of the sport's draw, says Newark Academy coach Tim McCall. "Track's many components allow kids to create their own niche and pursue one event while still being part of a larger school team," he says. Agrees Bloomfield coach Terry Iavarone: "It's not limited to five start-ers as in basketball, nine like baseball or 11 like soccer. There can be dozens for the biggest high school track programs, all practicing and competing simultaneously."
Seton Hall Preparatory School athletic director Larry Baggitt feels the sport isn't as intimidating to newcomers as others. "With track, kids don't need to have participated their whole lives, as with soccer and football, to be good," says Baggitt. "You can actually just show up in high school, and if you have a particular talent, you can do quite well."
Jefferson coach Brian Silipena observes a welcome trend within the sport. "Stu-dent athletes are not just looking at track and field as a way to stay in shape for their primary sport anymore," he says. "In the past 10 years, the record books have been rewritten in a lot of events. This tells me that athletes are really taking track and field seriously in its own right."
VOLLEYBALL
This game is beachtime silliness or a rainy-day gym class—until you play it competitively. "It's not as easy as it looks," warns Chatham coach Anna Amster. Still, Mendham athletic director Panfile says interscholastic volleyball is "definitely on the upswing."
Helping the sport's growing appeal is that players don't need to fit a certain height requirement or have pre-high school experience. "I stand 5-foot-8 on a good day, and I managed to find myself on an athletic scholarship team," says Jefferson coach Marc Gaydos. Adds Nutley girls' volleyball coach Jenna Rubino: "You don't need years of experience to become a great player; you just have to be committed to practicing and getting better."
While interest among girls is increasing, it's practically exploding among boys. By popular demand, Chatham fielded its first boys' team this past year, and at Jefferson it's the school's newest sport. "The attention span of most boys is shrinking from previous generations with the utilization of technology and video games," observes Gaydos. "They don't want to sit on the bench and chew on flower seeds for half of the game or throw a javelin for three seconds and then watch for the rest of the meet. Volleyball, unlike many sports, really has no dead time. We've seen an influx of athletes from baseball, lacrosse and soccer who want a fast-paced game with lots of action."
With the action comes the f-word that, regrettably, seems to be all too absent in high school sports these days. "Having been a soccer player, a swimmer and a tennis player for many years, I know that practices are not always fun," says Stevens. "But for the most part, volleyball practices are."
Still, competitive volleyball is not just a day at the beach. Bloomfield coach Louis Stevens tells players that once they learn how to play volleyball the right way, "they'll hate 'gym class' volleyball."
KEEP AN EYE ON 5 MORE
​PADDLE TENNIS: Last year Chatham High School made high school sports history by fielding the first varsity paddle tennis program in the nation. Forty-three students joined the inaugural team, which competed against other club teams in the region. Last spring the school sent 16 of its players to the American Paddle Tennis Association Junior Nationals. Not to be mistaken for table tennis, paddle tennis more closely resembles traditional tennis, but with a smaller court, a lower net and solid paddles.
CREW: At Seton Hall Preparatory School, the crew team draws from a diverse range of students. "Many athletes come from a nautical background, but others are just intrigued to try something new," says Richard Baird, the school's head crew coach. "The equipment is expensive and delicate, so it must be treated with respect. Often, the care and discipline required in the sport carry over into everyday life, which correlates to a great deal of success among rowing athletes." Contrary to popular belief, Baird says rowing is primarily a lower-body sport. "Because the rowing seat moves on a track, you are actually generating most of the boat's speed with the legs and trunk of the body." Other crew teams in Morris and Essex include Belleville, Montclair and Nutley high schools.
Nutley athletic director Joe Piro reports seeing an uptick in girls' participation. "There's a lot of scholarship money out there for girls' crew now," he says.
SKI RACING: Only 15 private and public high schools in New Jersey have ski racing programs, according to Jefferson High School head ski coach Sue Tordoff. "As a coach for many sports, I feel high school ski racing is a diamond in the rough," she says. "Experience and ability levels don't really matter. We have had state champions who'd never even seen snow before, from the Dominican Republic; they all embrace and encourage each other." Jefferson's team practices and competes at Mountain Creek Resort in Vernon. (Other teams in Morris and Essex include Delbarton School, Morristown-Beard School and Mountain Lakes High School.)
SAILING: Offered in both fall and spring at Chatham for the past four years, sailing has swiftly carved out a niche among enthusiastic students and parents. "What's great about sailing is that it's a coed sport, so it's a great opportunity for students to work with each other," says Chatham athletics director Bill Librera. But the program's success is not without its challenges. "Now we're at the crossroads of, OK, how do we grow this financially with a public-school budget that is pretty capped? You have some of the parents funding it [now], but that will not go on forever. We'd like to think of athletics as an extension of the class-room and plan for the long-term accordingly." Summit High School in Union County also offers sailing; both schools participate in regattas held in Perth Amboy.
RIFLERY: Seton Hall Prep's rifle team isn't new; it debuted in 1886, 30 years after the school's opening, with five members. Today, the team boasts 15 students and, according to longtime head coach Roger Gonzalez, more than 30 boys try out for it each year. "We shoot at distances of 33, 55 and 100 feet in three positions—standing, kneeling and prone," says Gonzalez, who insists that "safety is our No. 1 priority." The sport's season is long, running from September to March. Despite the seemingly controversial nature of the sport, Gonzalez reports that he and the team "have the full support of the school and the parents." Their efforts have reaped tangible rewards: Some team members have earned scholarships, others have pursued careers in the military (having been accepted to West Point), and a few harbor aspirations of representing the U.S. in the Olympics. Gonzalez sums up: "What do they learn? Patience, discipline and responsibility."