52 Tips to Rejuvenate Body, Mind, and Spirit
Make 2013 Your Healthiest Year Yet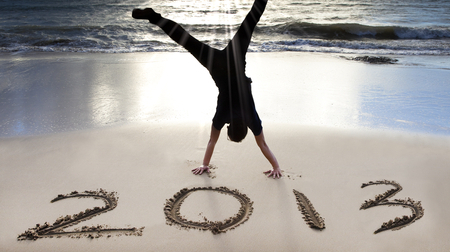 1 Join the circus. A growing number of gyms are offering circus-inspired fitness classes, such as the flying trapeze, which works your abs, forearms and upper back. Look for a program in your area to add a dose of fun to your workout.
2 Hit the sack sooner. Having trouble nodding off? Try this simple 10-minute technique: Focus on a serene place, like a beach or a lake surrounded by tall trees, and breathe deeply. In a recent study presented at an American College of Chest Physicians meeting, 65 percent of participants fell asleep more quickly—and improved their stress levels.
3 Get your groove back. If you notice you're rarely "in the mood," pick up a copy of 50 Shades of Grey. A recent study found that women who read erotica feel desire return more quickly.
4 Sing out loud. Joining a choir can help alleviate depression, reduce pain and raise your spirits. A bonus? Learning lyrics and rhythms helps stimulate your brain.
5 Bask in a tech-free zone. Turn off your cell phone and stop checking email whenever you need to de-stress. Being tethered to technology is exhausting and can raise your stress level, since it causes your body to release bursts of adrenaline.
6 Be adventurous. Sign up for an obstacle-course race in your area, such as the Tough Mudder, Spartan Sprint or Warrior Dash. You'll have the experience of a lifetime climbing over walls, jumping over fire and navigating water pits—and you'll become fitter in the process.
7 Bake creatively. Sneak apples, bananas, blueberries or pears into your favorite muffin recipe for a health boost. Most kids won't mind—or even notice—the change.
8 Set yourself up for success. Want to reach a goal this year? "Make sure it's specific," advises David Goldberg, Ph.D., a psychologist in the bariatric surgery program at Monmouth Medical Center and clinical director of Little Silver Behavioral Health. "Tell yourself, 'I will go to the gym three times a week,' not 'I will lose weight.'" And make sure your goal is realistic.
9 Try a simple pick-me-up. Reduce stress and boost happiness by taking a whiff of a citrus fragrance. Researchers found that this may increase levels of norepinephrine, a hormone that affects mood. Try "Clear Away Essential Spray," a citrus-scented essential oils spray by Opus Gaia, available at Whole Foods.
10 Bond through yoga. Reconnect with your partner by taking a yoga class together. "When you breathe together, you will tune into each other's emotions and set the stage for a better connection," says Nan Wise, a sex therapist in West Orange.
11 Eat healthy to be happy. People who chow down on fruits and veggies have the highest levels of happiness and mental health, according to a new study published in the journal Social Indicators Research. Although the government recommends eating five servings a day to protect against heart disease and cancer, the study found that those who ate seven servings daily had the strongest feelings of well-being.
12 "Hoop" it up! Good old-fashioned hula-hooping is not only fun; it can help slim your waist, hips, buttocks and thighs and tone your abs and lower back muscles. Take a class or do it at home.
13 Toss in some tomatoes. You can help stave off stroke by adding tomatoes to your daily diet—whether they're in your salad or a pasta sauce—according to a study published recently in Neurology.
14 Invest in yourself. Have you been putting off voice lessons or a pottery class? Sign up now. Research shows that people who partake in hobbies and other social activities may reduce their risk of developing dementia. To boot, they may even live longer.
15 Test your tongue. Eating hot, spicy foods triggers the release of endorphins, chemicals that trigger feelings of euphoria and well-being.
16 Take a hike. Got a free moment? Go for a walk at the local park. Walking can do wonders for your mind: In a recent study published in Neurology, people who walked several times a week experienced less brain shrinkage and other signs of brain aging than those who were less physically active.
17 Take 5. (or 10! ) Set aside five or 10 minutes for yourself every day. Wake up before everyone else in your family and enjoy some quiet time alone. Consider reading or spend a few more minutes in the shower. It'll help boost your concentration, your ability to solve problems and your productivity at work. It can even lead to a better understanding of yourself, which can improve the quality of your relationships.
18 Have a laugh. Research shows that laughter can boost your immune system, ease pain and reduce stress, so find the funny in everyday moments. To get the giggles, look for a laughing yoga class in your area, rent a funny movie or go to a joke Web site.
19 tap your inner Rembrandt. Science shows that enjoying the arts can help reduce anxiety and boost happiness. And you don't even need a set of brushes (or talents) to benefit: In a recent study, simply viewing landscape paintings reduced anxiety among patients in a psychiatric institution.
20 Pump up your pasta dish. Next time you whip up pasta, slip some peppers, spinach, red beans, onions or cherry tomatoes into your sauce. Your family will love the bulkier texture and taste—and your body will thank you.
21 Dive in! Take to the water for a workout that's easy on your joints. You won't be sacrificing calorie burn: In a recent study, researchers found that pool exercise was just as intense as exercise on stationary bikes.
22 Cherry-pick. Cherries aren't just the perfect topping for an ice cream sundae, they also have surprising health benefits. In a recent study published in Arthritis & Rheumatism, eating the tart fruit helped lower the risk of a gout attack by 35 to 75 percent. The effect may be due to the large amount of vitamin C found in cherries.
23 Team up to slim down! If you need to drop stubborn pounds, join a group like Weight Watchers. People who use such a program to slim down lose more weight than those who try to go it alone, according to recent research described in the journal Obesity. A bonus? You'll bond with other dieters.
24 Spice up your meals. Tired of your healthy standbys? Vary the menu with new-to-you dishes from other cultures. For example, try serving heart-healthy Mediterranean fare, such as tuna steaks bathed in tomatoes, capers, garlic and olives.
25 Jump rope. Feel like a kid again—and burn some serious calories! Just 15 minutes of jump-roping will torch up to 200 calories—about the same as running for 20 minutes. This inexpensive workout is good for your heart and improves strength and coordination.
26 Glitz up your water glass. You know you need to drink more water, but it can be so, well, boring. Add flavor by making ice cubes from 100 percent juice—or drop slices of fruit into your next glass. Another fun idea: Add a scoop of low-fat sorbet to seltzer water.
27 Schedule a rendezvous. For a better sex life, "ditch the myth of spontaneity," advises Margie Nichols, Ph.D., executive director of the Institute for Personal Growth in Freehold. Put time for intimacy on your calendar, just as you would a lunch date.
28 Have a better barbecue. Liven up your fruit and veggie dishes by grilling them. Consider putting mushrooms, carrots, peppers or potatoes on a kabob skewer, then brush with oil. A surprising bonus: Many of the cancer-causing chemicals that are created when meat is grilled are not formed when veggies are cooked that way, according to the American Cancer Society.
29 Get your game on. Sign up for an adult sports league! Playing your favorite sport—whether it's softball, soccer or basketball—is a great way to rev up your heart rate and burn calories. Plus, it may help lengthen your life: In a new National Cancer Institute study, people who got the recommended level of physical activity (2.5 hours of moderate intensity activity per week) lived three years longer than those who didn't; those who were active for twice the recommended level lived four years longer.
30 Sweat and be social. Next time it's your turn to host a gathering, consider booking it at a gym near you. More and more people are holding corporate events and parties at yoga studios and gyms, mixing conviviality with conditioning.
31 Practice portion control. Serve meals on smaller plates (about 10 inches in diameter), and you'll help your family drop pounds. Also, keep in mind that portion sizes can be much smaller than you might think. One cup of cereal is the size of a fist or a baseball, and three ounces of chicken or meat is about the size of a deck of cards.
32 Try the latest twist on yoga. With AntiGravity Yoga, participants perform moves while being suspended from the ceiling in silk hammocks. The workout, which is also referred to as suspension or aerial yoga, helps build muscle and burn calories. To find a location near you, go to antigravityyoga.com.
33 Think warm thoughts. Have you noticed that when you're feeling anxious, you develop cold hands? It's because your nervous system directs blood flow to the largest muscles. Warm hands to turn off your body's stress response.
34 Be chocolate-smart. The higher a country's chocolate consumption, the more Nobel prize winners it has, says a recent study published in the New England Journal of Medicine. Dark chocolate seems to have the strongest effect on brainpower, so go ahead and indulge in the sweet stuff (in moderation, of course).
35 Stay on top of your health. Track your diet and weight-loss goals with SuperTracker (choosemyplate.gov/supertracker-tools/ supertracker.html), an online tool from the U.S. Department of Agriculture. You can also look up nutrition info on more than 8,000 foods.
36 Help out. In a recent study, senior citizens who volunteered in their neighborhood elementary school for 15 hours per week improved their cognitive, social and physical activity levels and felt healthier and happier.
37 Let go of your anger. Whether you're stuck in traffic or someone just stole the parking spot you were waiting for, the best response might just be to roar like a lion. By the time you're done, you'll have fought off the urge to flip the bird—and you'll have defused your stress.
38 Get creative with your salads. Add more color and flavor—and health-boosting antioxidants—to your usual salad by tossing in strawberries, oranges, sweet peas or watercress.
39 Book an active vacation. Instead of planning a poolside snooze, consider a bike tour of the wine country or a sports camp. Just be sure to work out before your trip so you're not sidelined by sore muscles.
40 Revive the romance. Make it a priority to have six hours to yourself once a week, and you'll start to feel like yourself again, says Lalita Salins, M.S., a sex therapist in Montclair. Spending time alone gives you a chance to miss your partner, and you'll have better sexual chemistry when you reunite.
41 Change things up. A change of pace can give you a mood boost. Every so often, hang new pictures in your living room, rearrange the furniture, try a new restaurant or take a different route to work.
42 Find new ways of staying connected. Who has time for long phone calls? To stay connected to your BFFs, Tweet, send quick emails, carpool to meetings or the grocery store or make a manicure or massage date.
43 Get away fr om it all. Here are two good reasons not to put off your vacation plans: Traveling helps increase your ability to cope with stress, and it may even reduce your risk of a heart attack. In a University of Pittsburgh study, those who took regular vacations cut their risk of dying from heart disease by one-third.
44 Jump for better balance. Think trampolines are just for kids? Not so; they can actually improve balance and cardiovascular health for grownups too. And since trampoline jumping is a low-impact activity, it's less likely to cause injuries than other forms of exercise. Buy a mini trampoline or check out Bounce Trampoline Sports in Valley Cottage, N.Y.
45 Tap into your sense of smell. Need a lif t of spirits? Light a scented candle that reminds you of the holidays, bake your grandma's favorite cookies or buy your favorite flowers. The olfactory bulb is part of the brain's limbic system, an area closely associated with memory and feeling, so smells can easily influence your mood.
46 Go for a mango. If you're feeling stressed, indulge in some mango, which may change your blood chemistry and have a calming effect on your body, according to Japanese research.
47 Halt hot flashes with hypnosis. Want to cool down—stat? Try hypnosis, which was recently shown to reduce hot flashes by as much as 74 percent, according to a study published in Menopause.
48 Row, row, row a boat. You don't have to be an Ivy League student to benefit from crew. Rowing helps strengthen your upper and lower body—and burns a ton of calories. To find a rowing club near you, go to usrowing.org or northjersey rowing.com.
49 Fake it. You may not feel happy, but if you force yourself to smile, your mood may actually improve.
50 Dance away the blues. Try a Zumba class, which can help tone your abs, thighs and arms while you groove to Latin, Creole and African dance music. Or try belly dancing, another fun way to firm up and burn calories.
51 Play bingo! Don't think you're old enough to join in? Never fear—whatever your age, the game comes with plenty of health payoffs, such as enhanced coordination and lower levels of stress and depression. It may even help delay the onset of Alzheimer's disease.
52 Re-experience an old favorite. Rereading favorite books, watching the same movie more than once and traveling to the same places can actually be therapeutic. Researchers at American University found that experiencing something a second, third or fourth time can help you gain new perspective.
Related Read: Small Steps to a New You