52 Ways to Be Happy and Healthy in 2021
Every week in the coming year offers a new opportunity to change your life.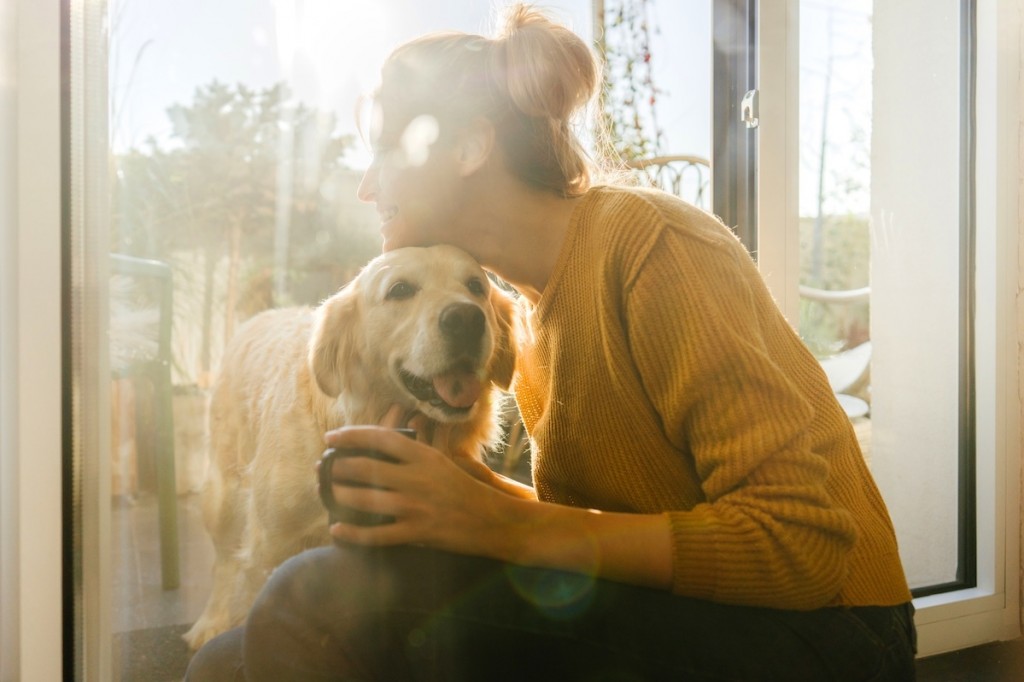 All in all, it's been a challenging year, and few of us are rooting for a repeat of 2020. But whatever life throws at you, there are still plenty of strategies, large and small, to help you find peace, love, happiness and good health.
1. Stop and smell the lavender.
A slew of studies have found that indulging in lavender—taking a lavender bath, slathering it on in the form of skin cream or just diffusing it into the air—can significantly reduce stress. "Lavender can relax the parasympathetic nervous system, resulting in a calming effect throughout the body and mind," says Nicole Wegweiser, psychotherapist at Mindful Therapy of Monmouth County in Matawan. One study even discovered that it can make antidepressant medications more effective.
2. Make a resolution you're likely to keep.
More often than not, New Year's resolutions are about the tough stuff, like losing weight and running a marathon. Nothing wrong there, but why not resolve to do something easy, like indulging in a weekly bubble bath or allowing yourself a 15-minute goof-off break every day?
3. Indulge in forest-bathing.
The eco-therapy the Japanese call shinrin-yoku alleviates stress by reconnecting us with nature. Instead of hiking through the woods, forest-bathers walk slowly, stopping often to take in the sights, smells and sounds of nature. Practice shinrin-yoku in Hartshorne Woods Park in Middletown, Turkey Swamp Park in Freehold or a wooded tract in your own neighborhood.
4. Do your D diligence.
This workhorse of a vitamin helps the body absorb calcium, which is essential for healthy bones and muscles, and studies indicate it may protect against breast and other cancers, multiple sclerosis, psoriasis and dementia. New research shows it might also lessen the severity of COVID-19 symptoms. A simple blood test can reveal whether you're deficient (up to 75 percent of us are), but a daily supplement of 1,000–4,000 international units of D3 should correct most deficiencies.
5. Press away pain.
A recent study from the University of Michigan revealed that self-administered acupressure can alleviate chronic lower back pain. You can learn the technique at websites like howtocure.com/acupressure-for-back-pain/.
6. Walk smart.
Walking can exercise more than your body; research reveals that it can also help your brain digest and retain new information. To get the most out of your stroll, plug in to a tutorial on something you've been longing to learn, from beginner's Italian to presidential history.
7. Plan a trip.
This may not be the year you take that dream vacation to Portugal or Pago Pago, but there's nothing to stop you from planning it. In fact, according to a study published in the journal Applied Research in Quality of Life, most of us get at least as much pleasure, if not more, from our vacation plans as we do from the vacation itself. Start a dream trips journal or use a travel-planning app such as Triposo.
8. Walk like a Scandinavian.
Nordic walking, which enhances your walking workout with the use of ski-type poles, combines cardiovascular and full-body fitness. By adding the poles, you activate not only lower-body muscles but upper-body muscles as well, resulting in more calories burned and a higher heart rate.
9. Embrace friluftsliv.
You don't have to know how to pronounce it to reap the benefits of friluftsliv, the Norwegian art of open-air living and this year's complement to the Danish concept of coziness known as hygge. To cope with their long winters, Norwegians bundle up and head outside, to do everything from working out to enjoying cocktails around the firepit. That hit of fresh air may be just what your mind and body need after a night of binge-watching Netflix from the recliner. (OK, it's "frill-ifts-liv.")
10. Join a CSA.
There's nothing more farm-to-table than CSA (community-supported agriculture), a program that gets you the weekly harvest in a box. You never know what you're going to receive—it could be snap peas and spinach one week and corn and cucumbers the next—but that's part of the fun. Local farms such as Capelli Farms in Lincroft and Matawan CSA run their CSAs from spring to fall, but go to localharvest. org to find more year-round options.
11. Reconsider carob.
Long touted as a healthier alternative to chocolate, carob is making a big comeback as a source of hydroxyproline, an amino acid that helps the body produce collagen. "Carob powder is naturally high in fiber and lower in fat than cocoa powder, making it a nutrient-dense food," says Beth Warren, a registered dietitian in Eatontown. "A fun way to incorporate carob powder into your diet is to sprinkle it on oatmeal or add it to a smoothie."
12. Become a climatarian.
Climatarians eat with the planet—and climate change—in mind, choosing the most sustainable foods. That means doing your best to eat locally sourced produce, ditch beef and lamb in favor of chicken and (sustainable) fish, and buy veggies in season. The diet isn't just good for the earth, it's healthier for you as well. For more, see climatarian.com.
13. Grow veggies year-round.
With a soupçon of imagination (and a little bit of water), you can have your own fresh-picked greens and super-ripe tomatoes long after the backyard garden has gone to seed. Hydroponic kits—such as the Moistenland Hydroponics Growing System, available on amazon.com—allow you to grow vegetables in water instead of soil and can deliver more than twice the harvest you'd get in a traditional garden.
14. Take in a podcast.
The best podcasts offer a mini-escape into people, places and things most of us never stop to consider during the hurly-burly of everyday life. If you're casting about for something to fire up your imagination, consider Everything Is Alive ("interviews" with everyday objects), Ologies (deep dives into the study of all things from circadian rhythms—chronobiology) to crow funerals (corvid thanatology), or Spectacular Failures (which will make you feel much better about your own).
15. Get (tele)healthy.
COVID-19 lockdowns had at least one positive consequence: They spurred the rise of telehealth, or virtual doctor's visits, which are now covered by many insurance plans. If you're reluctant to visit your doctor in person, or if the office is located at an inconvenient distance, ask if a televisit could work for you.
16. Find joy in a paint can (or a throw pillow).
The color geniuses at Pantone recommend raising your spirits with Illuminating, a hue they describe as "an optimistic yellow." Or you can tweak your mood with Marigold, for its "sunny, warming presence." Need to soothe your soul? Try Cerulean, the soft blue of a perfect early-summer sky. To find out more about the science of color, go to pantone.com.
17. Give your earbuds a rest.
When you're working, that is. A study from England's Lancaster University showed that listening to music at work can actually impair creative thinking. But keep the buds handy—listening to your favorite tunes is a great way to banish stress after a hard day at the office or your home office.
18. Surep-charge your yoga.
It sounds like an oxymoron, but so-called cardio yoga ramps up the traditional poses of yoga to offer a workout that helps stretch your body while strengthening your heart. For workouts to try, go to healthline.com/nutrition/cardio-yoga#2.
19. Add vitamin C to your workout.
Trying to stay pumped? A study from England's University of East Anglia showed that diets high in vitamin C helped people retain muscle mass as they aged. For lifelong strength, consider increasing your intake of C-rich foods such as yellow bell peppers (C increases as the peppers ripen) and cruciferous vegetables (including kale, broccoli and Brussels sprouts).
20. Rise to challenges after your coffee break.
Researchers at the University of Arkansas found that 200 milligrams of caffeine—the amount in a strong cup of coffee—boosted problem-solving ability.
21. Be good to your gums.
Research at the University of Toronto discovered that gum disease—which afflicts more than half of all Americans over 30—can fire up immune cells known as neutrophils, which can then go on to cause inflammation throughout the body, leading to heart disease and cancer. Maher Hanna, DDS, of Eatontown Dental Care, notes that "gum disease may also increase the risk of other health complications, including stroke and diabetes." To prevent it, he says, "floss, have regular dental checkups and cleanings, brush twice a day with fluoride toothpaste and rinse with a therapeutic mouthwash.
22. Get your vitamin Zzzz.
Lack of sleep can increase feelings of anger and negativity, according to two studies out of Iowa State University and Italy's University of L'Aquila. But some gentle stretching before bed can improve sleep—brightening your day, and your outlook.
23. Know your fiber max.
A new study from the University of Otegin in New Zealand reviewed 40 years' research on fiber and determined that the optimal amount per day for most of us is between 25 and 29 grams. You'll find that in 2½ ounces of chia seeds, 1⁄4 cup of popcorn or 2 cups of cooked black beans.
24. Get intense about working out.
Studies show that 15 to 20 minutes of high-intensity interval training, or HIIT, can deliver the benefits of a much longer workout and, in fact, may be even better for you in terms of heart health, weight loss and mental well-being. The concept is simple: Alternate short intervals (anywhere from 30 seconds to several minutes) of intense cardiovascular exercise (running, walking, swimming, elliptical training etc.) with intervals of the same activity and duration at a more moderate speed.
25. Find beauty.
Researchers at Italy's University of Turin found that taking time to appreciate beauty had the power to rekindle feelings of joy and curiosity, not just in the moment but over a longer period. Take time throughout the day to experience the beauty that's hiding in plain sight all around you, whether in a painting, in everyday objects or in nature.
26. Drop the lid.
When you flush the toilet, you release a plume of particles—potentially containing bacteria and viruses—3 feet into the air, and a recent study published in the journal Physics of Fluids showed that flushing can spread COVID-19. An easy fix: Before you flush, just close the lid.
27. Moisturize with the "big three."
A study from the University of California at San Francisco showed that a moisturizer containing cholesterol, fatty acids and ceramides reduced inflammation within the body, which is associated with disease and premature aging. The moisturizer also improved skin hydration and pH levels and helped to repair the so-called permeability barrier that keeps infection from penetrating the skin.
28. Get smart about tea.
Researchers at the National University of Singapore recently discovered that tea drinking—specifically, at least four cups weekly of green, oolong or black tea—can enhance brain health over a lifetime. "In addition to caffeine, all three of these teas also have amino acids and other compounds," says Kate Walters, owner of Sweet Tease Tea Room in Belmar, "which studies show work with caffeine to improve brain function without the jitters caused by more heavily caffeinated beverages."
29. Perfect your posture.
Take years off your silhouette—and reduce pain and your risk of injury—by standing and sitting right. Posture- correction apps like Posture Trainer and Lumo Back make it easier than ever to slip out of the slouch.
30. Conquer clutter.
Research has shown that living and working in a cluttered environment can depress your mood and hamper your efficiency. Try starting small, decluttering a single room or piece of furniture (such as your desk or kitchen counter).
31. Get up, stand up.
You've probably heard that long stretches of sitting can negatively affect your cardiovascular health, but did you know that sitting can also harm your urinary health? In fact, those of us who sit too much are more likely to suffer from such bladder woes as having to go too frequently (and in the middle of the night) and an inability to fully empty the bladder—more reason to take a break from your chair every 20 to 30 minutes or spend part of your workday standing up.
32. Shake a little less.
Research indicates it's OK to add some salt to food, but a study from the Bloomberg School of Public Health found that excess salt could contribute to bloating, a condition experienced by one in 10 Americans on a regular basis.
33. Restock your medicine cabinet.
To deal with life's little slings and arrows, there are certain items you should always have on hand. They include antacids, antidiarrheals, antihistamines (oral and topical), laxatives, cold and cough medications, pain relievers, antibiotic ointments, a saline eye wash, Band-Aids, gauze pads, medical tape and a fever thermometer.
34. Learn how to stop a bleed.
Bleeding is the No. 1 cause of death after injury, so controlling a bleed is an essential skill we should all master. To learn how, go to stopthebleed.org.
35. Change your shoes.
Wearing the same pair or the same type of shoe all the time can lead to foot pain, so mix it up: flat shoes one day, low heels or sneakers the next. David LaPorta, DPM, a podiatry specialist at American Foot Ankle Center in West Long Branch and Monmouth Medical Center, says the most important thing is to "match the correct support shoe with your foot type, such as flat feet or high arch. A podiatrist can advise you of your foot type if you're unsure, because inappropriate footwear can lead to joint or tendon complaints, fatigue, arch pain and even knee, back and hip pain."
36. Take 10 to relax.
New research on the parasympathetic nervous system—your body's built-in stress-reducer, also called PSN—revealed that even brief, 10-minute relaxation breaks can relieve physical and psychological stress. To destress your day, stop for an occasional relaxation interlude: resting with your head down on a table, giving yourself a scalp massage (or getting one from your partner), or listening to soft music or the sounds of nature.
37. Apply sunscreen—to your hair.
UV light can damage your hair's protective keratin layer (and fade your hair color). To maintain healthy hair, choose a shampoo and/or conditioner formulated to protect against both UVA and UVB rays, such as Gemstone Color Shampoo, or a product applied before going out into the sun, like Banana Boat's Scalp Spray.
38. Keep in touch.
These days, it's easy to lose track of friends, but according to a recent University of British Columbia study, social isolation—especially in women—can spark an unhealthy rise in blood pressure. To stay healthy— and happy—consider making weekly phone, FaceTime or Zoom dates with friends and family you can't see in person.
39. For better sleep, see blue.
Forget looking at the world through rose-colored glasses. You'll do better if the lenses are blue, according to Indiana University researchers. Wearing glasses with blue lenses— available online or through your optician—before bed can improve sleep and workday productivity, especially if you're logging lots of pre-sleep screen time.
40. Get a shot of nature, indoors.
Lots of research has shown how being in nature can benefit us: lowering blood pressure, boosting creativity, banishing stress and chronic pain. Now two studies, from England's University of Exeter and the University of California at Berkeley, indicate that "virtual" nature has a similar effect. If you're into virtual reality, find the great outdoors when you're indoors via VR videos like "Back to Nature—Rainforest." Or watch one of dozens of online nature videos designed to delight and soothe.
41. Garden on your wall.
Wall planters elevate your interior with a touch of Zen—one of this year's big home design trends—and prefab kits make them easy to install. "Planters not only add color and a sense of calm to your room, but there are health benefits too," says Nancyanne Miklos, an interior designer in Ocean Grove. "Green plants remove toxins and create fresh, purified air, which helps you feel more alert and yes, more calm!"
42. Travel the world.
The world around you, that is. Make a "go-to" list of all the nearby treasures you've never visited (or haven't seen in years) and make an outing of it. Spots to consider in Monmouth: Twin Lights State Historic Park in Highlands, Sandy Hook Lighthouse, Allaire Village in Wall, Cream Ridge Winery in Freehold and Assunpink Wildlife Management Area in Allentown.
43. Get functionally fit.
Functional fitness strengthens the muscles that allow you to painlessly perform everyday activities, like raking the lawn and picking up a toddler. To learn how, find a personal trainer who specializes in the technique or check out online lessons (go to webmd.com, for instance, and search "functional fitness").
44. To disinfect surfaces, read the label.
Most recommend letting the product sit for a period of time—anywhere from 30 seconds to 10 minutes—before wiping. That spray-and-swipe technique you've been using may leave you with shiny counters, but it could also be leaving behind some nasty microbes.
45. Join the resistance.
Like fiber, so-called resistant starch is indigestible and may reduce dangerous inflammation, aid in digestion and help you lose weight by making you feel full. Find it in legumes and seeds, raw fruits and vegetables and starches, such as potatoes and rice, that have cooled after cooking.
46. Volunteer from home.
Face-to-face apps like FaceTime and Zoom have made it easier than ever to volunteer from the safety and comfort of your sofa or kitchen counter. To find the right fit for you—from playing virtual bingo for a cause to volunteering at a call center—go to uwmoc.org.
47. Practice Zoom etiquette.
Whether you're using the app (or a similar one) for business or friendly conversation, a few ground rules make for a better virtual get-together: Keep background noise to a minimum. Turn off notifications. And please don't multitask!
48. Chew a stick (of gum) after dinner.
A study published in the Journal of Dental Research indicated it could be helpful in diluting the stomach acid that causes indigestion. But stay away from peppermint: It can relax the opening between the stomach and the esophagus, allowing more acid to bubble up.
49. Learn something new—online.
It's never been easier to expand your mind. Check out the online offerings at Brookdale Community College, which include Art Appreciation, Intro to Criminology, Writing in the Digital Age and History of New Jersey.
50. Start a gratitude journal.
Taking note of what you're grateful for can keep you feeling positive. And now a University of Central Florida study shows that it can also boost civility in the workplace. Researchers surmise that feel-good journaling also makes you feel good about the folks around you.
51. Cultivate optimism.
You're likely to live longer if you do, according to a University of California at San Francisco study. Instead of asking "Why me?" about a bit of ill fortune, pose the question "What if?" about something you value—as in "What if I hadn't gotten my college degree?" or "What if I'd never known my daughter?"
52. Say "Why not?" to wallpaper.
It's back in style in a big way, but "this is not your mother's wallpaper," says Nancy Mikulich of NLM Design Interiors in Asbury Park. "In fact, I refer to wallpaper as 'wallcovering' because of the wide variety of materials available and its many different applications." To keep the look modern, try materials that go beyond paper such as grass cloth, cork, abaca, vinyl and even wood veneer.
By Leslie Garisto Pfaff