7 Great New Tools
These systems, devices and innovations help Saint Peter's University Hospital deliver better care more safely.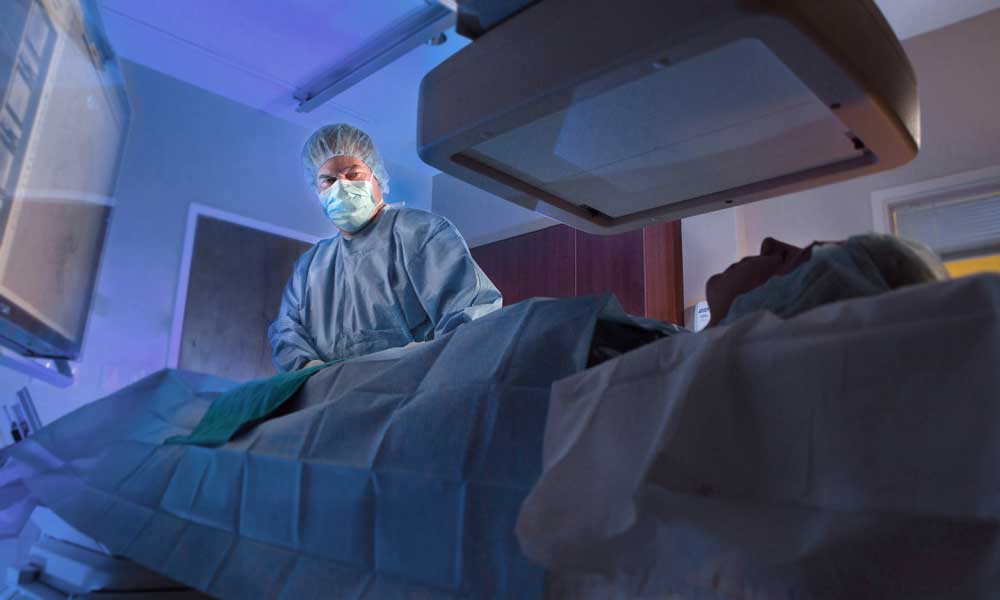 Here's some of what's new at Saint Peter's:
Heated Chemotherapy
A new cancer treatment fills the abdominal cavity with heated chemotherapy drugs after the surgeon removes tumors or lesions from the area. It's called hyperthermic intraperitoneal chemotherapy (HI PEC )— heated chemo, for short—and Itzhak Avital, M.D., chair of the Department of Surgery, has helped make Saint Peter's a statewide pioneer in its use. "Chemo delivered through the veins does not penetrate into the cavity," Dr. Avital explains. "With HI PEC we can deliver chemo into direct contact with tumors as small as one-fourth of a centimeter. And heated chemotherapy raises the toxic potency of the drugs, making them more effective."
Cardiac Monitors
New heart monitors from Nihon Kohden were chosen with input from the Saint Peter's nurses, who tested several models. "We made sure we chose one with all the bells and whistles the nurses required," says Linda Carroll, chief nursing officer and vice president of patient care services. For instance, they liked that they could tailor the alarm system to each patient's specific needs. "It's not unusual for staff to be involved in decisions about purchasing equipment," Carroll says. The new cardiac monitors provide continuous information on patients' vital signs at the bedside and at nursing stations in the adult Intensive Care Unit (ICU) and the Neonatal ICU and on all medical and surgical floors.
Bloodless Surgery
This program began as a way to meet the religious, medical and personal requirements of patients who opt not to have blood transfusions, but it may be the future for all of us. Research shows that patients in bloodless procedures have fewer complications, faster recoveries and shorter hospital stays. "Bloodless medicine uses scientifically based medical and surgical techniques to decrease or avoid the need for transfusion," says Howard Lakritz, M.D., chairman of anesthesiology and medical director of the program, which grew from about 150 patients in 2014 to 225 last year. "We hope to keep it growing," he says. "Bloodless surgery should be the standard of care."
Fall Prevention
Saint Peter's uses monitors with alarm systems to augment patient education and rounding by staff to reduce the likelihood of patient falls and injuries, greatly improving safety in the hospital. Each bed in the Adult Medicine Unit is equipped with a monitor, which alerts nursing staff if a patient is moving too much and may need assistance. Says Yolanda Delgado, the unit's nurse manager: "We're consistently below national benchmarks for number of falls."
New Radiology Tools
These new technologies have made low-dose imaging more efficient. Used in the catheterization lab during minimally invasive procedures, an X-ray technology called Allura Clarity produces clearer images with much less radiation. "We now do more minimally invasive procedures and we need to see the tiny tools we use very well," says Christopher Gribbin, M.D., an interventional radiologist. "Clarity allows us to perform sophisticated procedures with 50 to 70 percent less radiation." Surgeons can also use less contrast dye, he adds, and the machine is easier for technicians to use.
"Genius" 3D Mammography. This new imaging system produces two- and three-dimensional images using lowdose X-rays. It helps radiologists more effectively determine the size, shape and location of breast abnormalities, resulting in a 41 percent increase in the detection of invasive breast cancers and a 29 percent increase in finding all breast cancers. "This is a very promising breast imaging system, especially for women with dense breasts," says Susan McManus, M.D., director of the Breast Center. "And it reduces callback rates for additional imaging."
Elekta Infinity linear accelerator This image-guided radiation delivery system can calculate precisely where to deliver radiation and what dose is needed, enabling radiologists to "shrink-wrap" the dose around a tumor. This means patients receive the most highly targeted but lowest dose possible in the shortest time, reducing radiation by up to 50 percent
To find out more about services available for you or your family at Saint Peter's University Hospital, please call 732.745.8542 or visit saintpetershcs.com.