75 Years of Loyalty
Volunteer Jessie Kukor has been a part of the Saint Peter's Family Since 1936.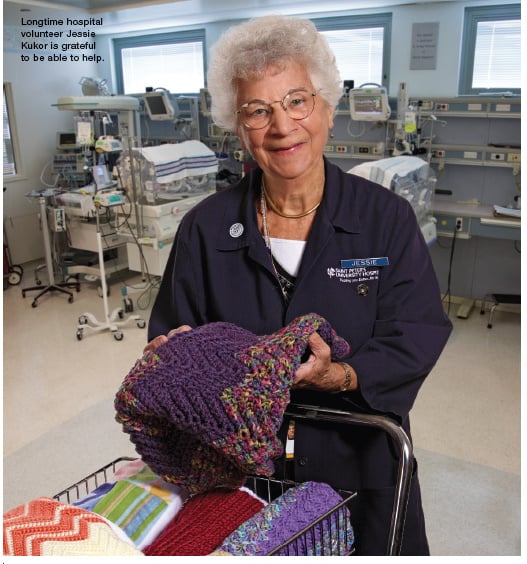 After more than 10,000 hours of service at Saint Peter's University Hospital, Jessie Kukor has certainly earned her volunteer stripes. The North Brunswick grandmother of four has been a fixture at Saint Peter's since 1986.
But her relationship with the hospital actually goes back much further. It began, sadly, in 1936, when her 13-year-old brother, a patient there, lost his battle to survive with an enlarged heart. "I was 8 when he died," says Kukor, who will turn 84 in November. "The day I started volunteering, I was walking up a staircase and felt a strong sense of déjà vu. I remembered that those were the same stairs I went up when I visited my brother in the hospital."
Saint Peter's has remained a part of Kukor's life for 75 years. All three of her children were born there. Her late mother was treated there in the early 1980s. During that time, Kukor met a volunteer who sold newspapers to patients and visitors. "She told me it was the greatest thing to do, to take time to talk to the people here," Kukor recalls. "That day, I knew it would become my mission to make people happy in the hospital."
Every Wednesday, Kukor now handles the same job her role model did, rolling a hospitality cart down the hallways with newspapers—though now they're free. She also helps out wherever else she's needed. That often means working in the Community Mobile Health Services breast health education program, assembling the collection vials and bags at blood drives or helping out at health fairs and community events. Mostly, though, she chats with patients and families.
"If I help make one person happy, I feel 10 feet tall," she says.
Kukor's work recently earned her a nomination for the NJBIZ magazine Healthcare Hero of the Year Award. "I was very honored and flattered—even though I lost," she says. "I told everyone I don't need an award. I have already won because I love, love, love what I am doing."
Kukor—whose husband, William Kukor, passed away 15 years ago— worked in the Lynwood School district's guidance office for 21 years until her retirement. "I was the office manager, but the kids called me their counselor," she says. "I loved those kids and felt they were my mission. Now, the hospital is my mission."
She fills the rest of her week gardening. "I like to be outside and watch things grow," she says. She sees a group of friends from the Lynwood schools at regular get-togethers, and she's grateful for the energy and health she still enjoys. "God gives me the privilege of doing what I am doing," she says. "I thank Him every day."