8 Decorating Don'ts
Interior designers weigh in on pitfalls you can avoid—and how.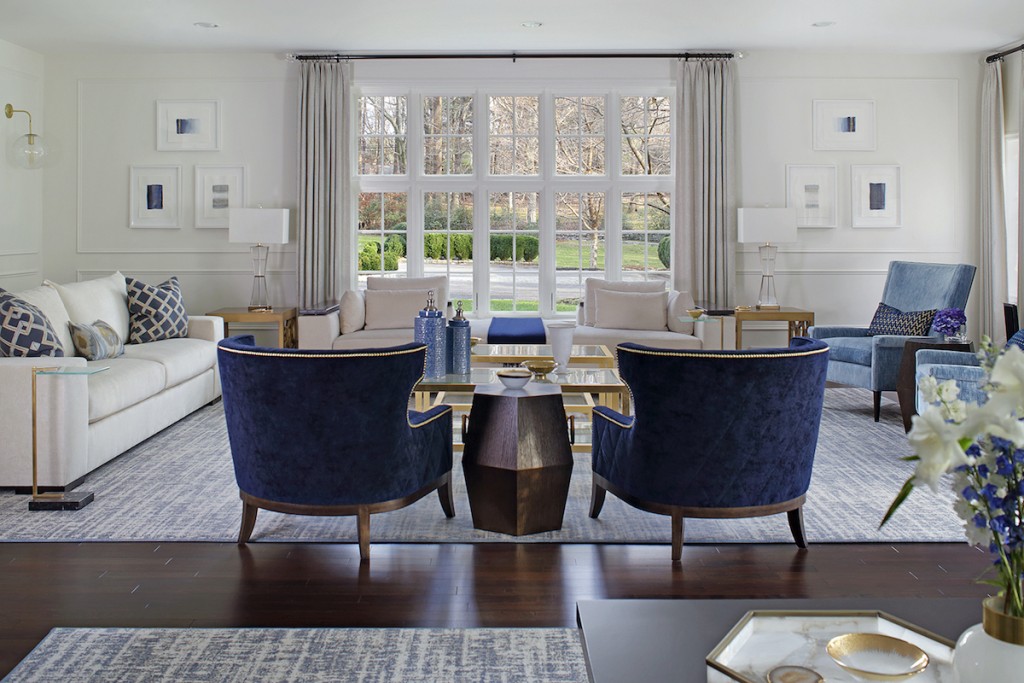 Does anyone have a kind word for negativity? Sure, naysayers are often sour folk, and political commercials blasting the foe have worn us to a frazzle this fall. But knowing what not to do can be a useful guide—in interior design as in life. In that spirit, 10 local experts who are eager to help you craft a very positive vision for your abode—all members of the American Society of Interior Designers, New Jersey chapter—hold forth on eight mistakes you mustn't make:
DON'T BUY STUFF YOU CAN'T SQUEEZE IN.
Says Judi Schwarz of Cliffside Park's Judi Schwarz Interiors: "We've had several clients who have bought rather expensive, beautiful furniture only to realize at the installation that it doesn't fit. It's a nightmare for the designer, as well as the client, and the client is often left holding the bag for a very costly mistake." The remedy? Measure first—and measure twice. "Doorways, stairs and hallways, tight corners and elevators—in the building or the residence—all need to be taken into consideration to verify that furnishings can make it into the room or home," says Schwarz.
DON'T BUY FURNISHINGS TOO LARGE—OR TOO SMALL.
This goof is obviously kin to #1. But the question of appropriate sizing goes beyond mere fit, says Ruth Richards of Ruth Richards Interiors in Short Hills, who warns against "the wrong scale." One living room she tackled was bisected by a large sectional that emphasized a change in ceiling height, created too-dark and too-light zones and left four undersized metal armchairs floating as if at sea. Coming to the rescue, Richards unified the space with a more balanced seating arrangement, beaming a vaulted section to "bring it down" and adding a delicate-toned coffee table and carpeting throughout. "The room feels better now and your eye doesn't stop halfway through it," she explains.
DON'T SHOP FOOLISHLY ONLINE.
Rona J. Spiegel of Lifestyle Interior Designs in Englewood Cliffs cautions online purchasers to (1) make sure websites begin with "https," indicating a secure site, to cut the risk of identity theft; (2) check out product reviews, noting that if there are more negative than positive ones, it might be a clue that quality and durability aren't up to your bar; and (3) read product descriptions carefully and don't be snowed—if you don't know the meaning of a word, Google it. "Measurements can be tricky," warns Deborah Leamann of an eponymous firm in Pennington. "Colors and quality can be misrepresented, leading to disappointment. Ask if samples are available and what the return policy is." One thing that's easy to slip up on, in Leamann's view? Area rugs.
DON'T INSTALL WINDOW TREATMENTS AT THE TOP OF WINDOWS.
Not if you wish to stay on the good side of Karla Trincanello of Interior Decisions in Florham Park. She's adamant that that's "wrong, wrong, wrong!" Why? "Because it creates a second horizon line, making the room height appear lower." Instead, install window treatments at the highest point of the wall—to a crown molding if one is there, for instance. Of the treatments themselves she's a discerning fan: "They add color and pattern to a wall that, in turn, gives off a warm and homey appeal." Trincanello likes to use a woven or fabric shade "in between side-panel draperies and above the window opening. So, in addition to covering the voided area (above the window), it creates a valance that brings warmth, making it more attractive." Aware of many homeowners' cost concerns, Trincanello adds: "Even ready-made draperies can look custom if they are hung this way."
DON'T CHOOSE WRONG-SIZED LIGHTS
"Selecting an inappropriately-sized chandelier or pendant light for a dining table is a really unfortunate mistake," says Heather Higgins of Higgins Design Studio in Wayne. Fixtures must be proportional to both the table and the room size, she says, and they should be at least 12 inches narrower than the table surface—or else people will hit their heads when rising. (A diameter of 24 to 30 inches suits most tables that seat six to eight people.) For longer tables, two or three fixtures may be better than one, says Higgins, and you should illuminate the center two-thirds of the table length. Position the bottom of a fixture 30 inches above the tabletop in rooms with eight-foot ceilings. For every foot over eight feet, increase this dimension by three inches.
The mention of chandeliers stirs Leamann to comment too. "A common mistake is how one hangs one—too high or low," she says. "Or the scale could be off, too small or too large." Her formula: For an eight-foot-high ceiling you can have a 12-inch drop; for a 10-foot-high ceiling, a 24-inch drop works, and incrementally so forth. "If the chandelier is going over a table where people won't walk under it, the formula still applies, but there can be wiggle room," says Leamann.
DON'T CHOOSE A RUG TOO SMALL—OR TOO SOON.
Did we name area rugs as an online-shopping danger zone? Well, even if they're handed to you by a little old lady in a shop, getting them too tiny can be trouble. "Most people buy rugs that are too small for the sitting/conversation area," says Rina Capodieci-Quinn of RCQ Design in Ramsey. "That often causes furniture—especially end tables—to sit unattractively on the rug, partly on and partly off. This can also produce an unlevel or wobbly table. Color and material of the rug are dependent on all the variables in the room, e.g., flooring, fabrics, use of the room. So I always suggest purchasing a rug once you have 80 percent of the fabrics chosen."
"I recommend using painter's tape on the floor to see what the actual size of the rug will look like in the room," says Marina V. Umali of Marina V. Design Studio in Ridgewood. "It's key to measure the space destined for the rug to make sure it's good in terms of scale."
Marina Cheban of Marina Cheban Interiors in Hoboken drives the point home: "It's best to purchase a rug that is big enough to sit under all your furniture pieces."
DON'T HANG ARTWORK TOO HIGH.
"It should be at eye level, your eye at the center of the piece," says Jennifer Pacca of the eponymous Hillsdale interior design firm. "If there is another adult in the household, you need to compromise on the height."
DON'T ACCESSORIZE EXCESSIVELY.
"Too much ain't enough," sang Tom Petty and the Heartbreakers—but you don't want Heartbreakers designing your home. Instead, heed Heather Higgins, who declares: "Accessories give a living space interest and distinction, and when you use items that truly mean something to you, they provide a deeper connection to your surroundings, speaking volumes about you. Unfortunately, it's not uncommon, over time, to keep adding items without taking anything away, diluting their effectiveness." She says that removing even a few items can make a noticeable difference. "One of the simplest ways to instantly refresh a space without any financial investment is to remove all the accessories and put back half to two-thirds of them in different locations or new arrangements," says Higgins. "This will make the entire room feel new again."