A baby's crisis
When a 10-month-old poses a medical mystery, a hospital staff's compassion shines.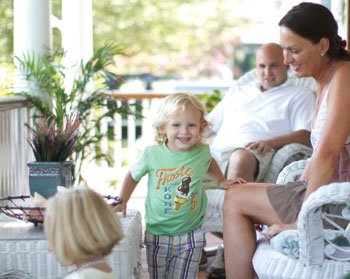 Steve and Tricia potter of Manasquan still remember the voice they heard at one of the scariest moments of their lives—the voice of a nurse singing.
It was February 2009. Their 10-month-old son, Callan, until then a healthy baby, had suddenly begun crying from pain and holding his head. "Within a few hours he was really bad," says Tricia, a massage therapist.
At 4 a.m. the next day, Steve, who works in finance, brought the baby to Monmouth Medical Center. Tests, including a spinal tap, revealed a very high white blood cell count, indicating infection. But it wasn't clear what was wrong. "And Cal was getting sicker," Tricia recalls.
The next day, when doctors ordered a CT (computed tomography) scan, Cal's parents couldn't be at his side due to radiation.
"He was crying, we were crying—we were falling apart," says Tricia. That's when, over the microphone that the nurses use to talk to patients in the CT machine, she heard nurse Melissa Ercolino.
"She was singing 'You Are My Sunshine' to soothe my baby," says Tricia. "She'd heard me singing it, because I'd sing it to Cal when he had his blood tests."
It was a touching moment, but the medical mystery went on. The Monmouth team, including a pediatric surgeon and resident David Dupree, M.D. (now chief resident, general surgery), and additional clinical specialists ran other tests too, but none of them showed what was wrong.
The physician team suspected a condition called Meckel's diverticulum, which can cause infections and other problems. It's a congenital abnormality, a small pouch on the wall of the lower part of the small intestine, which occurs in 2 percent of the population— and causes problems for only about 1 in 25 of those who have it.
As Cal grew worse, the whole medical center came to know of him. Tricia remembers: "The acting head of The Children's Hospital, Dr. Renuka Verma, told us, "I am losing sleep over your son, but we're going to figure this out."
Tricia and Steve stayed at the hospital while family members cared for the couple's daughter, Briged, then 3½. On the fifth day, Dr. Dupree said Cal's infection was dangerously toxic and he needed emergency surgery. Steve told him that Cal had not yet been baptized. "So all these busy doctors and nurses just stopped while the hospital found a chaplain and we did an emergency baptism," she says.
The surgery proved the physician team had been correct. Fortunately, Meckel's diverticulum can be corrected—surgeons remove the pouch and sew up the opening. Dr. Dupree told the Potters that Cal would be fine.
"A few days later, he was a healthy, happy boy again," Tricia says. "When we brought him home, the doctors said to let him eat what he wanted—that day we took a picture of him eating spaghetti and meatballs."
As the Potter family looks back on their experience at Monmouth Medical Center, expert medical sleuthing is only part of what they're thankful for. The other part is the caring concern clinicians and staff showed their baby.
"Everyone treated Cal like family and checked on him day and night," recalls Tricia. "Dr. Dupree came in when he wasn't even on call." And as for Nurse Ercolino, "she'd been scheduled to leave hours earlier, but she stayed—even though she had a baby of her own at home—to make sure everything was all right."