A Better Heart-Valve Fix
The minimally invasive procedure called TAVR gets patients feeling chipper faster.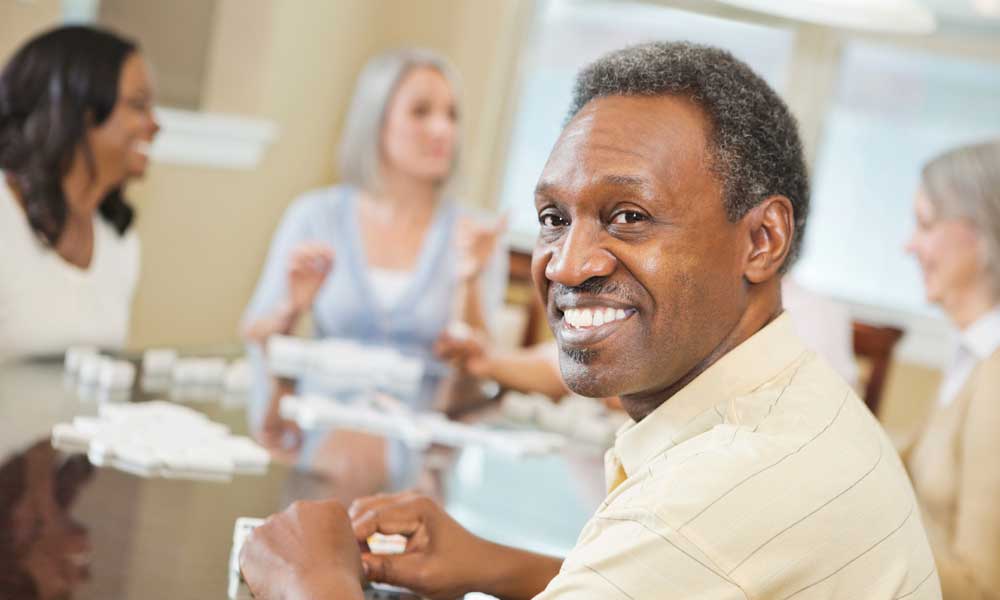 To get blood to the rest of your body, your heart pumps it into the aorta, the main artery, through a valve that opens and closes, maintaining blood flow in the right direction. As you age, calcium deposits may cause that valve to become stiff and inflexible—to the point where eventually it doesn't open fully. This is called aortic stenosis, and it can cause a decrease in blood flow from the heart. Left untreated, it can lead to shortness of breath, loss of consciousness and ultimately death.
Until the past few years, the only way to repair an impaired aortic valve was with open-heart surgery. Those procedures were very successful for otherwise healthy individuals, but since aortic stenosis tends to afflict older patients who also have other health concerns, the operation was more than many people could handle. For them, there was no reliable treatment. Since 2012, however, patients at high risk for surgery have been able to take advantage of a minimally invasive procedure called transcatheter aortic valve replacement surgery, or TAVR. And in April, Saint Barnabas Medical Center opened a new operating room specifically designed to accommodate this cutting-edge procedure and offer it to patients.
TAVR works in a fashion similar to the way interventional cardiologists insert a stent into a blocked artery. It involves threading a catheter through an artery in the groin—or occasionally through an artery in the chest—to the heart. Instead of removing the old, damaged valve, which is the approach used in surgical aortic valve replacement, TAVR advances a collapsed replacement valve inside the damaged, narrowed valve. The new valve is then expanded to push the old valve to the sides and regulate blood flow.
Cardiac surgeon Mark Russo, M.D., director of the Aortic Center at Saint Barnabas, says the benefits are significant. "With open-heart surgery, you need to use a heart-lung machine, the operation takes two hours and the patient is in the hospital five to seven days with a recovery period of six to eight weeks," he says. "With TAVR, we don't stop the heart, we don't cut out the old valve, the procedure takes about 30 minutes and patients commonly go home the next day or the day after. Most patients feel better when they wake up and are back to normal activities within a week."
More than that, TAVR reduces the risk of death within 30 days from aortic stenosis by 75 percent in these high-risk patients, who are not healthy to begin with. "This therapy prolongs survival and increases functional status, and it makes older people feel better," Dr. Russo says.
The new operating room where TAVR takes place is called a hybrid OR, because the procedure requires the skill sets—and the tools—of both a cardiac surgeon and an interventional cardiologist. The hybrid OR is ready for both methodologies. "The procedure is a collaboration between the interventional cardiologist and the cardiac surgeon," says Bruce Haik, M.D, an interventional cardiologist who is the cardiac catheterization lab director for Barnabas Health. The team also includes cardiac imaging specialists in echocardiography to monitor the procedure as it happens in real time and in three dimensions.
TAVR has been so successful in helping high-risk patients, it is now being studied as an alternative for low-risk patients as well—and the early results are promising there too. "These are overwhelmingly good outcomes," Dr. Russo says. "Surgery is still a great option for patients. But eventually, TAVR will be the standard therapy for the overwhelming majority of patients."
The Future of TAVR
Usually doctors don't like to make predictions, but when it comes to the procedure called TAVR—transcatheter aortic valve replacement (see main article)—Saint Barnabas Medical Center clinicians are boldly bullish.
"I think within five years it will displace openheart surgery as the gold standard of care for treating aortic stenosis," says Mark Russo, M.D., director of Saint Barnabas' Aortic Center.
Interventional cardiologist Bruce Haik, M.D, agrees. "Until recently, the question was, 'Who should have TAVR?'" says Dr. Haik, who is director of the Barnabas Health cardiac catheterization labs. "Now it's, 'Why would you send someone for open surgical aortic valve replacement?'"
Dr. Haik and his colleagues at the Barnabas Health Heart Center would know. They recently celebrated their program's 500th TAVR procedure. (This was done at Newark Beth Israel Medical Center, also a Barnabas Health hospital.) A party was held to mark this milestone, and several patients came—including an 83-year-old man who'd had the procedure just a few days earlier.
About Aortic Stenosis
Aortic stenosis—a narrowing of the aortic valve opening—occurs in about 2 percent of people over age 65. It is found more often in men than in women. Most people with aortic stenosis do not develop symptoms until the condition is advanced. The diagnosis may be made when a clinician hears a heart murmur and performs tests. Symptoms of aortic stenosis include:
Chest discomfort: The chest pain may get worse with activity and reach into the arm, neck or jaw. The chest may also feel tight or squeezed.
Cough
Breathing problems, particularly with exertion
Becoming tired easily
Feeling the heart beat (palpitations)
Fainting, weakness or dizziness with activity
Source: National Institutes of Health
to find out more about cardiac services available at Saint Barnabas Medical Center, please call 973.926.6938 or visit barnabashealth.org/sbmc.