A Call to Arms
Chester native and former Major League CY Young Award Winner Rick Porcello stays grounded even after racking up accolades and finishing a historic season with the Boston Red Sox.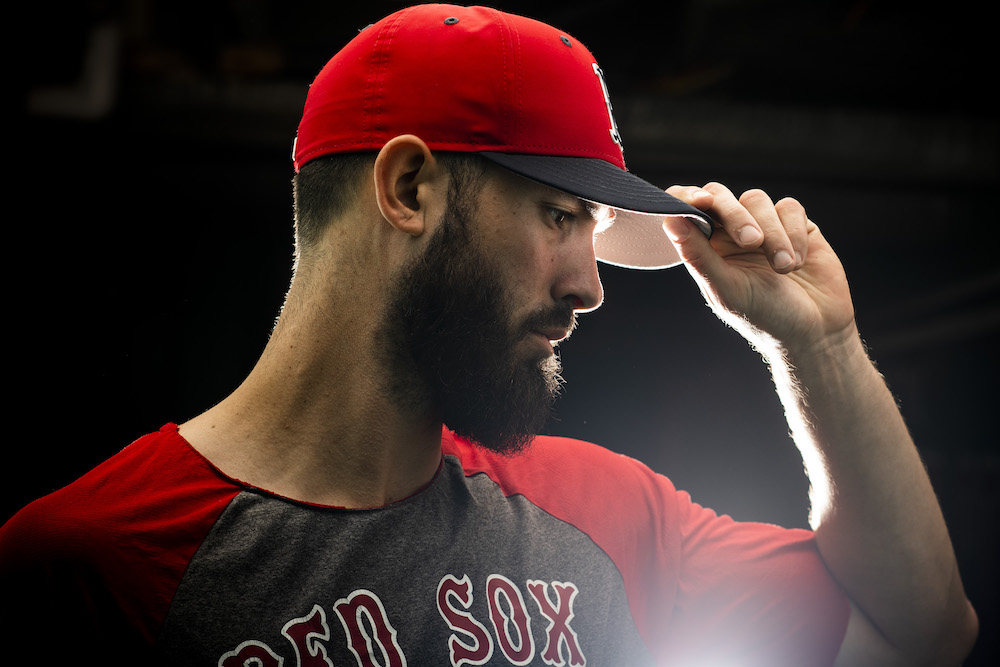 RICK PORCELLO IS PREPARED TO MOVE around the country—that's the life of a professional baseball player. The Chester native has bounced from New Jersey to Detroit to Boston, where he just posted a stellar 17-win season. But despite traveling from one big city to the next and enjoying a career filled with personal accolades (he won the 2016 American League Cy Young Award as the league's top pitcher as well as the 2007 Gatorade National Player of the Year honor as the best high school player in the country), the 29-year-old remains grounded and humble. How does he do it?
In an exclusive interview with Morris/Essex Health & Life, Porcello talks about growing up in Morris County, playing high school sports under the media spotlight and who he, as a Mets fan and future Bos-ton Red Sox pitcher, secretly idolized.
Was baseball your life growing up?
I remember having a great time in Little League and having a lot of fun playing in town. We had two games a week, and with each day that passed I would think: "It's just one day closer to game night." I had such as great Little League experience, and Chester was an amazing town to grow up in. Everyone paid attention to our games, making it competitive and fun. That's where my passion for baseball came from.
What were your old stomping grounds?
We'd hang out in Chester but some of my fondest memories took place in the summer, when my mom would drop off me and my brother Jake at a pond in Linden. He and I would spend all day there catching bass. We also had a friend in high school who had a house on Lake Hopatcong, so we went over there a lot to fish.
What was your biggest catch?
It was a bass that, back then, I thought weighed at least 10 pounds. But thinking back, it was probably just 2 or 3 pounds.
Were you always a pitcher?
I mostly played shortstop and some first base and outfield. But, yes, I did pitch. I threw hard and knew I was good at base-ball, but I wasn't thinking about making a future out of it.
But that changed when you started playing at Seton Hall Prep.
Sports are a cultural thing in New Jersey because everyone is involved: kids, coaches and parents. So I think I got a lot of attention at Seton Hall Prep. There were a lot of articles being written about us, and a lot of scouts were coming to our games. It was a lot of fun, and the good spotlight was definitely on Prep. I didn't pay too much attention to what the newspapers were writing, but my mom had every article and cut each one out and saved them. The best part was that we were a good team and everyone had fun winning.
With all the pro scouts at your games, did you feel extra pressure?
I didn't feel the pressure personally, the was on the team to win. But we all worked very hard. As long as we won, it didn't matter what was going on with me.
Did you play other sports?
I played baseball and football growing up, but I focused on baseball at Seton Hall Prep. When summer ended, I played fall baseball but wouldn't pitch too much—I was at first base and shortstop. My parents knew I was passionate about the sport but they wouldn't let me get burnt out.
Do you think it's OK for kids to play a sport year-round?
My Dad would take me to baseball camps during the offseason, but I also had breaks so I wasn't getting worn down by one sport. Don't get me wrong, I definitely put in the work. I just believe it's important for anyone, but particularly for a teenager who's developing as a person, to try and experience different things. Too much of one thing is not always a good recipe.
Think back to draft day, 2007. What were your feelings?
I definitely had a lot of anxiety, but I knew I'd be comfortable going to college (University of North Carolina was on standby) if the draft didn't work out. Getting a college education was big for me because my parents were adamant about being smart and having a game plan for life. But Detroit came along and picked me with the 27thselection. It was such a weight lifted off of my shoulders, and to top it off, I was going to a class organization—Detroit had just won the World Series.
Do you remember your first start?
It was a surreal moment when I found out I made the team in spring 2009. Manager Jimmy Leyland called me into his office and said, "You had a great spring, but we're sending you down to Double-A." After the initial shock, Leyland pointed out that it was April Fool's Day. "You're coming to Toronto with us!" It was such an emotional moment—I ran out and called my parents. I couldn't process what was going on during my first game; I just focused on throwing strikes. My first pitch was a strike to Marco Scutaro; my first strikeout was Michael Barrett. And, um, I gave up my first home run to Aaron Hill.
Your career is 10 years in. When you finally hang 'em up, how do you want to be remembered?
I want to be remembered as someone who played the game hard and the right way and was a great teammate. I want to be known as someone who was a great representative for every organization and city I was in. This is a game that's important to the people watching, so I hope to have had a positive impact on them, even those who rooted against us.
You've had plenty of personal success. How does that compare to team success?
Ultimately, you have to put things in perspective and know why you're playing. If you're not here playing for a championship, you might as well turn around and do something else. I'm not a fan of taking the field for personal accolades because you only share that with yourself. When you win a championship, you're sharing it with your teammates, the organization and the city.
Obviously you're a Red Sox guy now, but who did you root for when you were younger?
I was a Mets fan, but I wouldn't admit it at the time that Derek Jeter was my favorite player. You always saw him on TV. My mom loved the Yankees, and we used to go to a lot of Yankees games. The Indians also have a special place in my heart: my grandfather played for them and was on their American League championship team in 1954.
Who is the toughest batter you've faced?
I've pitched to a lot of good hitters, but Michael Young always gave me headaches when he played for Texas. Robinson Cano, Jacoby Ellsbury and Hideki Matsui were also tough outs.
Is there an active pitcher who makes you stop everything and watch?
Right now, it's Aaron Nola in Philadelphia. He has great command and has the focus and demeanor on the mound that reminds you of Roy Halladay.
Who do you sit with in the dugout when you're not pitching?
There's sort of a special bond between starting pitchers, so I'll always be near [David] Price, [Chris] Sale, [Nathan] Eovaldi. We have a lot of fun on the bench when we're not pitching.
What's one piece of advice that has always stuck with you?
Once I got to the big leagues, I always try to remember that, even if I have a stinker on the mound, I'm at this level for a reason—because I'm good. Everyone goes through some degree of failure, and it could be hard to regain focus and confidence. But you always have to trust your stuff. No matter how much I have struggled, I know I have talent, and the talent always comes back out.
What's your relationship with Kevin Youkilis, one of the most beloved Red Sox of all time?
It didn't start great: In my rookie year with Detroit, I hit Youk and he charged the mound. I remember thinking at the time that I was so no looking forward to fighting him. He came at me, and we were both ejected from the game. But we later cleared it out, and it's all good now. There's only one feud in Boston, and that's with the Yankees