A Center for Cutting-Edge Care
The Medical Center's new Infusion Center Annex meets the growing needs of infusion patients being treated for multiple sclerosis, cancer and more.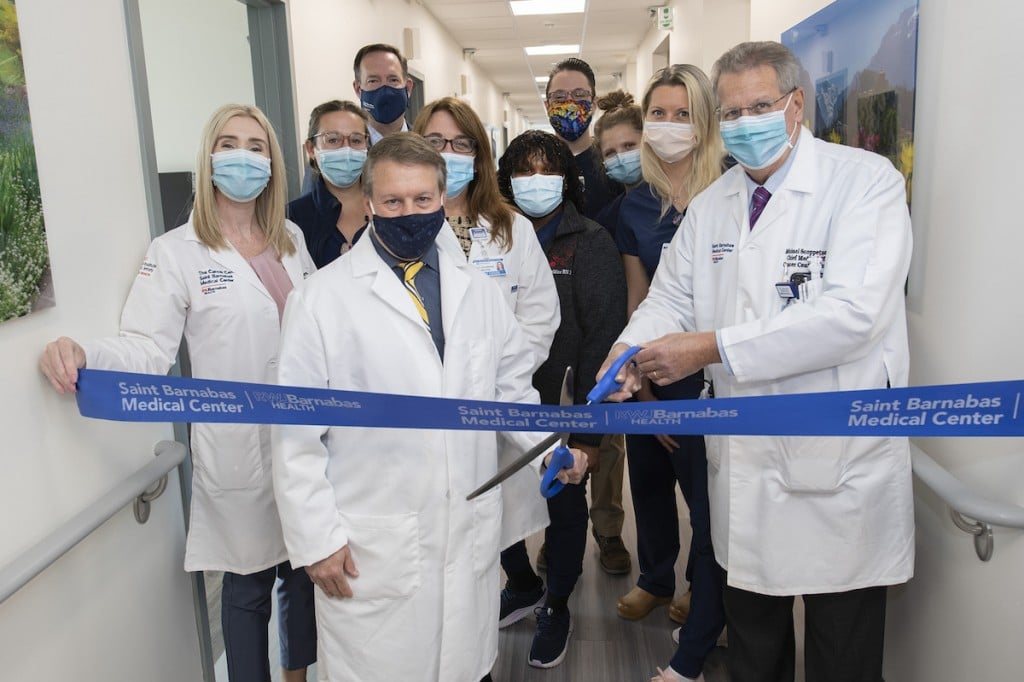 Cooperman Barnabas Medical Center (CBMC) unveiled the newly expanded Outpatient Infusion Center during a ribbon-cutting ceremony in late October. Consisting of 13 brand-new, private treatment rooms and a comfortable waiting area, the dedicated Infusion Center Annex was built to meet the unique needs of the Medical Center's outpatient infusion patients who are being treated for a variety of conditions.
"The expansion of our Infusion Center is in response to the growing number of infusion patients we are seeing throughout various specialties including multiple sclerosis (MS), hematology and oncology," says Richard L. Davis, president and chief executive officer at Cooperman Barnabas Medical Center. "The Center will have immediate impact, ensuring all our infusion patients will have access to timely, superior service they expect from the Medical Center in a beautiful and relaxing setting."
The multiple sclerosis team at CBMC, for one, is excited about the opening of the Infusion Center, as the new facility will greatly help MS patients who come to the Center for infusion treatments, which are typically between one and six hours per session.
"The beautiful new and modern Infusion Center enhances the patient experience because much of the care is specifically geared toward people with MS," says Andrew Sylvester, M.D., neurologist, medical director of The Multiple Sclerosis Comprehensive Care Center and member of RWJBarnabas Health Medical Group. "The additional space also opens up availability, so our patients can do their infusions at times that are most convenient for them."
Dr. Sylvester adds that there is a designated area in the Center geared toward MS research, making it easier for the team to implement research protocols.
The Center's private rooms are equipped with a reclining chair or bed, a flat-screen TV, Wi-Fi access and dimmable lighting to ensure safety and comfort for all patients. A team of specially-trained nurses provides compassionate and personalized care in the safety of a hospital setting.
The new Outpatient Infusion Center, located on the first floor of the East Wing, complements the Medical Center's existing 24-private room outpatient Infusion Center located on the second floor of the East Wing alongside The Cancer Center.
"Our specialized and dedicated multiple sclerosis team is always working to improve the quality of care and experience for our patients," says Dr. Sylvester. "This exceptional new Infusion Center will bring it to the next level."
---
For more information or to schedule an outpatient infusion service, please call 973.322.9900.