A Chat With Kristin Chenoweth
The award-winning singer/actress gives BERGEN an exclusive interview.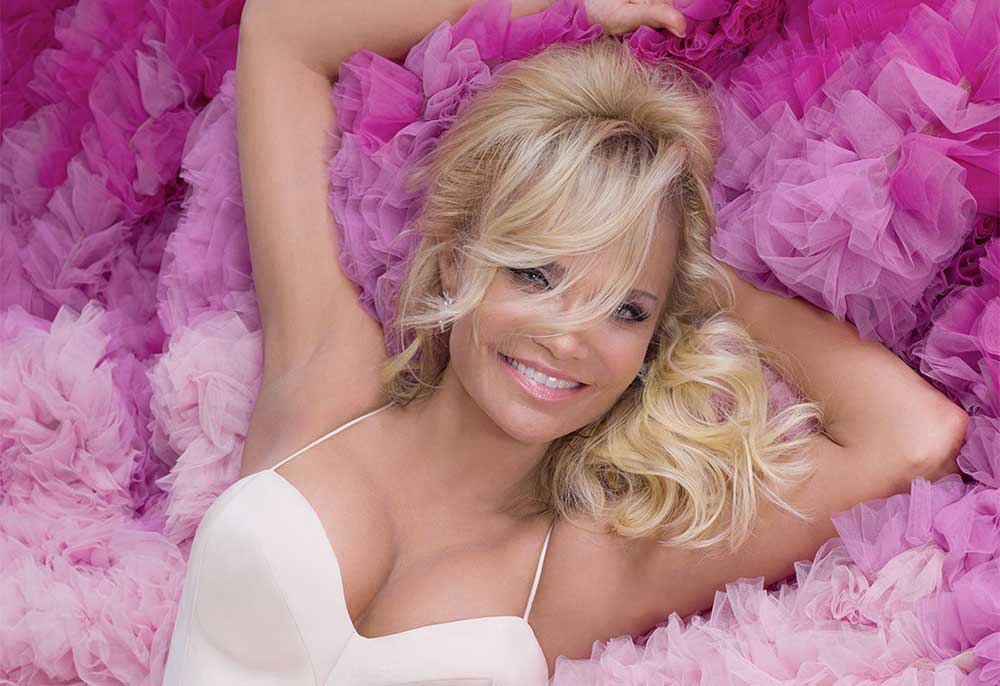 Your name is synonymous with the word "perky," but is there ever a day when Kristin Chenoweth wakes up on the wrong side of the bed?`
[Sighs] Yes. And it happens more frequently than people want to hear about. But the truth is, I'm human. Overall, I am a happy person. I was raised to believe that you have a choice in life. Sometimes things can suck, but often, happiness isn't just a feeling—it's a choice.
But you did get to most of those press events. Did you have to shake it off and put on the always-perky persona?
I usually try to adjust myself, but sometimes, during an interview, I'm like, "Look, I'm not having the best day, so if you sense anything…" I flat-out tell them!
So you never fake it?
No! I can't. I think that's the biggest misconception about me—"Oh, she's just faking it." But if I have to, I say, "Look, I'm on my period," or "Look, someone pissed me off," or "I lost a job today" or "I don't want to be here because I don't feel good." I just say it. Then I find that [the interview] actually ends up being more fun, or something surprising happens, and it ends up being all right.
Legend has it that Dolly Parton is one of your idols. What do you love about her?
You would think it's her music, and that's definitely what drew me to her as a child, but it's that she is exactly who you want her to be. When you meet Dolly, she's her authentic self. I've been at her concerts, and I swear, if I had a cup—a red Solo cup full of poison—and she was like, "Okay, ya'll, drink up!", I would. Because you just do what she says. She is truth and light; she's everything I want to be.
Wait—did you say you'd drink a cup of poison?
Yes, that's exactly what I said! If Dolly said to drink up, I'd be like, "All right!"
That's some serious devotion. Does your connection to Dolly stem from your upbringing?
You're both Southern belles. It must be. I even kind of sound like her, and that's not on purpose.
You really do. There's a clip of you singing "I Will Always Love You" (written and first performed by Parton) on YouTube, and you sound so much like her.
I know! I was told that since I was a little bitty girl—"You sound just like a young Dolly"— even before I knew who Dolly Parton was. And of course, that made me really want to know who she was.
She's been working on a musical based on her life for some time now. Gee, do you possibly have any idea who should play her?
Hmm, let me think. If you'll give me just five minutes or so, I can come up with a couple of names. [Short pause] Um, ME, hello! I know that she has suggested that I play her—and I'd like that, but I want her to hurry up!
Well, out of sight out of mind—you need to make your presence known.
Believe me, I'm this close to moving to Dollywood.
You originated the role of Glinda the Good Witch in Wicked—was it hard to leave and see someone else fill the part?
Oh no, I loved it. It made me happy that the show continued and that people were filling these roles. My only desire and hope was that the creators would continue to let people put their own stamp on the roles, because I don't think it's fair to have them follow me or Idina [Menzel, who played Elphaba].
A few years back, you guest-starred on Hot in Cleveland. Was Betty White every bit as fantastic as we imagine?
Yes, yes, yes—she's exactly what you want her to be.
Kind of like Dolly?
Yes! I'm in my 40s now, and I've had the chance to meet and work with a lot of my idols. And I have to tell you, I have not been disappointed. Well, I've been disappointed once, but of course, I'm not going to tell you who that was. But everybody else has lived up to my expectations.
You played Annabeth Schott, deputy press secretary at the White House, on West Wing. What would she do if she were working with the current administration?
She'd be regularly re-filling her Xanax prescription. Then she'd be advising the President the best that she could. I think her first rule of business would be taking his iPhone away.
A lot of Glee fans name your performance of "Home" (from The Wiz) as a favorite. Do you have one you like best?
I do—it's "One Less Bell to Answer"/"A House Is Not A Home," a duet that I did with Matthew Morrison. I loved it because it was done as a scene, not a performance. And I just felt [Glee creator] Ryan Murphy really nailed it—he directed that.
Before you appeared as Velma in Hairspray Live! for NBC, you said you thought the broadcast might give you cardiac arrest. What was it that worried you?
I didn't have a lot of time to prepare for Velma, so I was coming in late, which they were fine with. They were like, "Hell, show up the day before." But I came in four days before, in a role I've never done. I know the show, but I just didn't know Velma very well, and I wanted to nail it. Plus, I am a klutz, and weird things happen to me. I don't know what it is—I can just be standing there and something will fall on my head, I'll fall in a hole, there'll be a random wire… I just have that about me. And I thought,
But supposedly, there was a wardrobe malfunction. What really happened with that?
My bra strap fell out.
You didn't show anything, though, did you?
No! People get all—well, you know how people are.
They like to see what's not there.
Right! And they like to see what's not there in life too. [laughs]
You've done theater, television, ilm, albums…what else is on your bucket list?
Writing a musical. That's a big one—I want that so bad. I have a theater in Oklahoma that bears my name, and I'd like it to win a Tony award or produce a Tony-award winner. I would like it to have its due. And I've always wanted to host Saturday Night Live, but it's just not going to happen.
Why not?
I'm not sure, but I can dream, can't I? [laughs]
Have you put your name in the running?
Well, there was a time when they were interested and they said, "Get a big movie or a TV show," and I did. I even won an Emmy, and it never happened [laughs]. I don't know that there are lot of fans over there—honestly, I don't know—but I still admire what they do, and I just love the show. And I feel like if I weren't doing musical theater, I would have wanted to be in that job.
What kind of man wins over Kristin Chenoweth?
They have to understand that I'm an artist first. And my time—the schedule is kind of gross. If they can hang with those two things and not be mad at me, then we're all set.