A Chat With Mike Love
After 56 years as one of the Beach Boys, the rock legend is still pickin' up good vibrations. Now in an exclusive interview with Morris/Essex Health & Life, love talks about the group's trademark harmonies, competing with the Beatles and the day he met Charles Manson.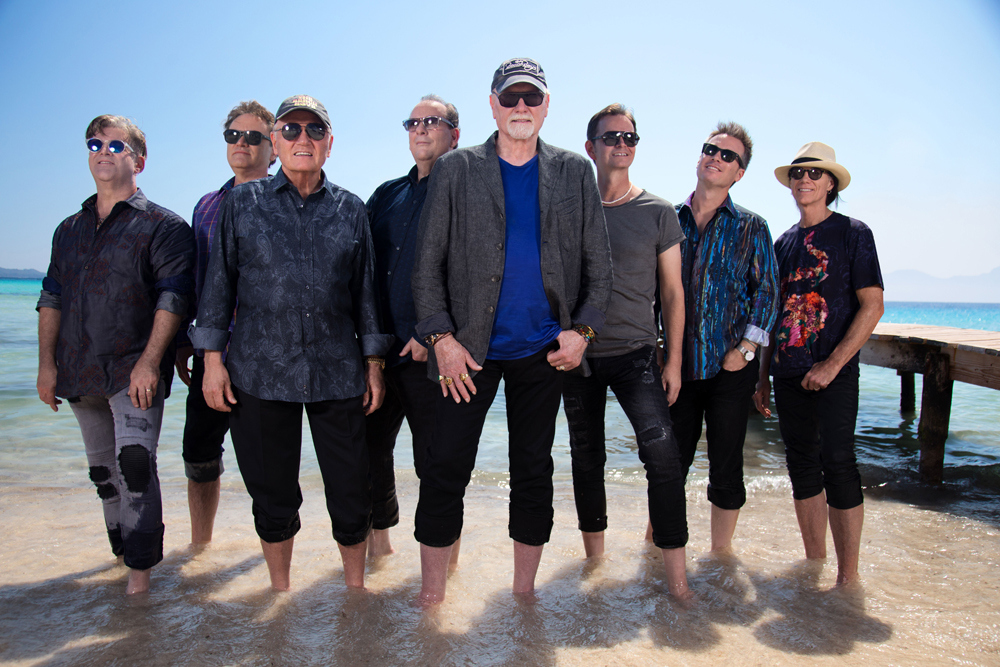 Let's talk about the Beach Boys' beginnings. How did it all start?
Before we ever pursued a career in music, we would get together and sing at my family home. We'd literally have recitals of all different kinds of music—it was all about singing together and harmonizing. That just stuck with us—that family hobby became a profession by virtue of what my cousin Brian [Wilson] and I did together. Also, Brian would sit down at the piano and break down the Four Freshman's vocals, which were intense. That was Brian's strong suit—he was incredible at sitting down at the piano and working out chord progressions and therefore the harmonies. I would sit with him, and I'd come up with the hooks and the lyrics.
The group was originally named the Pendletones, a name chosen by you. How did it change?
We actually didn't know what to call ourselves, but surfers were all wearing Pendleton shirts. Then our first song was recorded in the fall of 1961, and it was called "Surfin." It came out on a little label called Candix, and the local record promotion man looked at it and said, "Well, it's about surfing, how about the Beach Boys?" And we said, "Well, that's better than what we've got!" Then our first single on Capitol Records was "Surfin' Safari" in 1962, and then '63 was "Surfin' USA." It was all about surfing, so "The Beach Boys" fit us like a glove.
I have to ask…did you surf?
Oh, sure. Back in high school, as we listened to music on the rock stations, they would announce that the surf was up, and we would "accidentally" leave class in the afternoon and head to the beach. Surfing was responsible for many a missed class [laughs].
You once described writing music as "writing songs out of the air." Was it really that easy?
For me, lyrics have always been what I'm able to come up with easily. I've always loved literature, language—anything to do with the written word. And I really liked reading poetry—I even wrote some. I wrote a couple of love poems to a couple of girls I had crushes on in junior high school.
Were you juggling them both at the same time?
Well, they overlapped a little bit [laughs].
The Beatles' producer, George Martin, once said that without the Beach Boys' Pet Sounds album, the Beatles' Sgt. Pepper's record "never would have happened … Pepper was an attempt to equal Pet Sounds." Do you agree?
Well, those albums are a lot different, and nobody's more brilliant and creative than McCartney. But when we did Pet Sounds in 1966, Bruce Johnston, who's been with the group since 1965, took the acetate, which was all the songs on a vinyl thing—it wasn't a record yet—and played it for John [Lennon] and Paul in their suite in London. Keith Moon [drummer for The Who] introduced them. They played it a couple of times, and that got them motivated to do something "special," in their vernacular, and that turned out to be Sgt. Pepper's.
Did you ever feel any competition with the Fab Four?
Oh yeah! There's lots of competition, a lot of rivalry. But it was always positive. It was like a mutual admiration society, as far as I was concerned.
Do you still enjoy singing all the Beach Boys' songs? Many artists drop some of their older tunes because they're tired of them.
So many of our songs have such variety, and with the subject matter and arrangements, they don't get boring to me. And they're so well loved by the audience, why wouldn't you want to do them? I've heard of artists who just want to do their new album or something. But what about the things that made you famous and the reason people are in the audience? We always do the hits. But we'll do stuff that's more esoteric too—we'll do "The Warmth of the Sun," which is a beautiful ballad I wrote with Brian in November of 1963 when we woke up to the news that Kennedy had been taken to the hospital. We recorded it about a month later, and it was jam-packed with emotion, that's for sure.
Is that on the set list now?
Not for every venue, but if it's a venue that has good acoustics, we'll do it. If we're in an arena or something, "Warmth of the Sun" probably wouldn't go over as well as we'd like. So we save that for theaters and performing arts center.
I'm thinking you'll be doing it at the Mayo Center, where you'll be performing on November 15.
Yes, that's a good-sounding place. We also do a Four Freshmen song, "Their Hearts Were Full of Spring"—it's beautiful, just four-part harmony. No instrumentation whatsoever, just four voices. Hardly anyone does that anymore.
Well, hardly anyone sings live anymore.
Yeah, that's the truth [laughs]. Touchy subject, huh? But we're from the old school. We don't knock anybody for doing what they do and how they do it, but it's our pleasure to be able to go out and recreate those songs live—no funny business.
Let me ask a question for the female readers: How did your association with John Stamos begin? He was in the "Kokomo" video, wasn't he?
He was—that was 1988. It was just three years after he joined us on stage in Washington DC when he was Blackie on General Hospital. It's funny—he used to ride his bicycle by my parents' house in Cypress, California and look in the windows and see the gold records.
So he was a fan, trying to get a glimpse?
Yes, he's been a fan for many years and became a friend. Before he became an actor, he had a little three-piece band in Orange County—he played the drums—so his first love was music. And it's great—he comes out and plays with us when he can. He loves it and, of course, a lot of the girls love seeing him there. He adds a different kind of appeal to the group, which is nice.
Eventually, there was dissension within the Beach Boys. What caused it?
There was a schism in the group having to do with drugs. There were those of us who did not participate in LSD, heroin, cocaine, you name it, and then there those who did. So there were lifestyle differences that gave rise to a "them and us" scenario. But I saw what drugs did to a lot of people, including Brian, so I was not a fan.
How did you avoid the drugs? I know you're into meditation—were you then?
Absolutely. In December of '67, I learned meditation from Maharishi [Mahesh Yogi] in Paris, and I was invited about a month later to go to India for a teacher/training course in Rishikesh, India, with Maharishi. I said, "Well, I don't know if the other guys will come, but I'll be there." But when I got there, the Beatles were all there already. And Donovan. I've been meditating ever since—meditation has zero negative side effects, whereas all the drugs and alcohol do.
In your autobiography (2016's Good Vibrations), you talked about Dennis Wilson's friendship with Charles Manson. You actually met him, didn't you?
Once. We were invited to go over to dinner at Dennis' place. [Manson] was very intense, very weird. In fact, I was leaving Dennis' house and I said, "Well you've really got a live one on your hands now." And this was about a year before the murders. But yeah, they [the Manson "family"] actually called my house and said, "Prepare to die, pig." So that was nice.
Sounds unnerving.
That was probably the low point of the career right there. It had to do with Dennis' affiliation with Manson—nobody else wanted us to join the Manson family, but Dennis wanted to talk to us about, "Maybe we should join the family." But I had already learned to meditate, and I was just fine with my meditation.
You're 76 now. How long do you plan on performing?
Well, Tony Bennett is our idol. He's 90, and he sounds great. So we've got a few years to go. And we do some interesting things at times—like, we'll do shows with a symphony orchestra, which is a whole different way of listening to the Beach Boys. So there are so many things that we can do creatively to take the family hobby a little further.