A Day in Denim to Battle Rare Diseases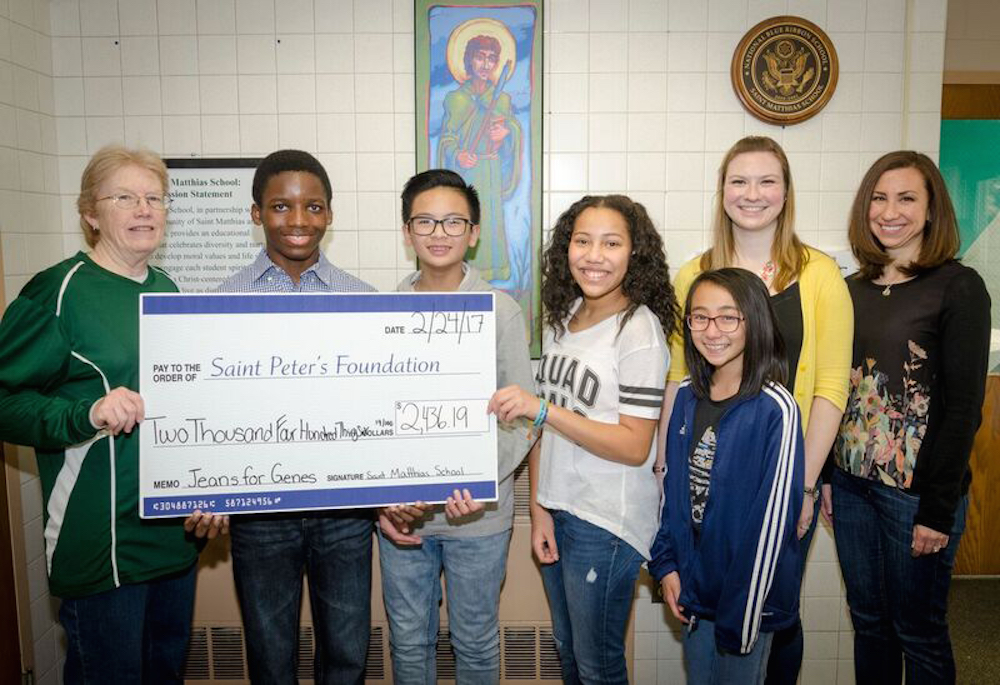 All students at St. Matthias School in Franklin Township wore blue jeans and raised $2,436.19 through their individual donations at "Jeans for Genes Day" on Friday, Feb. 24. Those funds were donated toward research efforts at the Saint Peter's University Hospital Medical Genetics and Genomic Medicine program. Students heard from Kristen Ondy, a licensed genetics counselor at Saint Peter's, and Andrea Siering, a registered dietician at the hospital, who explained the life-saving importance of genetics testing and treatment. Saint Peter's operates one of the most comprehensive clinical genetic services in the Northeast, having treated more than 34,000 individual patients since 1992. Services include evaluation, diagnosis, management, treatment, counseling, and emotional support for more than 2,000 different conditions.
Pictured, from left, are: St. Matthias School Principal Sister Jean Laurich, SSJ; Student Council President Sebastien Rateau; Vice President Jaren Buliyat; Secretary Ava Abreu; Treasurer Ariana Borromeo, and Saint Peter's counselors Ondy and Siering
For information on upcoming events sponsored by Saint Peter's healthcare system, go to saintpetershcs.com/community-calendar.