A 'Dream Team' For Breast Cancer Care
Saint Barnabas Medical Center physicians credited for Morristown woman's treatment and recovery.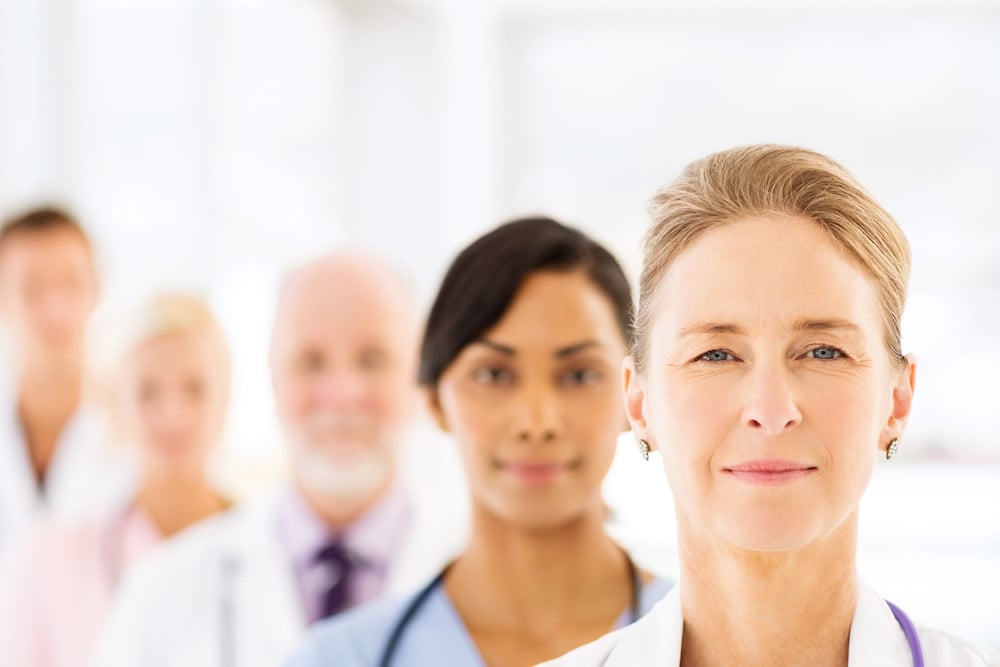 In November 2017, Stephanie Quinton felt a lump in her left breast while doing a self-examination. She immediately went to see her primary care physician, who referred her to a local hospital. She had an ultrasound, which the radiologist told her revealed she had nothing to worry about. By the next spring, the lump had grown to the point that it was visible through her skin. She went back to the same hospital for another ultrasound. "They still told me to go home—that it was nothing," the Morristown resident says.
But Quinton, then just 28, had a strong history of breast cancer on both sides of her family, including cousins, her maternal grandmother and both her paternal great-grandmothers, so she insisted on getting a second opinion. She was evaluated at the Breast Center at the Barnabas Health Ambulatory Care Center—the same hospital that treated her grandmother, who is still alive, two decades earlier, in 1996. Unfortunately, she got similar news; she had later-stage breast cancer. "But they said it was curable," she says. "They wanted to get to it immediately."
Quinton first got tested for the BRCA gene, which would help explain how she developed breast cancer at such a young age, and found out she was positive. Given that information, her team of doctors—which included Anna Litvak, M.D., a medical oncologist, and M. Michele Blackwood, M.D., director of Breast Health and Disease Management at Saint Barnabas Medical Center and a RWJBarnabas Health-Rutgers Medical Group provider—devised a treatment plan comprising eight rounds of chemotherapy, followed by a double mastectomy, followed by radiation therapy.
Before she began, though, Quinton was advised to freeze her eggs prior to treatment to preserve her fertility. "I was still deer-in-the-headlights and didn't even think about that, but my doctor strongly recommended it," she says. "I had a great team. They even showed me ways to help pay for treatment, so there were minimal out-of-pocket costs for me."
Her chemotherapy treatment lasted from August through November 2018. She worked at her job, as the product programs director for Girl Scouts Heart of New Jersey, the entire time. "I am usually like the Energizer Bunny, but I was the bunny on a dead battery. I was very tired," she says. She would have chemo on Wednesday, and by Friday, "My team would see me get sluggish. That was time to go home, and I would sleep the entire weekend."
She had her surgery Jan. 10, 2019. That too went well. "My mom and dad said I was back to my old self quickly," she says, and she was discharged in less than 24 hours and back to work by Valentine's Day. The next week, she started radiation therapy. By June, she had completed five months of physical therapy. In October, she began reconstructive surgery.
Quinton admits she had her emotional moments, especially at the beginning of her ordeal. "I had my five minutes of crying, but I thought, there's nothing I can do about it, so why cry about it," she says. "I made light of the situation." She got ahead of her impending hair loss by cutting most of it off and donating it, then dying her remaining hair purple. When that hair fell out, she got three wigs, which she named. "Sheila was a brunette, kind of conservative. Pamela, after Pamela Anderson, was blonde, to go to bars. Then there was Christina, after Aguilera, also long and blonde but more reserved," she says.
The wigs not only helped her, they helped the girls in the Girl Scout troop she leads. "It made them feel more comfortable talking about cancer," she says. She even had them work toward a Girl Scout patch for breast cancer awareness. The girls learned what the disease was and how to check for it, and they were challenged to remind five women to get their mammogram. "I got texts from parents saying their kid was refusing to do chores until mom made a mammogram appointment," she says with a laugh. "Most of my troop parents got a mammogram pretty quickly."
Quinton's prognosis is excellent, and despite being put into early menopause by her medications, she is feeling fine. She has only praise for her multidisciplinary team of oncologists, surgeons and nurses at Saint Barnabas Medical Center. "From beginning to end, nobody missed a beat. Before I asked a question they had the answer ready to go," she says. "I was lucky. I had a dream team."