A Farewell to Pain
After decades of intense discomfort, a Monmouth County man finds relief through spine surgery.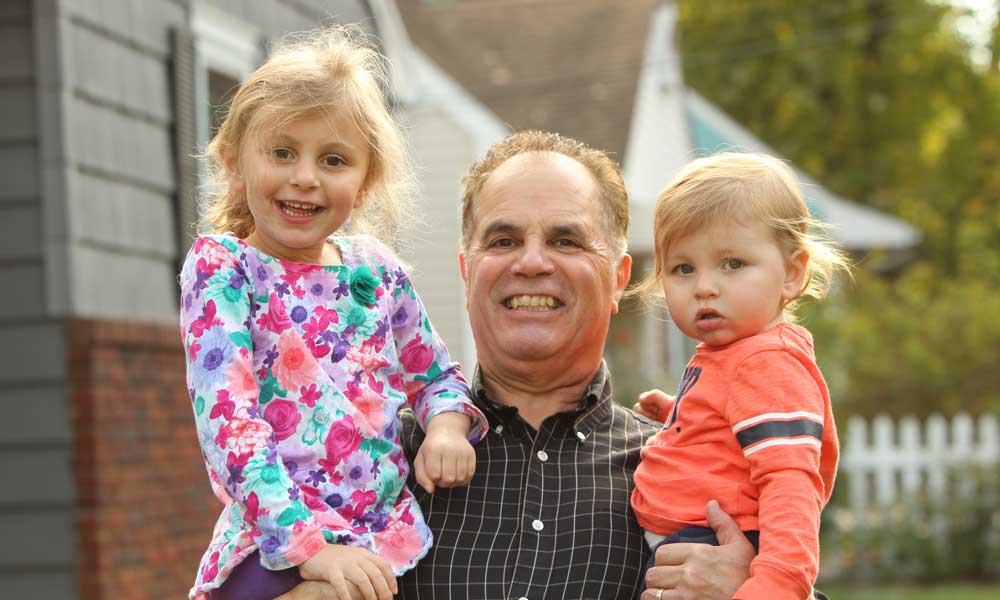 For more than 20 years, Joe Pascarella of Middletown had been experiencing neck and shoulder pain. While he initially saw a doctor and was diagnosed with a pinched nerve, the now 61-year-old turned down the suggestion of surgery.
"Not being a medical person, I wasn't sure I wanted to have an operation," he says.
But after two decades of pain that was getting progressively worse, Joe—a financial adviser with LPL Financial and grandfather of three—decided he needed to take action.
"I was up moaning and groaning at night," he says. "Turning my head to the left or the right or even turning back to put my seat belt on was bad. It was difficult to lift my arms above shoulder height to hold my grandkids. The pain simply got to be unbearable. I couldn't stand it anymore."
A surprising diagnosis
When Joe decided it was time to see a doctor, he made an appointment with Jason D. Cohen, M.D., FACS , orthopedic surgeon and chair of Orthopedics at Monmouth Medical Center. Dr. Cohen diagnosed Joe with herniated discs, radiculopathy and spinal stenosis (narrowing of the spinal column)—all of which can cause pain.
"It had been 20 years since I last had an MRI [magnetic resonance imaging scan], so I needed a new one. I was shocked when Dr. Cohen reviewed the new test and told me I now had three pinched nerves," Joe recalls.
Dr. Cohen suggested he undergo a three-level anterior cervical discectomy and fusion from the zones doctors refer to as C4 to C7 to remove the discs and relieve the pressure on the nerves. Once the discs are removed, an implant would be inserted into the disc space, which would then be filled with the patient's own bone to facilitate the fusion and create the environment for the body to heal the space as a solid bone. A titanium plate would be placed alongside the spine—in Joe's case from C4 to C7—to secure the spine and aid in healing.
"This procedure, completed through a small incision in the front of the neck, is the gold standard for cervical disc herniations and is an option for the majority of people with neck and arm pain with very good results," says Dr. Cohen.
"It all sounded as if it was going to be a big deal, and it was a little scary," says Joe. "But Dr. Cohen, a nurse named Nicole and the entire staff at The Spine Center at Monmouth Medical Center were able to mitigate my fears by explaining everything to me through the entire process, from the consultation and spine test to pre-admission testing to right before I went into surgery."
Surgery is a success
Despite his fears, Joe made it through surgery with flying colors.
"Before I knew it, I was in recovery with a neck brace on—and that was it," he says.
While Joe says wearing the brace was a little uncomfortable, when he was able to remove it a week after surgery, he was amazed.
"I'd suffered for so many years, and in a week's time, the pain was gone—it was a miracle!" he says. "I was very afraid, but through the whole experience Dr. Cohen and everyone I met with were very professional, courteous and nice. From soup to nuts, it was fantastic."
Now, after dealing with decades of pain, Joe credits Dr. Cohen with changing his life.
"It's very ugly to be suffering as I was, but today I feel like new person," says Joe. "I can do all of the handiwork and repairs around the house that were difficult before, and I can even pick up both of my grandchildren. After what Dr. Cohen did for me, I tell anyone who will listen about him."
To learn more about services available for you or your family at Monmouth Medical Center, please call 888.724.7123.
The region's most comprehensive care for the spine
The Spine Center at Monmouth Medical Center has one of the state's foremost spinal care programs, offering patients the most advanced options—both surgical and nonsurgical—for the relief of neck and back pain and related conditions. Its patients receive truly world-class care from a team of orthopedic spine specialists and neurosurgeons who work together to provide leadingedge treatments, making effective use of minimally invasive reconstructive procedures and innovative therapies for all forms of spinal disease, including:
disc disease
spinal stenosis
osteoarthritis of the spine
scoliosis
rheumatoid arthritis of the spine
herniated or ruptured discs
osteoporosis
spinal trauma or spinal injuries
spinal cord tumors or malformations
The Spine Center is dedicated to clinical excellence. From nonsurgical treatment using the latest therapies for spine pain to complex spinal reconstruction and multi-level spinal fusion, Monmouth's coordinated team approach provides patients with outstanding results.
For more information on The Spine Center, or to make an appointment for consultation with a Monmouth Spine Center specialist, please call 732.923.7666.