A Fellowship in the Art of Reconstruction
An exclusive fellowship through Monmouth Medical Center helps oral and maxillofacial surgeons combine surgical prowess with state-of-the-art aesthetic techniques.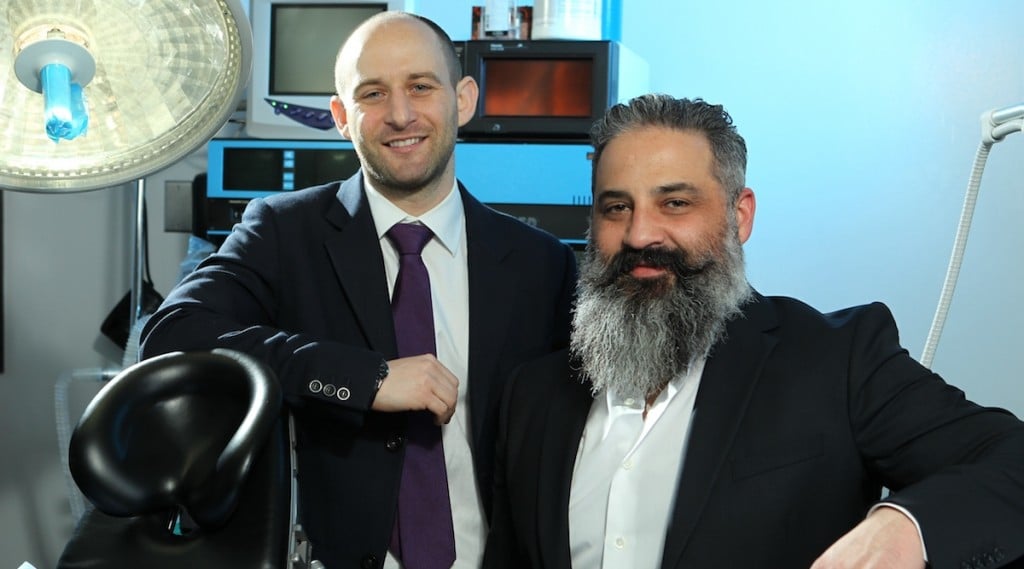 LIKE MODERN DAY RENAISSANCE MEN and women, surgeons have to be fluent in both the art and the science of their practice. That is why Manolis Manolakakis, M.D., developed an innovative cosmetic fellowship to train oral and maxillofacial surgeons to take a multidisciplinary approach to maxi-mize patient results.
Ten years ago, Dr. Manolakakis had the drive and foresight to follow up his oral and maxillofacial surgery (OMS) training with a cosmetic surgery fellowship. Dr. Manolakakis feels the experience truly helped him to fully develop his skills in this area of expertise. Today, he is presenting this same opportunity to others as director of the Facial Cosmetic and Reconstructive Surgery Fellowship at Monmouth Medical Center (MMC).
"We in the OMS specialty are experts in everything from the neck up, and more than capable of reconstructive facial surgery," Dr. Manolakakis says. "We are attuned to the aesthetic components. We have to be. Nobody wants unnecessary scarring and nobody wants to look like they've been put back together. That's a big reason I added a cosmetic surgery fellowship to my training—to take these skills to the next level. I want to be able to combine surgical prowess with state-of-the-art aesthetic techniques for the very best outcomes in reconstructive and elective facial surgery."
The Facial Cosmetic Surgery Fellowship at MMC emphasizes all aspects of facial cosmetic and reconstructive surgery within Dr. Manolakakis' successful private practice. Over a 12-month period, fellows receive highly focused, graduated responsibility in all aspects of cosmetic and reconstructive facial surgery. This prestigious fellowship is one of the only two CODA accredited oral and maxillofacial clinical cosmetic fellow-ships in the country, so it is in high demand. Dr. Manolakakis reports that he has applicants from all over the world for this incredible opportunity.
"The fellowship provides advanced training as a facial specialist in aesthetics and surgery," Dr. Manolakakis says. "It is designed to give the applicant broad exposure and experience in the full range of facial cosmetic surgery, such as reconstructive surgery, including facial trauma, jaw surgery and cleft lip/palate correction. Non-surgical options include injectables, various lasers and medical skin care."
Jeremy May, M.D., who completed a maxillofacial residency at Yale New Haven Hospital, was the first fellow and completed the program on June 28. "I feel extraordinarily privileged to train with Dr. Manolakakis," he says of his experience. "I gained extensive hands-on experience in cutting-edge technologies in Botox, fillers, lasers and facial cosmetic surgery, including facelifts, eyelid rejuvenation, rhinoplasty and other procedures. In my eyes, this is easily the most exciting new facial cosmetic fellowship opportunity in the country across specialties."
Dr. Manolakakis has more than a decade of experience in academic, clinical and private practice setting. In 2006, he founded Advanced Facial Surgery, a private practice in Shrewsbury. He is certified by the American Board of Oral and Maxillofacial Surgery and American Board of Facial Cosmetic Surgery.
TO LEARN MORE ABOUT SURGICAL OPTIONS AT MONMOUTH MEDICAL CENTER, CALL 888.724.7123. TO SHARE THIS ARTICLE ON YOUR FACEBOOK PAGE, VISIT MONMOUTHHEALTHANDLIFE.COM.