A free screening may save your life
The lung cancer screening program detects tumors at an early stage, when they are most successfully treated.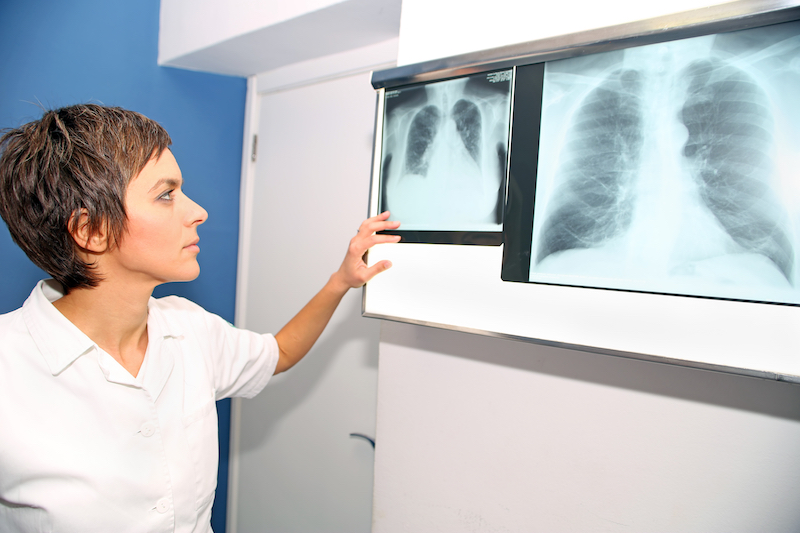 Colonia resident Barbara Dacey, 68, says being diagnosed with breast cancer 14 years ago "was probably a good thing." The reason: During her successful battle against that disease, she was treated with chemotherapy by Delia Radovich, M.D., a medical oncologist at Saint Barnabas Medical Center. Dacey saw Dr. Radovich every year for follow-up care. And she may have saved Dacey's life from a different cancer: lung cancer.
A number of years ago, Saint Barnabas Medical Center launched a new free screening program for people at risk for lung cancer. "She knew I was a former smoker, and she suggested I go in to be screened," says Dacey, a clerical worker and receptionist for a real estate management firm. "Every year she would ask if I'd gone in, and I would say no. I was probably afraid of what it would find." But in 2016, Dacey got screened—"I didn't want to hear it from her again," Dacey says with a laugh—and her low-dose computed tomography (CT) scan was clear. The next year she was screened again. This time, though, the scan showed a spot on her lung. Dacey was referred to a pulmonologist. "He said something doesn't look right," Dacey says. Given her history as a smoker and her previous radiation treatment for breast cancer, that doctor referred her to Subroto Paul, M.D., director of Thoracic Surgical Services at RWJBarnabas Health.
Dr. Paul decided to remove the suspicious tissue with minimally invasive robotic surgery. "He didn't anticipate anything big," Dacey says. But the pathology confirmed it was cancer, and it had spread into a few of the surrounding lymph nodes. A multidisciplinary team of surgeons, oncologists and other lung cancer experts conferred on Dacey's case and decided that she needed radiation and chemotherapy treatment. She completed her chemotherapy in June—given once again by Dr. Radovich— and then began radiation therapy with radiation oncologist David Huang, M.D. "Because it was caught early, I am optimistic she will do well," Dr. Paul says.
"Barbara has completed four chemotherapy treatments and will be having radiation once again to minimize her chance of recurrence," says Dr. Radovich. "She and her husband have both expressed tremendous gratitude for our program." Indeed, Dacey knows the Lung Cancer Screening Program likely saved her life. "In five years—or less—I wouldn't be here without it," she says. She and others like her have been given longer lives thanks to the many new options available for lung cancer patients.
Says Dr. Radovich: "I am proud to be part of an organization so committed to finding novel ways to fight cancer."
Dr. Paul says that more than 90 percent of patients can now be offered minimally invasive surgery, either robotically using the da Vinci Surgical System or through other video-assisted laparoscopic techniques. "We just make a couple of small incisions and take the cancerous tissue out, and patients recover faster and have less pain" compared with more invasive open surgery, says Dr. Paul. And outcomes with the new approach are at least as good as before, he says. He would know, because he has done much of the research on these techniques himself. For the few patients who cannot tolerate any surgery because they are too old, too frail or have other medical problems, radiation oncologists, such as Dr. Huang, can perform stereotactic radiation surgery with a high-tech machine called CyberKnife. "This is extremely advanced technology that delivers radiation from multiple angles to focus it on the tumor, while avoiding surrounding healthy tissue," says Dr. Huang.
When radiation is needed after traditional surgery, he has more ways to deliver targeted and image-guided radiation to the tumor site. Here again, outcomes are improved—over previous radiation treatments—in controlling cancers and minimizing adverse side effects. "A variety of options are available, depending on the type of cancer and the patient's preference," says the doctor.
Advances in care also abound for patients who need chemotherapy. "The most innovative treatments are immunotherapies," says Andrew Brown, M.D., a specialist in oncology and hematology. Drugs that help the body's immune system attack the cancer can make a significant difference in survival for advanced lung cancer, either alone or given along with chemotherapy," Dr. Brown says. They are now in trial for earlier stage lung cancer as well, he adds, "and we hope these therapies become the standard of care to reduce risk of recurrence."
Other medications are being developed to target the specific genetic makeup of a dozen or more genotypes of lung cancer. This is part of a growing field known as precision medicine, in which therapy moves from one-size-fits-all to precisely targeting an individual cancer with an individual drug. And the number of genotypes being targeted is growing year to year. "The possibilities are endless for what we can do with genetics," Dr. Brown says.
All these advances, however, need to be coordinated among the various specialists, and that's what the team at Saint Barnabas Medical Center does on a daily basis. "We all work in close conjunction and meet frequently to talk about every case of lung cancer," Dr. Huang says. "We all look at the imaging and the pathology, and we use a team approach to figure out the best treatment options, whether it's surgery first, or radiation or chemo first, or if it's just radiation."
No one knows the benefits better than Barbara Dacey. "I now advocate to all my friends who smoked, 'Please go for a lung cancer screening,'" she says. "It's free. If something is there, your chances of finding it early are good. And I love all my doctors. They are the best."
TO LEARN MORE ABOUT THE LUNG CANCER SCREENING PROGRAM AT SAINT BARNABAS MEDICAL CENTER, CALL 973.322.6644.