A Hospital Turns Ten
The Unterberg Children's Hospital at Monmouth Medical Center marks a decade of caring for children.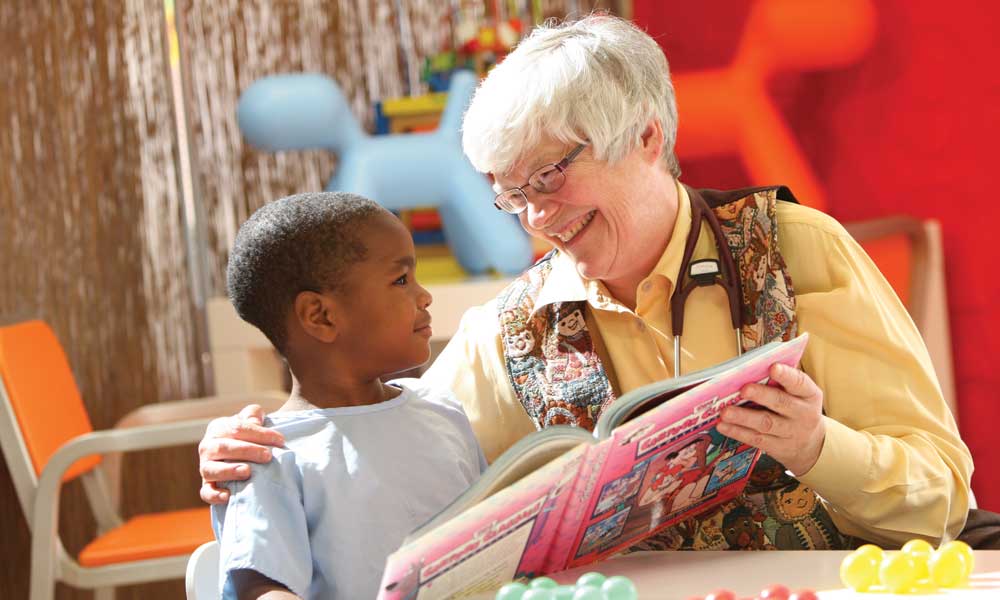 Riddle: Why is a hospital luckier than a kid? Answer: It gets to celebrate a "birthday" all year.
Indeed, while a child who turned 10 on December 28, 2015, had a big day that day, Monmouth Medical Center's Unterberg Children's Hospital is having a big celebratory year—all of 2016.
The contrast may seem unfair to kids till you remember that Unterberg's whole purpose is to assure more birthdays—happy, healthy ones—for all of the children of Monmouth and Ocean counties.
As a regional leader in pediatric health care and a teaching affiliate of the prestigious Drexel University College of Medicine in Philadelphia, Unterberg offers young people—from newborns through adolescents on the brink of adulthood— the leading-edge treatments and specialized expertise that only a comprehensive children's hospital can provide.
It was on December 28, 2005, that Monmouth Medical Center was recognized for its strength in Pediatrics and its unit of that name was licensed by the state as an official children's hospital. But Monmouth's commitment to top-quality care for children actually goes back much further. A special area for the care of youngsters was mentioned in its annual report in 1904. And its Regional Newborn Center opened its doors in 1968 as New Jersey's first neonatal intensive care unit and the first such unit in a community hospital in the nation. Today the medical center's commitment to state-of-the-art care for almost every pediatric health issue at every stage of young life goes on.
So this 10-year-old is clearly wise beyond its years—but never too venerable to toot the horns and blow out candles. Happy "Birthday," Unterberg!
High Honor for a Children's Doctor
Who's the Garden State's "Pediatrician of the Year"? The choice will likely please all of the friends of Monmouth Medical Center—and surprise none. It's Margaret C. Fisher, M.D., chair of the medical center's Department of Pediatrics and medical director of The Unterberg Children's Hospital.
Dr. Fisher was selected for the 2016 honor by the New Jersey Chapter of the American Academy of Pediatrics (NJAAP ). It marks "the recognition and respect of peers for consistently providing an exceptional level of care to patients and families and distinguished contributions to the pediatric profession." And it's hard to imagine a children's doctor anywhere in America—let alone in New Jersey—who more deserves such recognition and respect.
Eminence makes some outstanding individuals seem unapproachable, but somehow that has never happened to Dr. Meg Fisher. She has the same delighted rapport with individual children that she had before she earned her stripes as an internationally renowned expert on pediatric infectious diseases (and immunization advocate). She's the AAP chapter's immediate past present and—to cite just one of her dozens of publications and other accomplishments—she's editor-inchief of an AAP -published book titled Immunizations & Infectious Diseases: An Informed Parent's Guide.
She is also a medical educator of the first rank. At conferences and annual meetings, says NJAAP Executive Director Fran Gallagher, "her unique combination of world-class expertise, unbridled enthusiasm and engaging style fills every seat in the house."
Dr. Fisher will be recognized at the chapter's annual gala in late April in Somerset. But she's already voiced her gratitude for the "Pediatrician of the Year" designation—and characteristically bounced the plaudits right back at her Monmouth Medical Center colleagues and her patients' families. "It is a privilege to work alongside such a dedicated group of healthcare professionals at an exceptional facility and provide care to the children whose families put their faith in all of us," she said.
To Learn more about services available for your family at the Unterberg Children's Hospital, call 888.724.7123.