A Kitchen Opens Up
Now a clean, white design enables better flow–and more "together" time.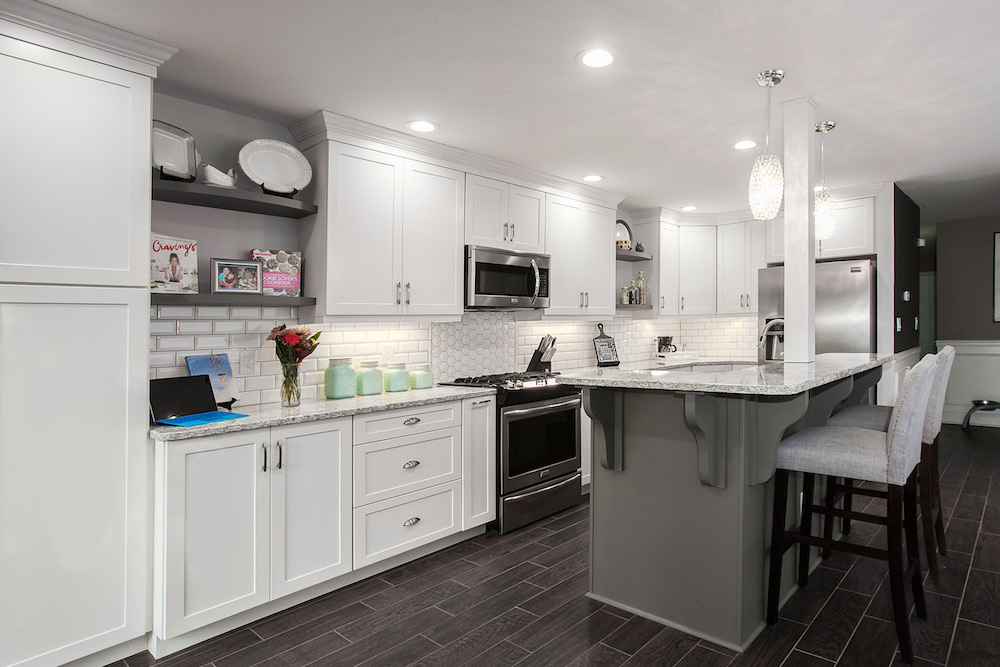 Design by Jill Moskowitz, Kitchen Magic
Photography by David Glasofer, Image Up Studio
Isolated—that's how a Matawan mom felt in her townhome's boxy kitchen. Time spent cooking up a storm meant time away from her school-age daughter. The walls did more than divide kitchen, dining room and living room; They interrupted family time.
Lisa, the homeowner, recalls having to strain to catch a glimpse of the living-room TV when her daughter wanted to share a viewing moment. In that precious time of the day when family life revolves around the kitchen's tantalizing aromas, the closed floor plan proved more than outdated—it was a personal barrier, and a stumbling block to entertaining and visiting with extended family members when they came by.
"The kitchen was like a box," laments Lisa, who purchased the place in 2012 anticipating a future makeover. "As a working mom, my time in the kitchen is key, not just to make meals but to interact with people, and the old layout hindered that," she says.
To move "outside the box" (almost literally) and into a more contemporary floor plan and style, Lisa turned to Jill Moskowitz, a designer for Kitchen Magic in central New Jersey, and yes, a wall did have to crumble. In fact, Moskowitz blew the layout wide open to connect the kitchen with the adjacent living room and eliminated the dining room to add space where it was needed most—in that Grand Central kitchen.
Part 2 of Moskowitz's mission was a clean design to rescue an eatery short on space (both storage and counter) and visually burdened with stock oak cabinets that had been painted so many times that another paint job just wouldn't work. Lisa embraced the switch to suede gray (seen in the floating shelves and island) and satin white (looking fresh in the Prestige Statesman cabinets made of maintenance-free laminate) and the new lighting that left gloom behind. Not only did the open layout mean more sunlight, but Moskowitz also installed dazzling pendants over the island and other artificial lighting.
White is undeniably trendy and classic, with the staying power Lisa wanted in her forever kitchen. Yet modern makeovers with their monochromatic tendencies can have inherent design challenges, sometimes crying out for texture to take them from antiseptic to wow. "If you do all white, it's a very sterile kitchen," says Moskowitz. "Contrast is important, I think, but it's personal taste."
So Moskowitz introduced gray grout to dramatize snowy subway tiles and added a hexagon pattern over the stove that, like a painting, infuses character. In addition, the tiered island, with a sink and dishwasher on one side and chow-down area on the other, gets high marks for more than function. The quartz countertops with white, gray and a touch of beige not only deliver pizzazz, but also let Lisa cross another element off her list: easy maintenance. The quartz product is nonporous, which means easy, breezy cleanups. Ditto for the distressed gray wood-effect planking, which is porcelain, known for its durability.
Loving the subtle sparkle of the quartz, Lisa says, "Jill helped me pick out a beautiful piece that has a glitter effect but very slight—so it's not obnoxious. It makes it elegant and looks really great with the lighting."
Another textural boost came from brushed nickel cabinet hardware, stainless-steel appliances and floating shelves, which are just right for family photos and to avoid what Moskowitz calls "the bowling alley effect" of long cabinets. Says Lisa: "Jill gave me great ideas. I explained that while everyone needs lots of storage, I also needed to display art and family mementos. She came up with the floating shelves on either side, which I thought was fabulous."
Besides solving the storage problem with the new design, Moskowitz added touches such as built-in recycling and trash bins, which Lisa applauds for the convenience factor.
Lisa likes the kitchen redo so much she plans to take the rest of the townhome on a similar design journey. "Our use of the kitchen has almost tripled with open concept," she says. "The old layout made it hard for two people to function in the kitchen; now we are able to cook together. It's the space to be able to cook with people instead of just for them."