A Lasting Legacy
Judith W. Dawkins is honored for more than two decades of advocacy and leadership.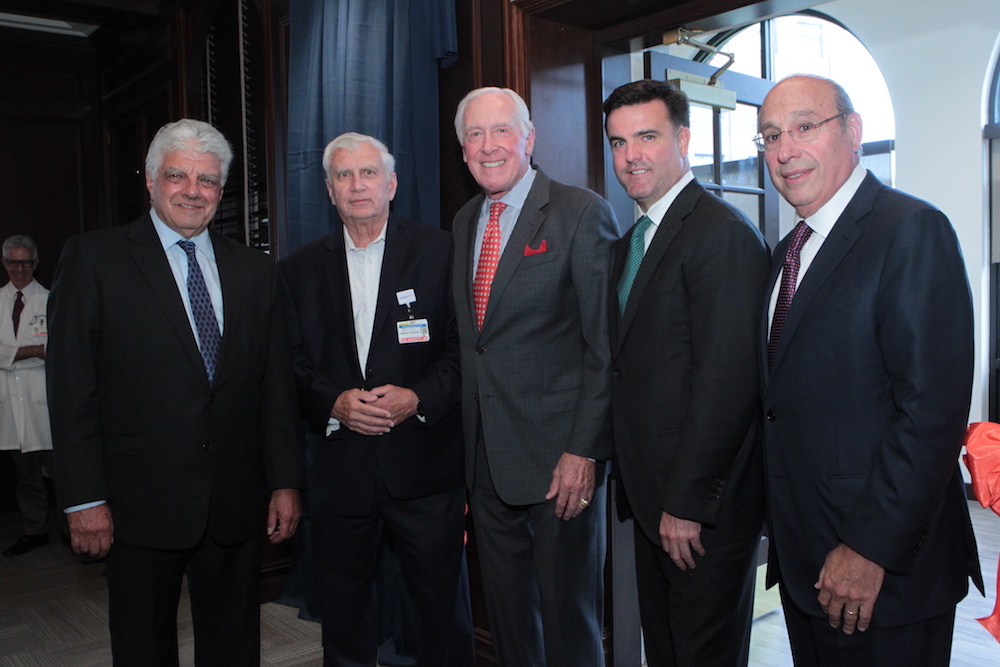 MONMOUTH MEDICAL CENTER (MMC) RECENTLY HELD A dedication ceremony to honor and memorialize the leadership and legacy of long-time benefactor, the late Judith W. Dawkins. The dedication of The Judith W. Dawkins Executive Board Room commemorates her legacy as a tireless advocate and leader in promoting and advancing women's health services.
"Judi spent over two decades, and countless hours—many of which took place in that board room—making decisions that helped lead the path to success for Monmouth Medical Center," says Pete Dawkins, Judi's husband. "It's only fitting, therefore, that the executive board room should bear her name. Our hope is that Judi's spirit of advocacy and leadership will live on. And that it will continue to inspire others to share that vision, and make decisions which truly help those in our communities."
The new executive board room will feature a striking portrait of Judi, a memorial plaque that celebrates her service and increased seating.
"Judi always wanted to make sure that everyone could have a seat at the table," Pete adds. "She encouraged a spirit where ideas were openly exchanged so that the needs of the community would be met in the best way possible."
During Judi's more than 20 years of service at MMC, she was dedicated to doing everything possible to make sure the community's health care needs were being met and advancing women's health care services overall. To ensure that this focus would live on, the Dawkins family made a $4 million transformational leadership gift to support the medical center's Women's Services program. In honor of Judi, MMC named the program The Judith W. Dawkins Women's Health Program.
Services offered through the Women's Health Program include: primary care and health main-tenance for women, obstetrics, breast health, cancer prevention, autoimmune disease care, nutrition and sports medicine, gynecology, cardiovascular health, mental health, radiology, as well as assembling leading researchers, educators and clinicians.
"Judi was passionate about helping others and addressing all of the unique challenges women commonly deal with," said Bill Arnold, president and CEO of Monmouth Medical Center. "Through the Dawkins family's generous donation, we are able to honor Judi's vision and legacy in the best possible way by being able to grow our women's health services and further our commitment to women and the community."
The Women's Health Program in Judi's name will expand the current array of highly specialized services, providing comprehensive community-based services to women at any age. "By building on the shared insights and synergies of MMC's medical staff and administration," Pete says, "the program will look to continually expand the frontier of women's care."
Judi had a lasting influence on MMC during her more than 20 years of service as a trustee, board chair, nominating chair and leader. Her legacy at MMC extends to almost every area of the institution. Especially noteworthy was her time as chair of the MMC Foundation's board from 2000 to 2003, where she helped launch the "Redefining Health Care Capital Campaign." The campaign included oversight of $15 million in upgrades for the Leon Hess Cancer Center and the expansion of the Jacqueline M. Wilentz Comprehensive Breast Center.
"This gift celebrates Judi's quest to empower women to lead stronger, healthier lives," Pete says. "I can't think of a more fitting way to honor my wonderful wife, and her incredible legacy of leadership and helping others."
Barry H. Ostrowsky, president and chief executive officer of RWJBarnabas Health, says he got to know Judi well during her board tenure and praised her as a "thoughtful leader" whose service was characterized by boundless energy, dedication and innovation.
TO LEARN MORE ABOUT WOMEN'S HEALTH PROGRAMS AT MONMOUTH MEDICAL CENTER, CALL 732.923.5577. TO SHARE THIS ARTICLE ON YOUR FACEBOOK PAGE, VISIT MONMOUTHHEALTHANDLIFE.COM.