A New Era Begins
The merger between Barnabas Health and the Robert Wood Johnson Health System forms New Jersey's most comprehensive health care system.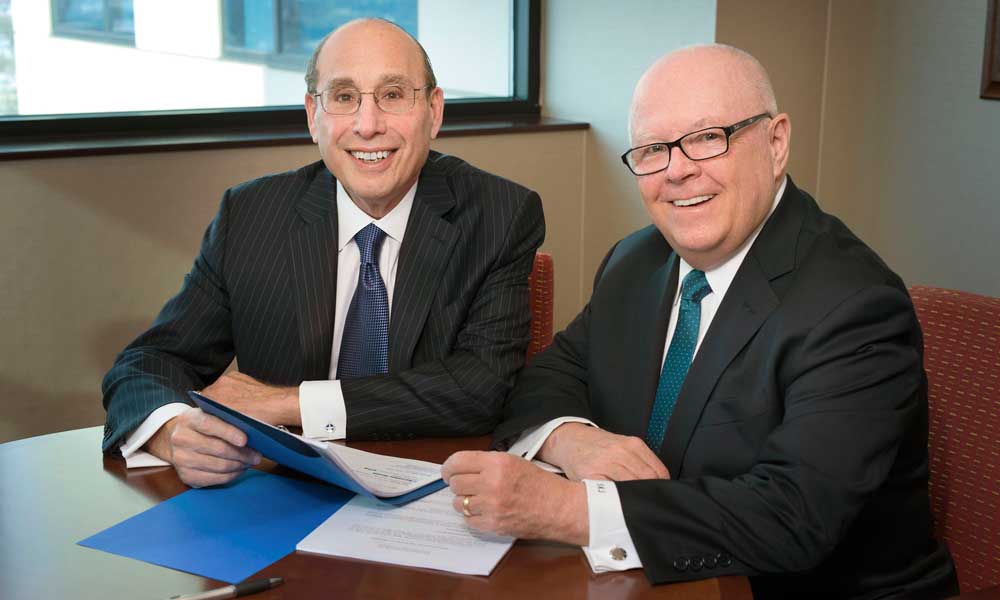 Sometimes a new combination can create something even stronger than the sum of its parts. This is such a time.
Barnabas Health, the system that includes Saint Barnabas Medical Center, has completed its merger with the Robert Wood Johnson Health System. The result is the most comprehensive health system in the state: RWJBarnabas Health. The new organization will reach approximately 5 million people—more than half of the state's population—and powerfully advance the health of the region.
As one health system, RWJBarnabas Health will:
improve the overall health of our populations;
continuously advance the quality of care we provide;
collaborate with physicians for a closely coordinated continuum of care;
contribute to local, regional and state economies by remaining a major employer in our communities;
focus on the well-being of the diverse communities we serve with a commitment to high quality, culturally competent care; and
support a mission of academic excellence, including a commitment to research and medical education.
Barnabas Health President and Chief Executive Officer Barry H. Ostrowsky becomes RWJBarnabas Health's president and chief executive officer, with former Robert Wood Johnson Health System and Robert Wood Johnson University Hospital President and Chief Executive Officer Stephen K. Jones serving as chief academic officer in the Office of the President.
Says Ostrowsky: "Barnabas Health and Robert Wood Johnson Health System share many attributes—depth of quality clinical services, skilled and dedicated clinicians, a legacy of teaching, a commitment to partnering with the diverse communities we serve, a responsibility as major contributors to our economy and much more. By joining together, we have created a system that will enable us to effect the kind of change in the health of our communities that our two separate systems could not do alone. Our partnership also means a greater level of diversity in every respect—diversity in thought, clinical care delivery and workforce— a true reflection of New Jersey and of the people we serve."
The new system will train more than 1,000 residents and interns annually and embrace the mission of academic medicine, which includes quality clinical care, joined with groundbreaking research and a commitment to medical education. Through coordination of existing academic and teaching medical centers and numerous community hospitals, RWJBarnabas Health will continue to attract and retain the finest health care professionals and physicians and be better prepared to strengthen the health of our state's diverse populations.
"Both Barnabas Health and Robert Wood Johnson Health System have a shared commitment to advancing medical education in our state," says Jones. "As evidenced by Robert Wood Johnson University Hospital's 40-year partnership with Robert Wood Johnson Medical School and the proven teaching programs sponsored by Barnabas Health's medical centers, our respective health systems have served as the training ground for thousands of medical professionals. As RWJBarnabas Health, our commitment to education and research will be strengthened."
RWJBarnabas Health becomes New Jersey's second largest private employer, with more than 32,000 employees, 9,000 physicians and 1,000 residents and interns. The health systems contributed a combined total of over $550 million in community benefit services annually. These investments support charity care, food pantries, community gardens, patient education, outreach and engagement programs and programs with schools and religious groups to keep people healthy and promote wellness. As one organization, RWJBarnabas Health will be able to accomplish even more for the communities it serves.
"By working together, we know we can combat disease and promote wellness in our region, truly making our communities healthier," says Ostrowsky. "We will be working every day to ensure that our vision becomes New Jersey's reality."
To learn more about the merger between Barnabas Health and the Robert Wood Johnson Health System, please visit rwjbhinfo.org.