A New Lease On Life
After struggling with obesity, a 30-year-old Long Branch man turns to Monmouth Medical Center for the "tools" to change—and save—his life.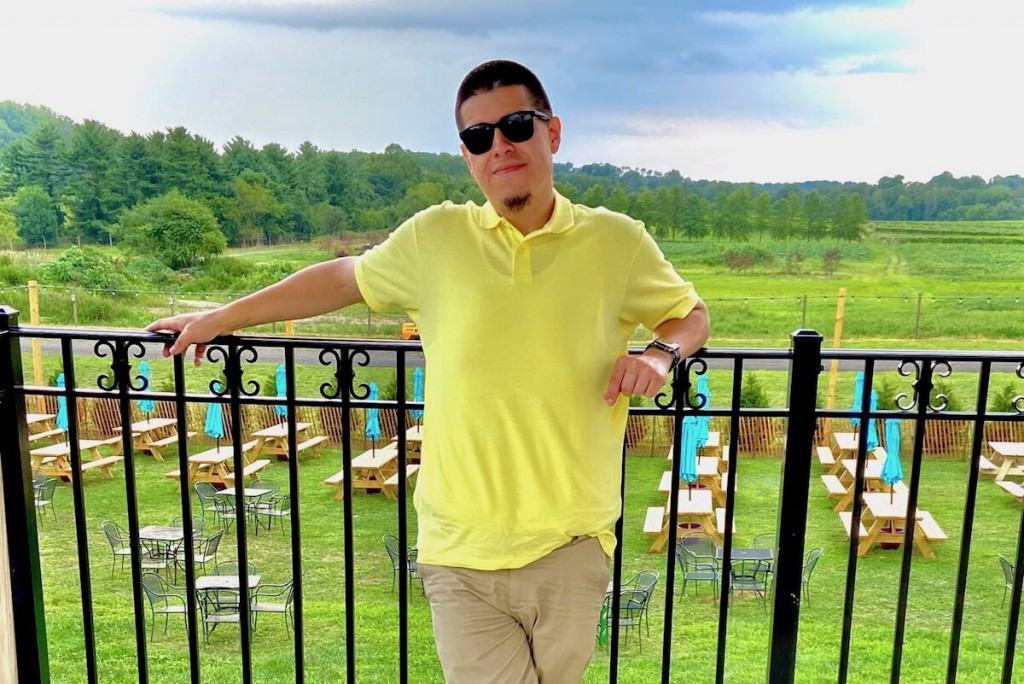 Jesus Galarza is not unlike any other New Jerseyan: He's an active, fun-loving guy who enjoys a good laugh with friends as much as he appreciates shopping for nice clothing. But the 30-year-old Long Branch resident also isn't ashamed to say that his life hasn't always been filled with happiness; in fact, it was quite the opposite just five years ago.
Growing up, Galarza was always overweight. He tipped the scale between 270 and 280 pounds throughout high school, a weight he didn't carry well on his 5'8" frame. "I always tried to eat healthy," he says, "but it was hard when you have all the good stuff in front of you. I was a big fan of Chinese food." Galarza continued to make poor dietary choices, and he ballooned to 375 pounds and was suffering from back and knee pain by the time he reached his mid-20s. That's when, while attending a conference in 2015, he met former professional wrestler and current motivational speaker and yoga instructor Dallas Page, a Point Pleasant native.
"He told me, 'Listen, if you don't change your life and your eating habits now, you're not going to make it to age 40 because your heart is not going to keep carrying your weight,'" Galarza recalls. "That was a big wake-up call."
Galarza started exercising and shed nearly 40 pounds in just over three years, but he wasn't convinced that his health was getting any better. "Nothing was really working," he says. "When you're big all of your life, you think all you have to do is exercise—but you don't realize that controlling food intake is just as important."
Friends started talking to Galarza about bariatric surgery, where medical professionals make physical changes to a patient's digestive system. After conducting his own research, he reached out to Monmouth Medical Center (MMC) and met with bariatric surgeon Frank Borao, M.D., FACS, FASMBS, director of minimally invasive esophageal and gastric surgery. After reviewing his options with the staff, Galarza elected for sleeve gastrectomy, a procedure in which roughly 75 percent of the stomach is removed via minimally invasive surgery. The day before surgery, which took place last September, Galarza weighed 334 pounds.
"I was nervous and scared, but Dr. Borao always told me the truth, presented the facts and made me feel comfortable," Galarza says. "I didn't know the possible outcome, but he said I had a good chance of succeeding with this procedure."
The Bariatric Surgery Center at MMC has been reaccredited as a Comprehensive Center by the Metabolic and Bariatric Surgery Accreditation and Quality Improvement Program (MBSAQIP), a joint Quality Program of the American College of Surgeons (ACS) and the American Society for Metabolic and Bariatric Surgery (ASMBS). MBSAQIP-accredited centers offer preoperative and postoperative care designed specifically for obese patients.
"Our outstanding quality of care, low complication rate and high level of surgical experience distinguish our bariatric surgery program," says Dr. Borao.
According to Galarza, Dr. Borao reminded him that surgery was a "tool" for weight loss and health maintenance. To do "his part," he developed better eating habits such as reducing the amount of carbs and sugar in his diet and increasing his intake of vegetables and lean proteins like chicken and fish. Galarza also gets consistent exercise: He walks between 5 and 6 miles a day and stays on his feet all day as a member of the Long Branch public schools' custodial staff.
"I'm constantly moving, and when you eat clean, you feel clean," says Galarza, who today—about one year after bariatric surgery—is a svelte 166 pounds. "I love my lifestyle. I have energy now that I never had.
"I feel great and I fit into the clothes I always wanted to buy," he adds. "I can't thank Dr. Borao and his staff enough; they really saved my life."
To learn more about the bariatric surgery options offered at Monmouth Medical Center, or for a schedule of free new patient lectures, call 888.724.7123.