A New Spin on Sangria
This summer sip just got a lot hotter.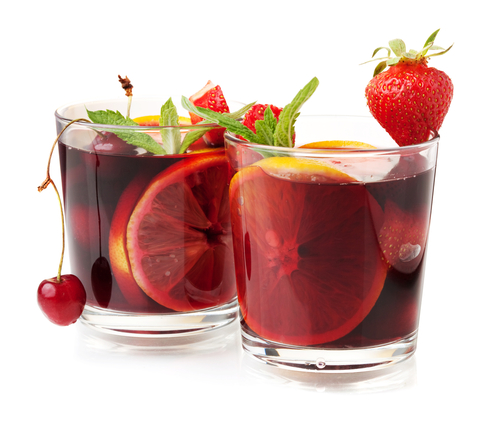 While it may be the season for yard sales, don't part with Grandma's punch bowl just yet! Big-batch drinks and pitchers are making a comeback this season, showcasing the hottest flavor combos from the bar and keeping partygoers creatively quenched. Serving cocktails in large quantities not only frees up the bartender, it also provides a "signature" drink that can express—or establish—a party theme.
The most popular punch of the bunch, the simple and classic sangria—traditionally recognized as red wine, muddled with sugar and some brandy and served in fruit-filled pitchers with plenty of ice—has gotten a serious makeover. With a little creativity, the use of seasonal ingredients and a nod toward healthy sips, this Spanish concoction has gone from pedestrian to primetime. Sweet-sip naysayers, fear not. These pitchers are far from the syrupy-sweet hangover harbingers you once knew. In fact, they can be a festival of fruit. From raspberries and thyme to mango and guava mixed with every wine from Viognier to Champagne, sangria is no longer strictly a red-wine punch.
"Sangria now includes an array of flavors," says Kara Newman, author of Spice and Ice: 60 Tongue-Tingling Cocktails, "and they are getting more and more complex, like the bitter addition of amaros, floral liqueurs and even spicy elements." More and more batches are made with white wine, rosé and even sparkling wine.
Sangria can be a healthy option, thanks to all that fruit. Says Newman: "Compared with one of those sugary dayglo lime green appletinis full of artificial flavors, at least sangria takes its flavor from macerating fresh fruit. Plus you get the health benefits of including a moderate amount of wine." Your sangria can be as light as you like. By including fresh fruit juices and club soda you can cut the calories and also add some spritz.
Don't want to play bartender? Let a neighbor do it for you. Maplewood's own Rick Martinez sells his premade stuff, suitably named Señor Sangria, in more than 400 locations throughout the Garden State. For less than $15 you can serve eight with the 1.5-milliliter bottle of his red sangria. Just add ice, fresh fruit if you'd like and voilà! With the addition of a little música Latina, before you know it, you'll be on your second pitcher. To find a store near you that sells Señor Sangria, check out senorsangria.com.
Click here for an exciting sangria recipe from Kara Newman- the Sangria Scorcher.
---
Places to try:
Cuban Pete's Restaurant & Tapas
428 Bloomfield Ave., Montclair
973.746.1100, cubanpetesrestaurant.com
El Rancho Grande Mexican Restaurant
548 Main St., Orange
973.678.8631, elranchogranderestaurant.net
Señoritas Mexican Grill
285 Glenwood Ave., Bloomfield
973.743.0099, senoritasmexicangrill.com
Toro Loco Mexican Restaurant
23 Valley St., South Orange
Phone: 973.761.1515, toroloco.net