A New Weapon Against Prostate Cancer
CyberKnife precisely delivers higher doses of radiation to the tumor.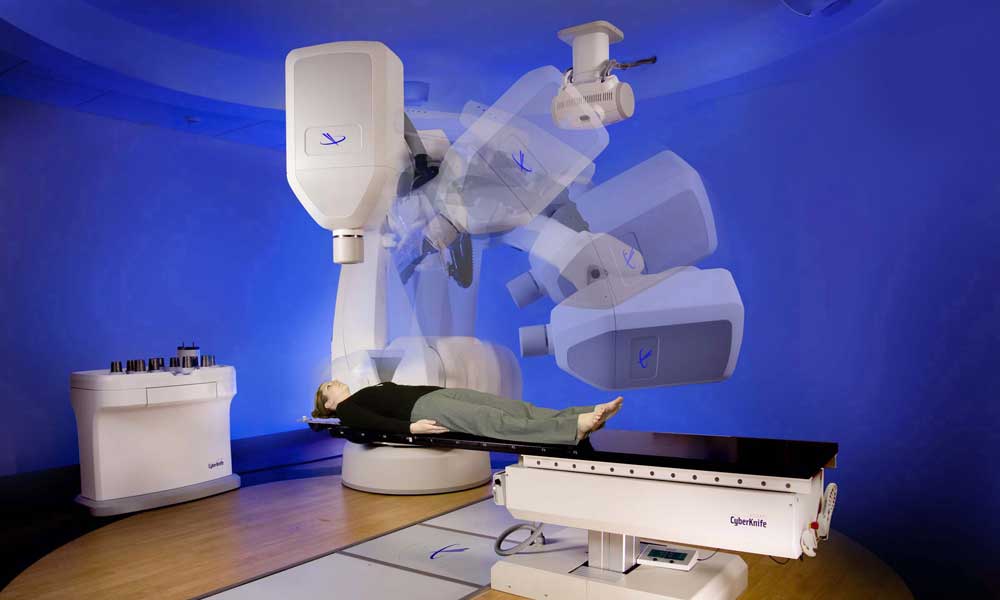 Every year, more than 220,000 American men learn they have prostate cancer, the second most common form of cancer behind skin cancer. Treatments, which vary depending on age, overall health and the tumor's severity, may include radiation to kill the cancer cells—especially with early-stage cancers. In January, Saint Barnabas Medical Center ups its game when it begins treating patients with the most advanced radiation delivery technology available for attacking early-stage prostate cancer. Known as CyberKnife, it's a robotic radiosurgery system that uses advanced computer guidance software to allow radiation oncologists to target cancerous lesions with more precision.
Alison Grann, M.D.
"It delivers high-dose beams of radiation with extreme accuracy to hardto- reach tumors anywhere in the body," says Alison Grann, M.D., chair of the Department of Radiation Oncology at Saint Barnabas Medical Center. "It's helpful in treating not just prostate cancer, but also tumors of the lung, brain, spine, liver, pancreas and kidney."
Because the radiation is so precisely delivered, patients can receive a higher dosage per session than they would normally. Sessions are longer—about 30 minutes versus 10 minutes for traditional treatment— but far fewer of them are required. "Typically, patients with prostate cancer need 40 to 45 treatments over eight weeks, but with the CyberKnife we can deliver the radiation in five treatments over five consecutive days," says Dr. Grann. That makes it more convenient and less disruptive of the patient's life, and helps ensure that the patient completes the course of treatment.
And the benefits don't end there. Some tumors are more radiation-resistant and require higher dosages. CyberKnife can deliver these higher doses because it's three-dimensional. "It has a robotic arm, so unlike most radiation delivery systems that can only rotate 180 degrees in one plane around the patient, this one rotates a full 360 degrees along multiple planes. That allows us to pinpoint the radiation we can deliver, maximize its strength, and minimize exposure to other tissues," notes Grann. It also tracks the tumor in real time during treatment. "CyberKnife continues to take images while delivering radiation," Dr. Grann says. Tumors in the prostate may move if, say, there is gas in the bowel or the bladder is full. The imaging tracks this movement within 1 millimeter and adjusts accordingly.
Because CyberKnife treatments deliver such high doses of radiation, they require a highly specialized team of radiologists, physicists and dosimetrists. (A dosimetrist is a member of the team who works with the radiation oncologist to help develop the safest treatment plan.) "We have three Ph.D. physicists and three dosimetrists trained specifically in CyberKnife, and we have the infrastructure in place to deliver high doses of radiation with the right safety protections for patients and technicians," says Dr. Grann. Indeed, the medical center built a new protective vault just to house the CyberKnife.
CyberKnife is a means of delivering both stereotactic body radiation therapy (SBRT) and stereotactic radiation surgery, which Saint Barnabas Medical Center already offers. CyberKnife has been available for several years, but Dr. Grann felt that now was the prudent time for Saint Barnabas to acquire the technology. "SBRT types of treatment have expanded in the past few years," she says. "Now, with more trials showing how effective CyberKnife is, I felt it was a good addition. And as more patients become eligible for SBRT treatment, it has really evolved into the new standard of care."
A MAJOR THREAT TO MEN'S HEALTH
Prostate cancer is the second leading cause of cancer death in men, behind lung cancer. It occurs mainly in men 65 and older, and roughly one in seven men will be diagnosed with it at some point.
In 2015, estimates the American Cancer Society, prostate cancer:
will be diagnosed in 220,800 men.
will claim the lives of 27,540 men.
To find out more about services available for you or your family at Saint Barnabas Medical Center, please call 973.322.5630 or visit sbmccyberknife.org.