A Night at the Roxbury
This Catskills motel is a funky alternative to the country B&B's that dot the region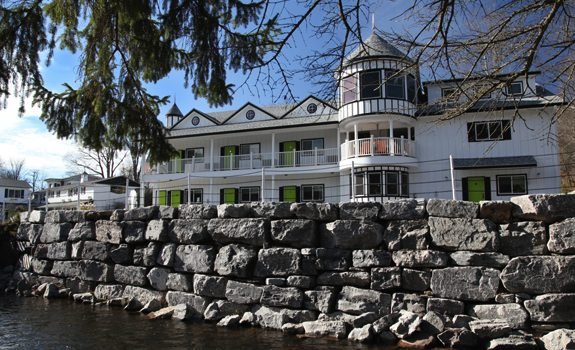 Well-traveled wanderers who think they've seen it all should take a trip to the Roxbury motel in the Catskills region of New York. The property bills itself as a "boutique motel resort," offering "a thematic contemporary twist on the old country lodging experience." And that's putting it mildly. Each room has a theme so well executed that staying there makes you feel as if you are on a movie set.
Indeed, the room I stayed in, the Amadeus' Bride suite, is based on the film Amadeus and decorated in an opulent style that melds the 18th-century baroque and rococo periods, with gold-leaf moldings framing more than 27 mirrors, a large crystal chandelier and a sprawling mural of Mozart's wife, Constanze. The two bedrooms are wallpapered in velvet-flocked silhouette paper from Osborne & Little, and a glowing plastic bust of Constanze sits atop a spiral staircase.
Other rooms include Tony's Dancefloor (inspired by Saturday Night Fever), Angel Hair (Charlie's Angels), The Wizard's Emeralds (The Wizard of Oz), Maryann's Coconut Cream Pie (Gilligan's Island) and Maria's Curtains (The Sound of Music). The most recent addition to the Roxbury is a stand-alone cottage called the Archaeologist's Digs, with decor inspired by the Indiana Jones movies. In addition to three bedrooms, two bathrooms and a full kitchen, you'll find secret passageways, hidden treasures and a fish tank that is soon to be featured on the Animal Planet show Tanked.
Proprietors Gregory Henderson and Joseph Massa's attention to detail is astounding—and it doesn't just apply to the design of the rooms. Amenities are top-notch, as is hospitality. Two spas have been added to the property in recent years for those needing some "aah" with their "wow."
The one thing the Roxbury doesn't offer is full meal service (although it does provide fun snacks and an extensive continental breakfast), so set off down Route 28 to have dinner at Peekamoose Restaurant & Tap Room, which is about 30 minutes away in Big Indian, but well worth the drive. Lodged in a refurbished farmhouse, Peekamoose provides the Catskills country charm you don't get when bunking at the contemporary Roxbury. Chef Devin Mills, who trained at New York City's Le Bernardin and Gramercy Tavern, turns out inventive fare made with locally sourced ingredients. The nightly bonfire, complete with marshmallows— if you've still got room after dinner and decadent desserts including sinfully rich homemade ice cream—is a kick, and the rustic-chic bar area is always hopping.
Outdoors enthusiasts will be happy to hear that the Roxbury is less than an hour from the Catskills' four main ski areas, and shoppers will enjoy antiquing, art galleries and the unique stores in nearby towns like Andes and Woodstock.
Getting There
The Roxbury
2258 County Hwy. 41
Roxbury, N.Y., 607.326.7200
theroxburymotel.com
Drive time: about 2.5 hours
The Coconut Cream Pie Room
Related Read: Mohonk Mountain House