A Passion for Helping
Carla Guerreiro has a special reason to aid the poor: Her Memories.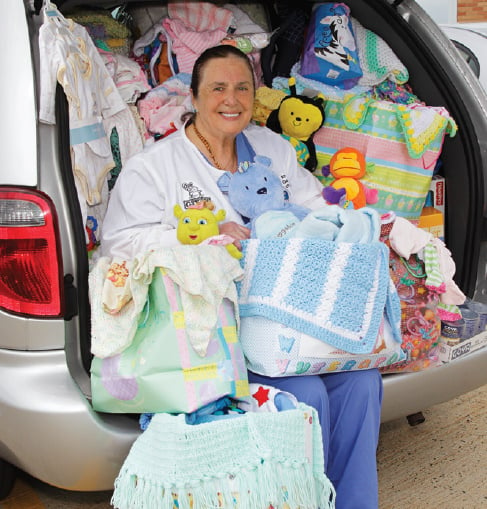 Needy families in our area know Carla Guerreiro. For 21 years she's been a community outreach worker at Saint Peter's University Hospital's Women's Ambulatory Care Services, where she helps distribute goods and coordinate social services. A Highland Park mother of one and grandmother of two, Guerreiro, 67, says it is the hospital's mission—and her own—to provide a helping hand for the needy in the New Brunswick-Somerset area. And she has a special motivation: A half-century ago, she and her family needed a helping hand themselves.
Guerreiro grew up in postwar Italy in the northern town of Trento. Her father had spent 12 years in the Italian Army, where his job sometimes entailed carrying wounded comrades back from the front line. For three years, he'd been a prisoner of war. "He would cry when he told the stories," says Guerreiro.
Those postwar years were difficult, as they were for many Europeans. "There was no work, no money, no food," she recalls. "We were very poor. Many times we went hungry, or the little food we did have had to be divided equally among myself and my three siblings, while my parents went without."
Her father traveled to America in the mid-1950s and in 1958 she, her mother, her two brothers and her sister came to meet him. As they sailed into New York Harbor on March 12 (she still remembers the date), Guerreiro, then 14, was awakened by her mother. "We were sleeping, and she called us to get up to see the Statue of Liberty," she says.
Her dad ("100 pounds lighter than I remembered him," she recalls) had worked several jobs and saved enough to buy a small house, but illness then incapacitated him for years and her mother had to support the family. On her first day in America, speaking little English, her mom set out to find a clothing factory she'd heard about where the workers all spoke Italian. But when she boarded a bus, she made a mistake—it turned out to be a school bus. The driver asked her to get off, but she refused. "Work, work," she told him over and over. Finally the driver took her to the factory. "He went 10 miles out of his way to help her," says Guerreiro.
The factory gave her mom a job operating a sewing machine. "Americans were very good to us," says Guerreiro. "I had great teachers in school who helped me learn English and be happy." Eventually, her father recovered and found construction work. The family's lot improved. The children assimilated. They lived the archetypal American immigrant story.
Guerreiro became a pattern maker in the fashion industry just as her mother had been. But when her marriage ended in divorce, she decided to make a change. "I believe my destiny was always to help, to give people something they didn't have," she says. She found the position at Saint Peter's, in which she uses a minivan donated by McDonagh Chevrolet to deliver food, clothes and toys, helps connect people with support services and—at the clinic —helps put on Christmas parties and baby showers.
"When I was young I often didn't have food or clothes, so I'm grateful that I can now help others with these things," says Guerreiro. "When someone comes to me asking for help, I see myself as a little girl in their eyes." She doesn't often tell others her story, though. She prefers the quiet sense of satisfaction she gets from fulfilling the hospital's mission.
"I want people to know that Saint Peter's University Hospital will never turn its back on anyone," she says. "Our hands are always extended and ready to provide support, compassion and understanding."
---
Related Article: Caring for the Poor and Uninsured