A Reflective Environment
Through peace and tranquility, the new Gloria Nilson Garden of Reflection at MMC encourages healing.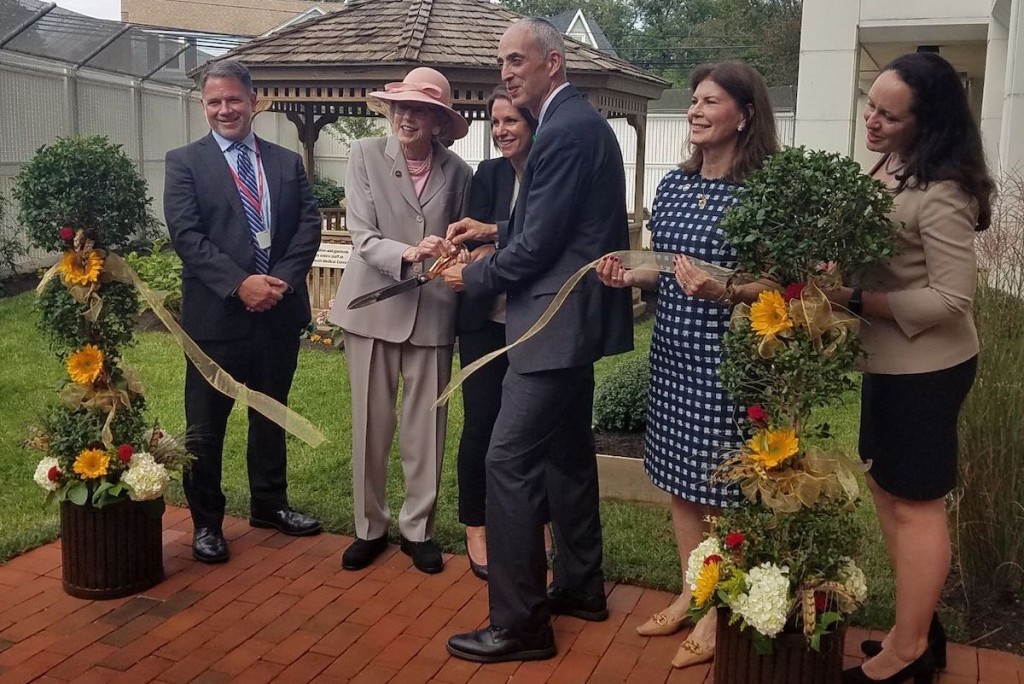 The Monmouth Medical Center Foundation unveiled the Gloria Nilson Garden of Reflection in a secure courtyard adjacent to the hospital's inpatient behavioral health units. A ceremonial ribbon-cutting ceremony took place on Oct. 8.
"We are pleased to officially open and celebrate the Gloria Nilson Garden of Reflection for use by patients at our inpatient behavioral health facility," says Eric Carney, President and CEO of Monmouth Medical Center (MMC) and Monmouth Medical Center Southern Campus (MMCSC). "As we have learned during this pandemic, taking care of our mental health is more important than ever, with so many people struggling during these uncertain times. The vision for this new space was to create an inviting outdoor area for patients to get a breath of fresh air, in a reflective environment that encourages healing."
MMC is the largest provider of mental health services in Monmouth County with a total of 63 psychiatric beds and psychiatric emergency screening services. Noting that the garden was previously not a welcoming space for these patients, Carney says it was revitalized and refreshed with the help of the Fireflies Council—an MMC Foundation group dedicated to raising funds for behavioral health services and spreading awareness for mental health wellness—and longtime MMC philanthropist Gloria Nilson and other generous donors.
"For our behavioral health patients, this area represents a space that will give them a break from the hospital setting while receiving treatment here," says Stan Evanowski, Administrative Director of Behavioral Health Services at MMC. "Part of our patient-centered approach in caring for individuals will be to provide them with quality time in this beautiful outdoor space to help them feel better. Research shows that patients respond positively to nature, plants and to participating in the tasks of tending to a garden."
Fireflies Council Chair Carolyn DeForte, D.M.D., an advocate of breaking the stigma that surrounds mental health, notes that when the Fireflies Council for Behavioral Health was created in 2018, it had two goals. "We wanted to break the stigma and educate our community, which we continue to do each day, and we also wanted our friends, family and community members who need world-class treatment for mental health at MMC to feel they were coming to a welcome and inviting space," she says. "I am so excited for the opening of this garden because it represents so much and encourages healing for the many people who come here to receive the best treatment in mental health in Monmouth County."
The focal point of the garden is the beautiful Esther and Bill Schulder and Family Gazebo, providing ample seating with protection from the elements to sit in quiet reflection. It also features raised garden beds and a recreation court with a basketball hoop. Exterior brick-faced walls are now decorated with dedication and inspirational tiles, including one that shares, "It's never too late to start the day over."
Caitlin Olson, Regional VP of Development for MMC and MMCS, thanks Dr. DeForte for her leadership and dedication to mental health, noting, "It is because of this that we are today surrounded by so much beauty, hope and inspiration.
"Thank you to everyone who helped to make a difference," she says. "A special thank you to Gloria Nilson for naming this incredible space, and to the Schulder family for naming our gazebo. And thank you to the many donors who made this possible."
---