A Revolution in Spotting Lung Cancer
This new technology brings the lab to the bedside for a faster diagnosis.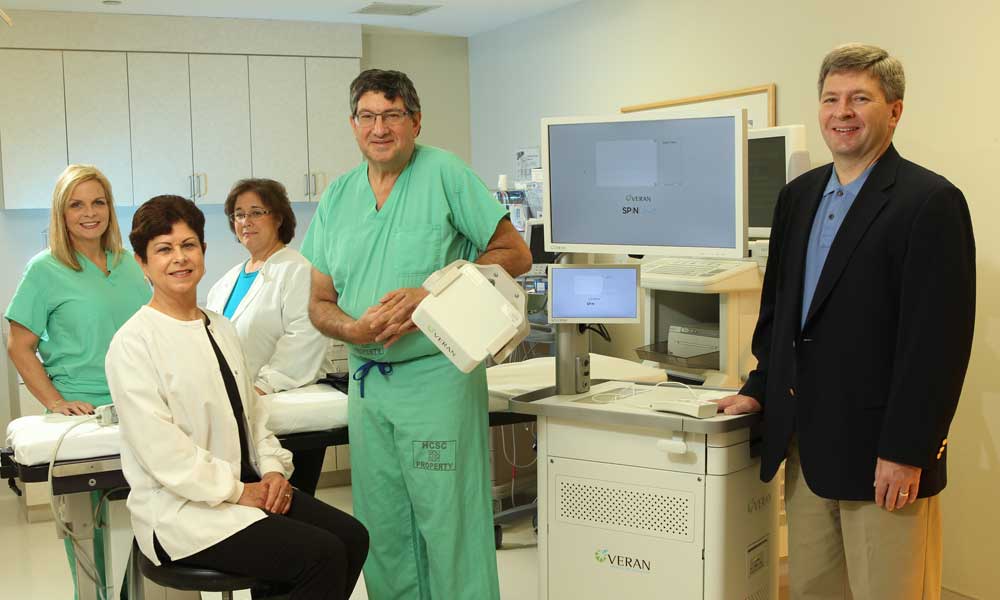 Talk about high-stress. Waiting to learn if you have lung cancer can bring some of life's most difficult moments. But now those moments are fewer, thanks to a new diagnostic technology available at Monmouth Medical Center.
"It helps the patient get a quicker diagnosis in a less invasive way," says Lisa Porth, a respiratory therapist who is regional director of Respiratory Care Services at the medical center. And it can be a relief for a patient and family to receive a prompt, clear answer and move on to the next step—even if that step is surgery.
The new technology is an electromagnetic navigation platform with which physicians can take biopsies of nodules in the lung. "It allows the physician to target a tumor directly, where before he or she could only reach its periphery," says Porth. "The new system shows a tumor's dimensions in 3-D."
The system is manufactured by St. Louis-based Veran Medical Technologies, a company that specializes in electromagnetic navigation, and it's called SPiND rive® 2.0. It meets the newest guidelines for lung cancer diagnosis issued by the American College of Chest Physicians (ACC P), and Monmouth Medical Center is the first hospital in Monmouth County to acquire it.
"There are other navigational bronchoscopy systems out there, and we evaluated them," says pulmonologist Chandler D. Patton, M.D., of the medical center. "We decided this one would be best for our patients. The big advantage of this system is that it allows us to biopsy much smaller lesions than was possible before, which possibly means earlier diagnosis and staging of lung cancer—and hopefully better outcomes."
Early diagnosis of lung cancer can be a lifesaver, says Dr. Patton, who notes that he recently completed a case in which he found a 1-centimeter lesion that turned out to be cancerous.
The disease causes more deaths in men and women than colon, breast and prostate cancers combined. If lung cancer is diagnosed at Stage III or IV , the five-year survival rate is only 15 percent. With early detection, however, there is an 88 percent survival rate at 10 years and a 92 percent survival rate with the immediate removal of the lesion. Prior to the recent development of electromagnetic navigation, as now recommended for use in ACCP guidelines, only 16 percent of lung cancer patients have been diagnosed at an early stage, when the cancer was still localized.
The new navigational system shows the full dimensions of potentially cancerous lesions. Used in an operating room, it also allows a biopsy to be taken then and there. Laboratory equipment is brought into the room, so that an initial evaluation of the biopsy sample can be performed quickly, even though a full analysis still will be required. In some cases that means that if one biopsy sample is inconclusive, the medical team knows to take another biopsy right away—so that potentially precious time is not lost.
Last September 30, Monmouth Medical Center pulmonologist Sharon Weiner, M.D., used the new navigation platform for the first time, assisted by Dr. Patton. The diagnostic procedure is performed in the medical center's Cranmer Surgery Center, and participating team members include a pulmonologist, a chief pulmonary technician, a respiratory therapist, an operating room nurse, an anesthesiologist and a technician from the laboratory.
"Today the tide has turned in our battle against lung cancer," says Laurie Fenton Ambrose, president and CEO of Lung Cancer Alliance, a national organization that seeks to bring the benefits of responsible screening to those at risk. "We can and will continue to ensure adherence to the proven best practices to guide the screening, diagnosis and treatment of lung cancer."
For more information about this new technology, call the Lung Cancer Screening and Lung Nodule Program at 732.923.7966.
Should you be screened for lung cancer?
On December 30, 2013, The U.S. Preventive Services Task Force (USPS TF) issued its final recommendation approving the use of low-dose computed tomography (CT) screening for individuals at high risk for lung cancer. The recommendation set the stage for both public and private insurance coverage, and it's expected to bring about a dramatic increase in lung cancer survival. The USPS TF's high-risk populations include current and former smokers, ages 55–80, who have significant cumulative tobacco smoke exposure and have smoked within the last 15 years.
Monmouth Medical Center is the first hospital in Monmouth and Ocean counties to be designated by the American College of Radiology (ACR) as a Lung Cancer Screening Center. Screening is handled by the medical center's Leon Hess Cancer Center.
Here are answers to four often-asked questions:
1. Who should be screened?
Current and former smokers are at high risk; also, second-hand exposure to tobacco smoke may increase your risk. Talk to your doctor about whether CT screening may be right for you.
2. How is a CT scan different from a chest x-ray?
A chest X-ray only shows the front and side views of your chest. A low-dose CT scan shows many cross-sectional images from the top of your lungs to the bottom. A CT scan gives doctors a more complete picture of your lungs.
3. What happens during a CT scan?
The CT machine is shaped like a big donut. A moving table slides you in and out of it in 20 seconds. During those seconds the machine revolves around you, taking pictures from many angles. No injections or medications are needed. It is a noninvasive procedure, and the amount of radiation used is low.
4. How much will the screening CT cost?
If you qualify for the program, you will receive a free low-dose CT scan of the chest. If additional followup tests are needed, they are generally covered by insurance. If you have a lung nodule, you may also be eligible to be followed in our Lung Nodule Program.
For more information or to make an appointment, call the Lung Cancer Screening and Lung Nodule Program at 732.923.7966.