A Room Made New
The three girls were older now. It was time to turn their playroom into a tranquil space the whole family could enjoy.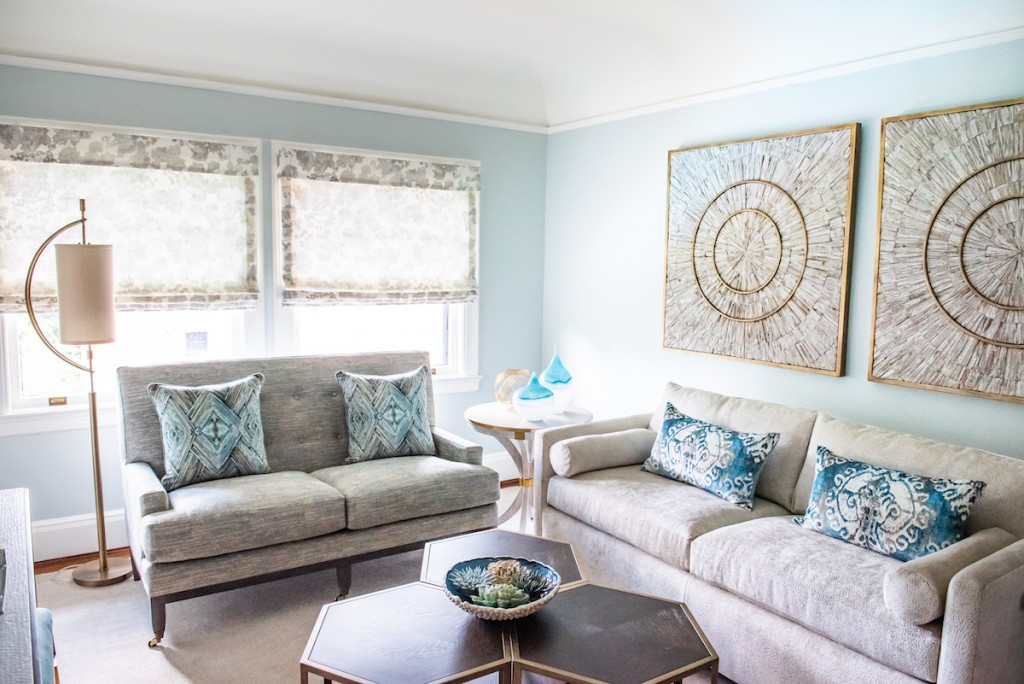 The three sisters who lived in a Glen Ridge home had outgrown their "chaotic" pink-on-pink playroom. So their parents hired designer Julie Liepold of Millburnbased Liepold Design Group to help transform the upstairs rec area into a "completely fresh" multi-use enclave the whole family could spend time in.
"The first priority was to open up the space and make it more user-friendly," says Liepold, whose team began by getting rid of the built-ins that made the room look smaller and took away from its architecture. She then helped her clients choose a "relaxing, tranquil color scheme [of blues and golds] that was anything but pink."
From there, Liepold focused on adding function. There is an upholstered Duralee sleeper sofa for when the girls have overnight guests, a trio of tables by Uttermost that can easily be shuffled around and a Vanguard Furniture console table with pull-out seating underneath for one of the daughters who likes to draw and paint. "There are also plenty of areas for reading, and the parents can easily use the room for entertaining too," she adds.
To boost visual interest along with the muted color palette, the designer incorporated a variation of textures with accessories and accent pieces. This is apparent in the chenille-upholstered sofa, the mixture of wood patterns in the side and coffee tables and the overall geometric motif exemplified in the Duralee loveseat, the Callisto Home throw pillows and the wall panel duo and half-circle floor lamp, both by Uttermost.
What resulted was the just-right rejuvenated room for the homeowners and their inner circle. "The goal was trying to blend the things that made my clients happy and create a space that they could walk into and feel relaxed in at the end of the day," says Liepold. "It's always rewarding to see a happy client."