A Special Delivery And A Happy Ending
After nearly two days of labor, a Lumberton woman and newborn are living easy thanks to Monmouth Medical Center's doctors and nurses.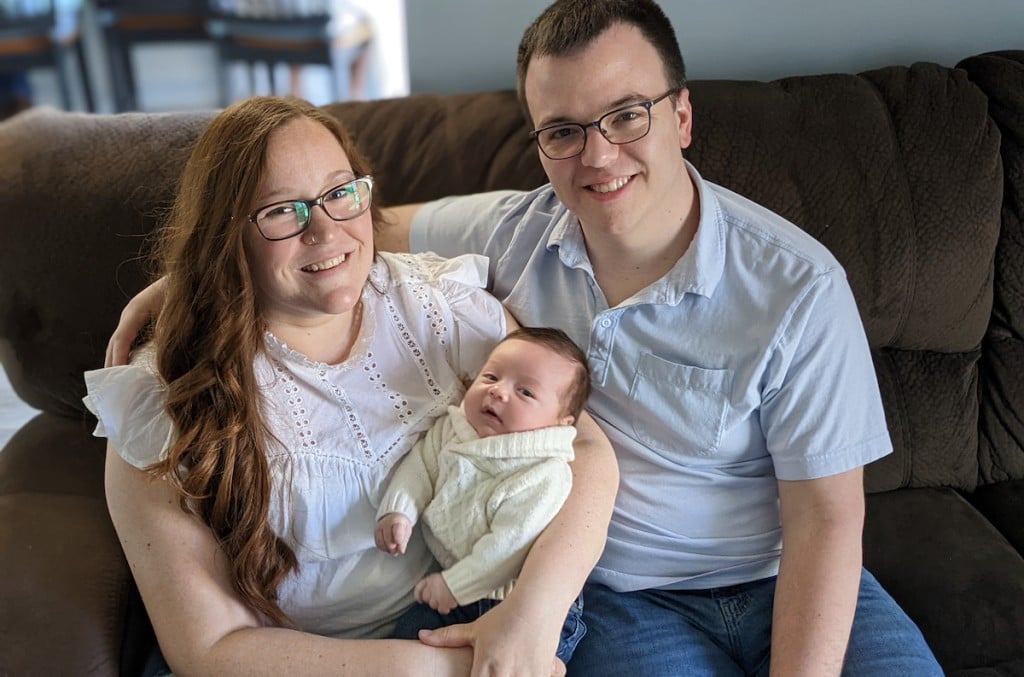 Jayme Gordano had a busy spring, what with a newborn baby and a new golden retriever puppy to look after.
Her son, Westin, has been easy-going thus far, but labor and delivery of her first child was far from simple.
Gordano, 31, a dance instructor and former part-time restaurant server and bartender, lives in Lumberton with her husband, Joseph, 33, who works in analytics for Janssen Pharmaceuticals. Her pregnancy was going along nicely until October 2021, when she noticed blood in her urine. During a normally scheduled ultrasound, a growth was detected in her bladder, and when it was surgically removed in January, pathology revealed it was cancerous. Beyond regular monitoring, no other treatment was required.
"It was a blessing in disguise," she says, because the prenatal ultrasound found the tumor early.
At the same time, Gordano's blood pressure was beginning to rise, a warning sign of pre-eclampsia. Her ob/gyn, Rahab Khalil, M.D., decided to schedule her for induction in late February, a few weeks ahead of her March 4 due date. Two health scares during pregnancy are challenging enough, but Gordano then had a third: A week before her induction, doctors noticed and removed a cancerous skin lesion, stage 0 melanoma. Fortunately, it also was caught early, and required no other treatment.
She stopped her restaurant work on Feb. 5, as her delivery date approached. Then, at a regularly scheduled doctor's office visit on Feb. 15th, her blood pressure was very high. She was admitted to Monmouth Medical Center (MMC) the next day.
MMC, which has been a Level III Regional Perinatal Center since that designation was first created nearly 60 years ago, has built and maintained one of the safest obstetrical and gynecologic practices in the nation. It is also one of the busiest: More than 6,200 babies are born at this hospital annually, more than any other facility in Monmouth and Ocean counties.
Because of the hypertension, Gordano was having severe headaches, and she was given magnesium supplements to prevent seizures. She was induced at 8 p.m. on Feb. 16. "The nurse came in the room, and she felt something else was going wrong," Gordano says. Doctors at MMC's Eisenberg Family Center Labor and Delivery Unit learned that the umbilical cord had wrapped around the baby's neck, and so they had to expedite the delivery. "The actual birthing experience was a lot," she says understatedly. "The doctors saved him; they were great."
Baby Westin was born at 1:08 p.m. on Feb. 18th—but Gordano's troubles weren't over. The day after the birth, doctors found that her uterus was full of blood clots, which had to be expressed.
She was in the hospital two days after the birth. "Because of the pre-eclampsia I couldn't sit up—I would black out," she recalls. "I needed a bladder catheter because I couldn't get out of bed."
She credits MMC's nursing and physician staff with controlling her headaches with medication, removing the stitches from her skin cancer surgery and, eventually, motivating her to get out of bed.
"These nurses went above and beyond for me," Gordano says. "The nurses did everything they could to make sure I was OK and feeling as comfortable as I should."
After discharge, she was on blood pressure medications for two to three weeks, and her entire body was swollen. "But I'm fine now," she says.
She hopes to begin teaching dance again in the summer— she teaches acrobatic, jazz, hip-hop, "everything really," at three different dance studios. Westin is fine too. "He's great, meeting all his markers, gaining weight," she says.
"He's getting his chubby cheeks." How did she get through all these travails?
"The mother instinct was, I will be fine, just keep going to the doctor and being seen," she says. "I wanted to make sure my baby was healthy, to do everything I could. My husband was there the whole time, and when the doctors told me about the blood clots, he made simple analogies about what they would do. Obviously it was a lot more than that. He was trying to put me at ease."
Despite the difficulties, she says she is thinking about having another child. "The first two weeks [after giving birth] I said, 'I don't want more kids,'" she says. "But Westin's so great, so cute—I might be open to it."
---
To learn more about maternity services at Eisenberg Family Center Labor and Delivery Unit at Monmouth Medical Center, call 732.923.5024.