'A Tan's Not Worth It'
This teen thought she was indestructible, but someone forgot to tell the sun.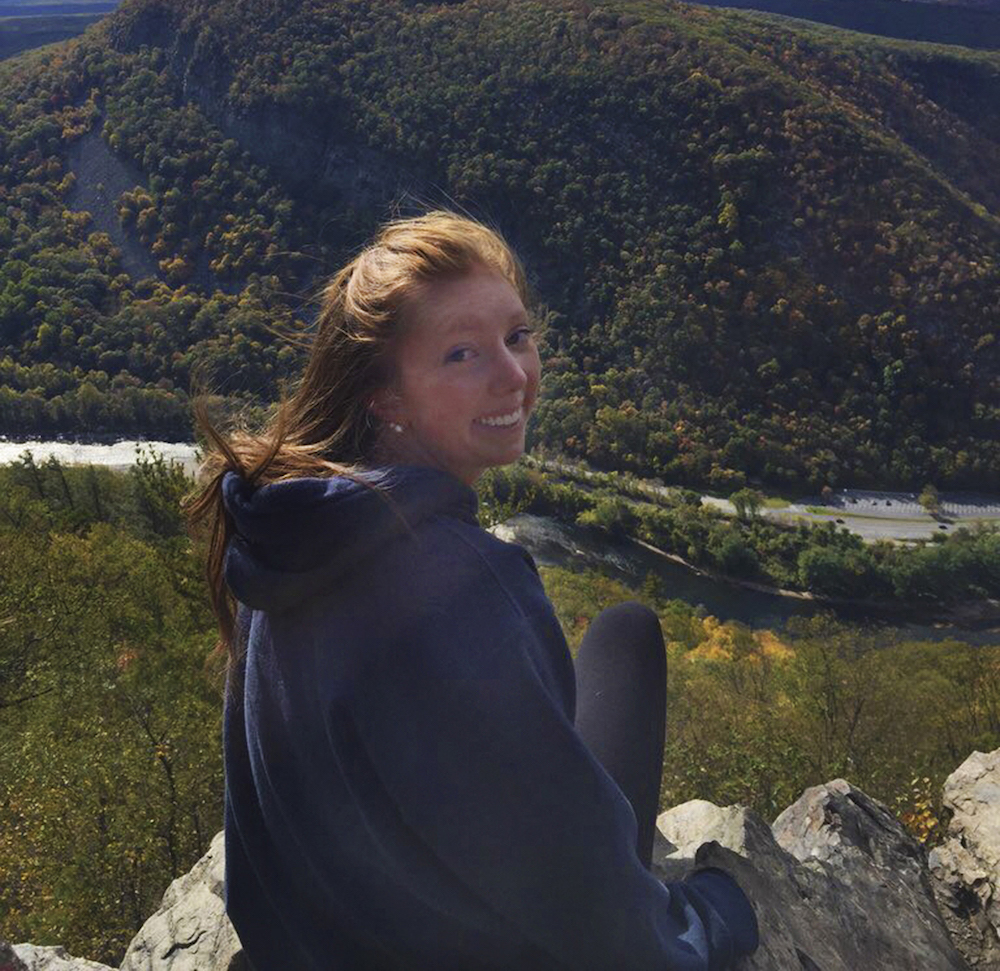 Like many teenagers, Emily Christiansen wanted a summer tan. She never thought she'd get skin cancer. But she did—and today she wants to warn other teens about the dangers of overexposure to the sun's harmful rays.
Christiansen, of Newton, now a 22-year-old Monmouth University graduate, had more overexposure than most—she's been a summer lifeguard at various pools and camps since she was 15. "I treated my skin so badly," she says. "Girls my age want to get tan, and I wouldn't put on enough sunblock. I would get burned every year, and I didn't protect my skin. As a teen you think you're invincible."
A skin check in 2015 revealed that she wasn't: a dermatologist found a lesion on her upper back that was progressing toward melanoma, the most dangerous skin cancer. There was no family history of the disease, and even though Christiansen has red hair—a prime risk factor for skin cancer—she also has brown eyes and darker skin than most redheads. "I am not the average ginger; my skin tans well," she says. "I was incredibly surprised and scared."
That lesion was removed, and the next summer she was much more careful in the sun, wearing protective hats, shirts and lots of sunscreen. Yet in 2016 her dermatologist found another lesion on the back of her left leg. This was a melanoma; it required a two-and-a-half-inch incision to remove. "I was traumatized," she says. "It will leave a scar forever. That really opened my eyes. Imagine if it was on my face—it would look horrible!"
More important, it could have spread over her body. "Melanoma is the top malignancy in young women," says Franz Smith, M.D., a board-certified surgical oncologist and skin cancer expert at Saint Barnabas Medical Center. Of the approximately 3 million new cases of skin cancer every year, less than 1 percent are melanoma, he says. "But it's the most aggressive type, and it's responsible for the majority of skin-cancer deaths."
Sun exposure is the primary risk factor for melanoma, and the fact that skin cancer is on the rise in young people suggests that "they're not heeding the advice that prevention is important, and that there is no such thing as a good tan," Dr. Smith says. There is also increasing use of tanning beds, which many believe are safe but are not. "We have to dispel that myth," Dr. Smith says. Especially here in New Jersey, which has more tanning beds per capita than any other state, says Moira Davis, the nurse navigator for Saint Barnabas's Melanoma Screening Program.
This May, the program is teaming up with area dermatologists to offer free skin-cancer screenings as part of an American Academy of Dermatology program called Melanoma Mondays. "We will offer screenings on other days as well," Davis says, "primarily at the AtkinsKent Building at 101 Old Short Hills Rd." (Registration is required; see below for details.) "Dermatologists are volunteering their time," she says. Patients will get a copy of the results, and if a suspicious lesion is discovered, Davis will provide patients with a list of dermatologists and follow up to make sure they have made an appointment. If someone requires surgery, she helps coordinate appointments with surgeons, social workers, oncologists/ immunotherapists and the patient's primary care physician.
"Treatments are rapidly evolving," says Dr. Smith. "There have been significant advancements in the past five to 10 years. There were limited options for melanoma a few years ago, but now we have specific antibodies to enhance the immune system to fight the disease. There are also targeted therapies for specific mutations, which slow the development of melanoma based on the mutation. It is all very promising."
But the emphasis, he says. should remain on prevention, screening and early detection. "Fortunately, Emily's dermatologist saw suspicious moles, which were treated surgically, and she is cured," he says. But she is still at risk for other melanomas in the future, because of her habits in the past.
Meanwhile, Christiansen has changed her ways. Her lifeguard position this summer will be as an aquatics coordinator, keeping her out of the sun more. And she will be more vigilant about using sunscreen, wearing sunglasses and a hat, and being more mindful of the other things she can do to reduce her risk.
"A tan looks nice, but it's not worth putting your skin at risk," she tells other teens and young adults. "I am not a pale girl, I had no history, and I still ended up with cancer."
Save your skin!
In 2016, 315 people were screened for skin cancer at Saint Barnabas Medical Center, with these results:
75 biopsies were recommended. n 109 people were referred to dermatologists. There were also these diagnoses: n 2 melanomas n 1 squamous-cell cancer n 6 basal-cell cancers
SOURCE: Saint Barnabas Medical Center
Free skin-cancer screenings
Call 888.724.7123 to sign up—or register online at RWJBarnabas Health Link, barnabashealth.org/ sbmcevents
To learn more about the Cancer Center at Saint Barnabas Medial Center or speak with our nurse navigator, please call 973.322.6506 or visit barnabashealth.org/sbmccancer.