A Timeless Playroom?
Most spaces designed to be kid-friendly will be obsolete in a few years, but not the one in a certain Maplewood house.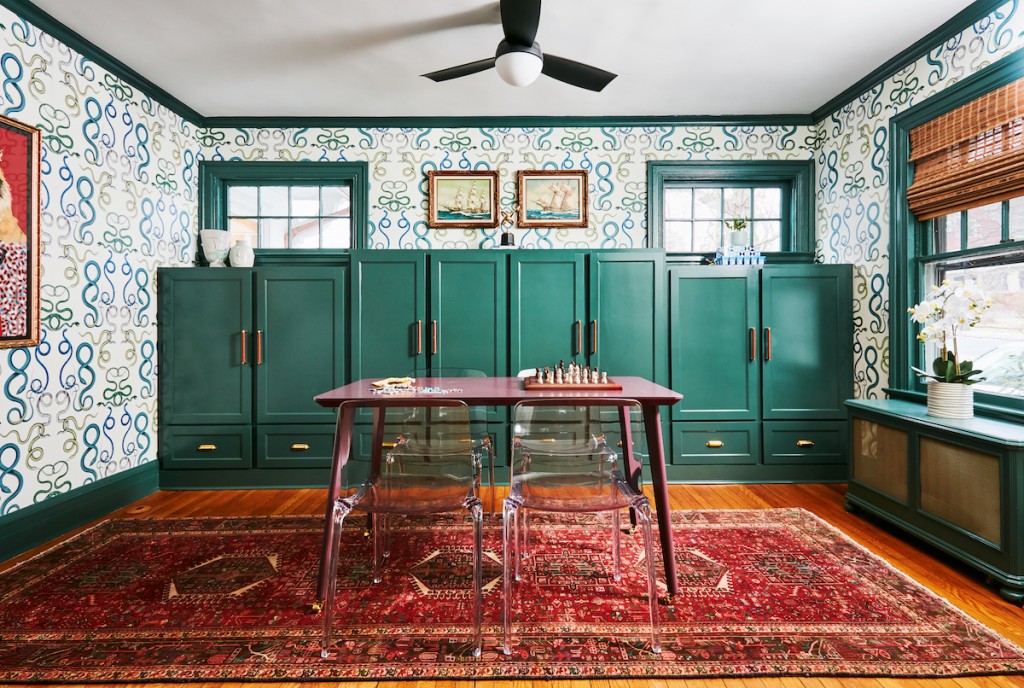 A playroom is for kids, and its aesthetic is time-limited by fleeting childhood—that has always seemed to be a firm rule. But for Sarah Storms, the interior designer at Maplewood's eponymous Styled By Storms, some rules were made to be broken. She set about creating a fun space in her hundred-year-old Maplewood Dutch colonial that her three boys, ages 8 and 5-year-old twins, could put to the test—and still visit happily as a "gentlemen's lounge" decades hence. It would be outgrow-proof.
When Sarah and her husband Chris bought the house in November 2019, so many other rooms took priority that "the boys' room was utilitarian," she says. It didn't do justice to its space right off the foyer, so Storms would shut the door when entertaining. But in her designer's heart, as she recalls, "we wanted it to feel like a space we were proud of."
Two years later, her motivation to tackle the reno came from the One Room Challenge, a biannual home makeover event launched by Florida design blogger Linda Weinstein. Storms' goal was to create a playroom/gentleman's lounge for all ages—so no juvenile prints. "It's a beautiful, timeless, eclectic design that will grow with us," she says.
Once toys are tucked away in the custom built-ins with Benjamin Moore's Tarrytown Green, the room takes on a lounge quality with its classic burgundy Ikea table atop a '50s Persian rug bursting with color over hardwood. For a masculine touch, she sourced Schumacher's Giove snakes for the wallpaper and lumbar pillows on her great-grandmother's petite club chairs reclad in a Vanderbilt velvet. For the walls, one of her twin sons chose a "whimsical" tiger print original from Maplewood's Sarah Klein.
Because kids will be kids, Storms made it a snap to turn the room into one big space with the table's brass casters and stackable (also wipeable) acrylic chairs. Also no-fuss, brass cabinet pulls wrapped in cognac leather will grow rugged with time, as the unlacquered brass drawer pulls gain patina charm.
Did Storms hit the mark with this once blank box of a room? It certainly has the kid seal of approval. "They want to have everyone they know over for playdates," says Storms of her sons. As for the room? She calls it "the embodiment of me as a designer."
By Donna Rolando
Design by Sarah Storms
Photography by Aimee Ryan