A visit with the CEO
Stephen P. Zieniewicz, FACHE, tells what it's like to lead one of the northeast's most honored hospitals in a time of change.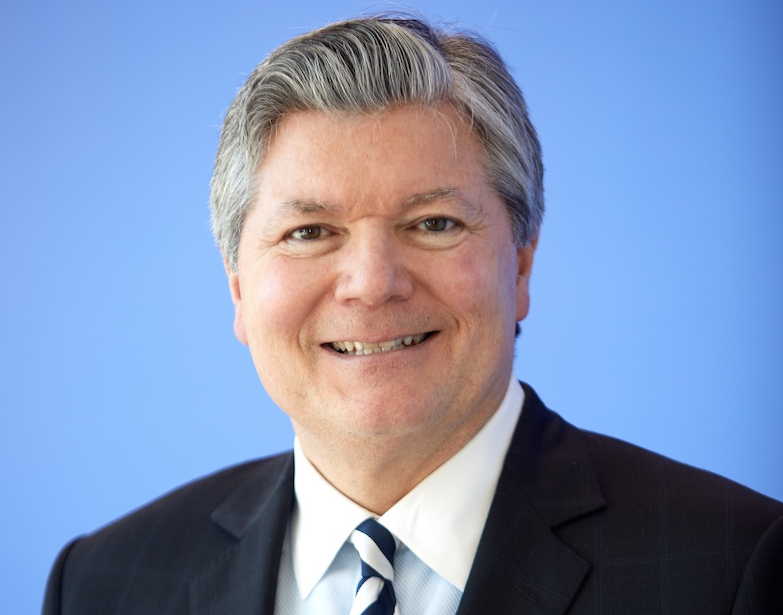 These days health care is full of promise and challenges. To find out about both, Morris/Essex Health & Life recently spoke with Stephen P. Zieniewicz, FACHE, President and CEO of Saint Barnabas Medical Center.
MORRIS/ESSEX HEALTH & LIFE: Last year was a very energizing, transformational one for Saint Barnabas Medical Center with the opening of the Cooperman Family Pavilion. How has that new facility made a difference?
ZIENIEWICZ: It's been transformational for our whole campus, and we have to thank the generosity of the community members—especially the Cooperman Family—for making the project possible. The Cooperman Family Pavilion has enabled us to create a campus that's predominantly private rooms, which fosters more privacy, better infection control and an enhanced experience for patients and families—the design creates a very quiet environment for restfulness. We were able to take our Neonatal Intensive Care Unit from our original facility, where it occupied 7,000 square feet, into the Cooperman Family Pavilion, where it has a footprint of 35,000 square feet. So every baby has his or her own room, with optimal lighting and sound, and if Mom or Dad wants to stay over, we can accommodate them.
MEHL: I understand Saint Barnabas Medical Center has achieved an "A" rating for 13 consecutive cycles from the Leapfrog Group, making it the only one in the tri-state area to be so honored.
Z: That's right, but it's even stronger—we're actually the only hospital in five states, including Pennsylvania and Delaware as well as New Jersey, New York and Connecticut.
MEHL: What does that designation mean for people in the community?
Z: The Leapfrog Group is an independent organization that uses data—mortality rates, infection rates and readmission rates, for example—to examine safety and quality outcomes for patients and their families. It provides a metric consumers can use to choose a location of care.
MEHL: Locally, in Livingston, the medical center has been named "Business of the Year."
Z: Yes. We're very excited to be recognized by the community we serve. We are here to provide exceptional care for our patients and their families, and part of our mission of compassionate care, healthcare excellence and superior service is to be a resource for all of our communities.
MEHL: How does a medical center grow to meet increasing needs and still retain the intimacy and personal care for which community hospitals are known?
Z: One way is by staying in close touch with that community. We offer as well as attend hundreds of community events each year, impacting thousands of people throughout the region. For instance, we offer lung screenings for former smokers who are at risk for lung cancer.
MEHL: As a hospital CEO, you need to look years into the future. What's ahead for Saint Barnabas Medical Center?
Z: With safety and quality as our priorities, we'll continue to look at how we can deliver care more efficiently and effectively. That includes ways to take care of patients outside the hospital. Today's medical center must embrace what High Reliability Organizations call population health management—working with patients and primary care doctors, in particular, to keep patients healthy so they don't require hospitalization. Sometimes that will mean using telemedicine and information technology to monitor patients' vital signs in close cooperation with their doctors and other healthcare providers. When patients do require an episode of care in the hospital, we are there for them. In the future, hospitals will, for the most part, be where the more critically ill patients find themselves—such as those who have had a heart attack or a stroke. Of course, moms will continue to deliver their babies here, and our new Neonatal Intensive Care Unit is ready for those babies who need it.
MEHL: As you suggest, partly to control costs, there's an effort to provide as much care as possible without overnight hospital stays. Yet you also say hospitals must take a broader responsibility for helping us stay well all of the time.
Z: That's the challenge. Health care in the United States has been going through a transition from volume to value—that is, from providing traditional "fee-for-service" medicine that treats you when you're sick to managing patients' health through their whole lives. When we're able to do that successfully, we'll have a healthier population and provide care more efficiently and effectively. That requires working together to make sure patients receive the preventive services they need—vaccinations, regular checkups and assessments of family histories for diabetes, high blood pressure and high cholesterol.
MEHL: Does managing the health of populations conflict with the "personalized" medicine we hear about—for example, advanced treatments geared to an individual's genetic makeup?
Z: No, I believe it's all consistent. We want to improve health overall, and part of that is using advanced technologies such as immunotherapies and genomic sequencing when we can. Fortunately, Saint Barnabas Medical Center's relationship with Rutgers Cancer Institute of New Jersey helps our patients benefit from the latest state-of-the-art treatments in oncology.
MEHL: What's the toughest part of a hospital CEO's job these days?
Z: It's a privilege to serve our patients, their families and the community. But yes, a medical center today must achieve outstanding results in all we do. That's why we focus on being what we call a High Reliability Organization, supporting a culture of high reliability throughout the institution, identifying areas where we excel and constantly striving to become better and better. As an example, our Clinical Excellence and Effectiveness Program, or CE2 (launched a little over a year ago), manages the continuum of care with the finest evidence-based methods and controls costs. We've created pathways that give patients a guidance document that explains every step of the process. Saint Barnabas Medical Center is committed to working with patients, their families, insurers and the community to give people the best outcomes possible—and the finest quality of life.
To learn more about Saint Barnabas Medical Center, please call 973.322.5000 or visit RWJBH.ORG/SAINTBARNABAS