Ada's Gojjo
Find two flavors–Ethiopian and Dominican–at this new Asbury Park eatery.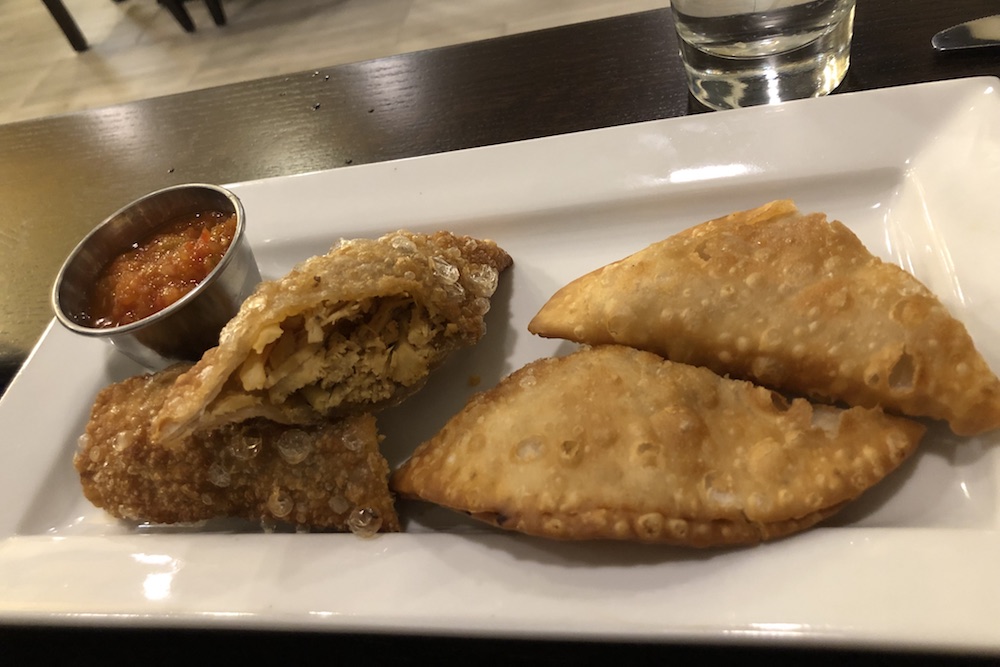 FOR A FLAVOR ADVENTURE that runs the global gamut—from French and Cuban to Japanese and Korean—immerse yourself in Asbury Park's ever-expanding dining scene. And one of its latest additions, Ada's Gojjo, gives this shore town two more Andrew Zimmern-endorsed cuisines: Ethiopian and Dominican.
No, this isn't an experiment or an attempt at an unusual fusion combination. For owner Adanech Asghedom, it's a reinvention. She moved her former Ada's Latin Flavor restaurant from Long Branch to an Asbury strip mall and added separate dishes from her native Ethiopia to the menu. On one side, you'll find Dominican stews, steaks and seafood; on the other are Ethiopian meat and vegetable platters.
After helping a friend move into her new place in nearby Belmar, I treated her to a night at Ada's. The restaurant was filled with a lot of energy for a rainy evening, and the vibe was cozy and relaxed. Following a brief but pleasant conversation with our server, we ordered two Dominican appetizers—empanadas and pastelón de platano maduro. There are a handful of differences between Ada's empanadas and those found in Cuban restaurants and popular food trucks, most notably the freshness and flavor of the meat. Each of the miniature fried pockets, a pair stuffed with crumbling ground beef and two filled with shreds of chicken, were more scrumptious than any others I've had. The accompanying homemade sauce, a spicy tomato-based dip, gave extra oomph to the already flavorful app.
Just as tasty was the pastelón de platano maduro, another traditional dish found in Dominican kitchens. Made with yellow plantains layered on top of cheese and ground beef—likely from the same marinated batch as the empanadas—it's a perfect mesh of sweet and savory.
We mixed it up with our entrees, choosing two Ethiopian plates for our mains. My friend went with doro wot alicha, a tender chicken-on-the-bone dish-simmered in a tomato-based broth and flavored mildly with Ethiopian spices. Our server explained some typical spices that Ethiopian chefs incorporate: turmeric, cumin and ginger, among others. Many of those spices were used in my friend's accompanying vegetable side dishes, atakilt wot (potatoes, carrots, green beans and peppers) and tikil gomen (cabbage, onions). The food is presented on a large piece of injera, a spongy flatbread that's meant to be torn and used to scoop the meat and softened veggies.
I ordered minchet abish, lean ground beef with a spicy and bold turmeric flavor. It was served with my two vegetable sides—kik alicha (turmeric-spiked yellow split peas) as well as atakilt wot. The flavorful beef was a tad spicier than its "mild" menu label, which for my taste was a pleasant surprise but could've been the opposite for a more sensitive palate. And instead of using the tangy injera to gather the food by hand, I shoveled everything into my mouth using a fork.
My method, I admit, was wrong: Eating most Ethiopian food is a hands-on experience. But Asghedom, who visited our table, didn't give me any flak. Instead, she engaged us in friendly banter—a common theme in the restaurant—and even took our dessert order.
We capped our meal with a small piece of flan. The consistency of Dominican flan is my favorite, and Ada's didn't disappoint.
Ada's Gojjo, 1301 Memorial Dr., Asbury Park, 732.222.5005; adagojjo.com