ADELFI E. MOLINA, D.D.S., FAGD
DENTAL ARTS OF HACKENSACK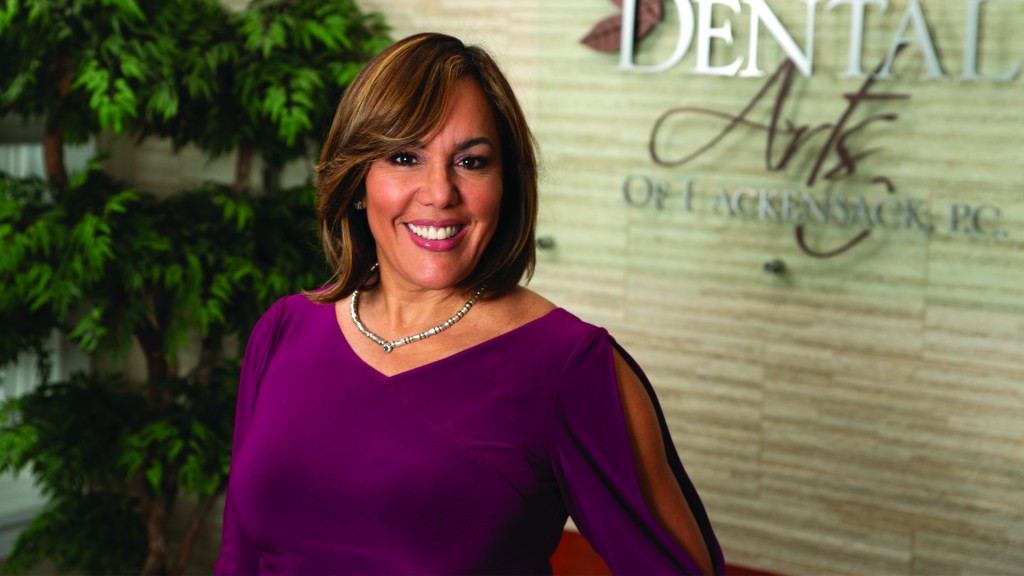 WHEN DR. ADELFI E. MOLINA REFLECTS UPON HER PROFESSIONAL ACHIEVEMENTS, she says her willingness to help others is her most prevailing motive. She blends science and art with great fervor to create beautiful smiles but, more importantly, transforms patients' lives. Dr. Molina's path to dentistry is a story of determination and fortitude demonstrating her staunch dedication to all she touches. In a profession of few Latino women, she is an inspiration to follow your dreams. "I hope to serve as a role model for women all over the world. My message is simple—stay true to yourself, exercise grace and dignity, and success will follow," says Dr. Molina.
Dr. Molina holds two dental degrees, the first from P.U.C.M.M. in her native home in the Dominican Republic. When she came to the United States, she received the second degree in dentistry from New York University. Her passion for dentistry has driven her to further her education in pursuit of excellence, granting her numerous awards of recognition including a Fellowship from the Academy of General Dentistry, among others. In practice, Dr. Molina's first priority is to look at the big picture by integrating dentistry with care and understanding to fundamentally deliver the most comfortable experience with the best treatment approach. Through her state-of-the-art facility, she performs services ranging from Laser and Cosmetic Dentistry to Invisalign, Implants and much more.
Utilizing the best and latest advancements in technology —3D Cone Beam (CT Scan) and CEREC combined with CAD/CAM software—Dr. Molina provides an accurate diagnosis and detailed treatment plan for implants and major restorative cases. With these resources, she is able to precisely design and deliver same day prosthetic restorations. Through her compassionate nature, Dr. Molina is an inspiring and motivating force to those around her. She believes every day brings an opportunity to make an impact on her patients and the community.
176 Summit Ave., Hackensack, NJ 07601 • 201.525.0202 • dentalarts.net