All Decked Out
A Summit family sought to make their outdoor structure more spacious without sacrificing a beloved backyard—or a certain tree.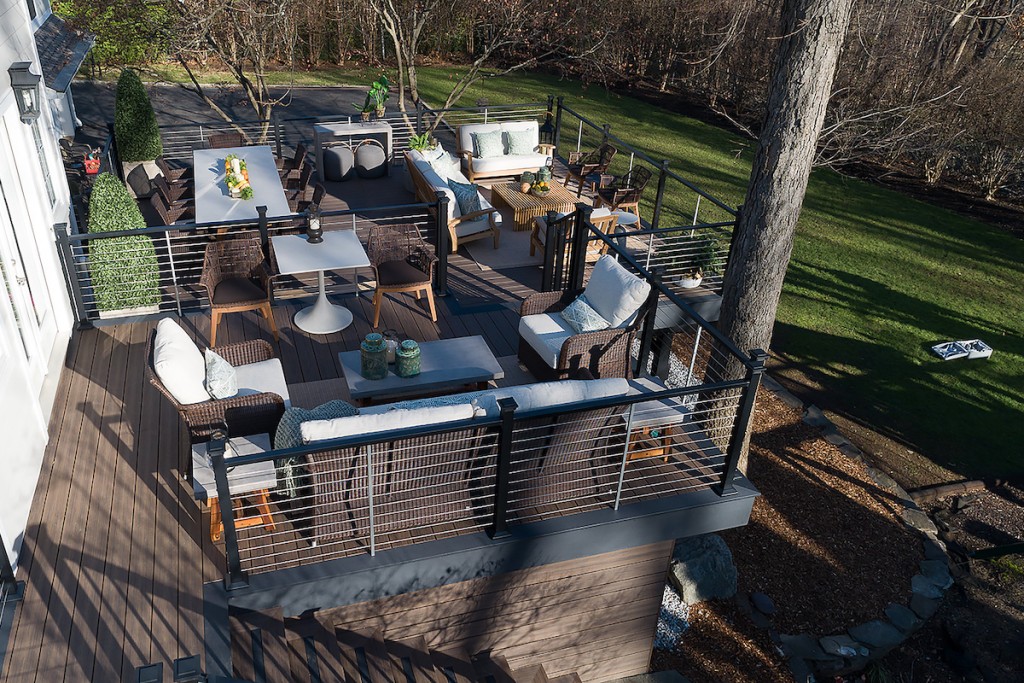 An earth-friendly Summit family never gave up the green grass as they pursued an outdoor redesign, updating their clumsy old deck to make it an entertainment mecca.
Their new, two-tier structure is big enough for the entire gang, with multiple modern seating clusters and a holiday-size table, but it doesn't compromise a cherished backyard. And that was key, because while decks are a snap for parties, this family felt there was no substitute for grass, especially with the little ones.
"It was, hands down, one of the best investments we've made," says homeowner Matthew. "Our previous deck was in rough shape and relatively unusable. Now we are out there all the time hosting guests. It's transformed our backyard."
With this design by Distinctively Outdoors in Parsippany–Troy Hills, put into effect during COVID and completed in late 2020, Matthew and his wife Joanna always feel close to their two school-age children, even when they're playing in the yard. That's because of an elegant cable railing system from Deckorators that doesn't obstruct the view and offers built-in cap lighting for nighttime use.
"That was the one thing they really wanted, to see through to their backyard," says Laura Coyne, designer/general manager of Distinctively Outdoors.
Of course, any project has its challenges, and for this new deck it was a rather large tree. A chainsaw was out of the question. Yet building around the tree would sacrifice gathering space, Coyne says. The solution? "We changed the whole flow of their outside space, and we made it work." So, while the tree reined in the top deck, it had no impact whatsoever on the larger deck a few stairs down—a combo that at least doubled their space.
This was much more than a deck replacement. The couple was thinking about the future when they called on Distinctively Outdoors to design a space that spans the entire width of the colonial. This deck does not include an outdoor kitchen, although Distinctively Outdoors has done many that have that feature. For the present, the couple wanted to focus on creating an outdoor gathering area. But, Coyne says, the deck was built so as to accommodate barbecue features in the future. "Everything starts with the right design," says Coyne.
For oneness with the environment, the couple chose khaya, a walnut brown, from Deckorators Voyage composite decking, which designers bordered in black like a picture frame. As other finishing touches, Deckorators Pro contractor Mercury Decks enclosed the staircases and below the deck, while avoiding potentially unsightly seams in the decking.
The designers staged the furniture, and it was an instant hit, a mixture of teak sofas on the lower level and Savannah brown wicker seating above, with Dune-colored performance cushions that can withstand both the elements and the kids.
One of today's sought-after materials is weathered cement, which gives a variety of tables on this deck a sleek but sturdy look. In contrast to stone, comfort is king with the companion handwoven-wicker chairs, Coyne adds. Weathered cement extends its charm to a pedestal table and a waterfall-edge console paired with versatile poufs that serve as a table or chair.
The teak seating cluster on the lower level abounds in natural beauty "from the oldest part of the tree," Coyne says.
Before Distinctively Outdoors stepped in, the family wrestled with a basic deck that didn't suit outdoor living. Now, get-togethers are the joy they should be. "It worked perfectly," says Matthew. "We preserved everything that we intended but still gave the backyard a fresh, modern look."
Text by Donna Rolando
Design by Distinctively Outdoors
Photography by Michael Einreinhof, Arclight Images