An Even Safer Way to View the Heart
New technology significantly lowers radiation exposure during angiograms.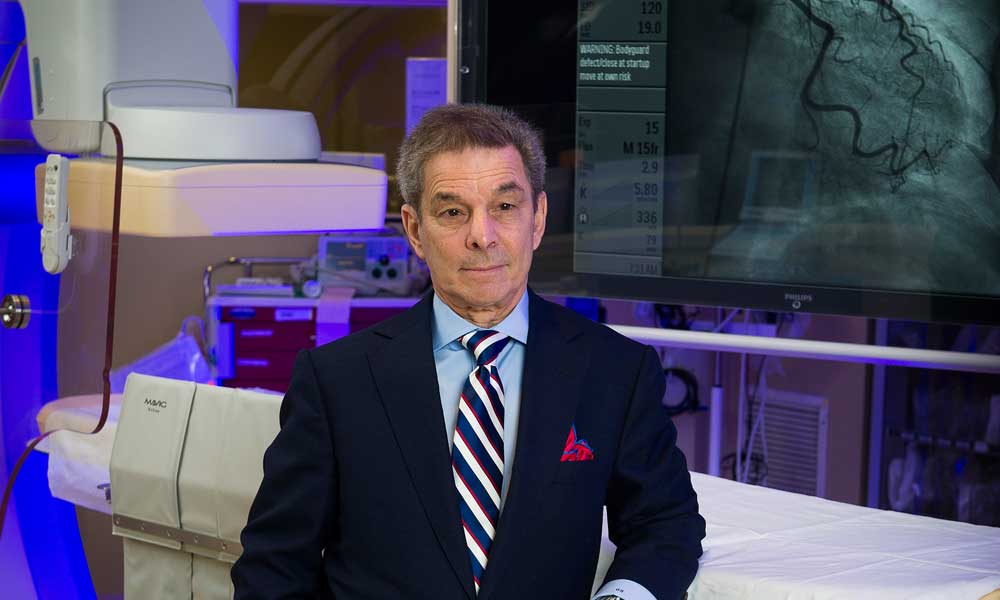 Anyone with a passing interest in medicine knows what an angiogram is by now. Used to identify and assess heart disease, the procedure involves injecting contrast dye and sending a small catheter into the heart. X-ray images then record blood flow in the coronary arteries and the heart's chambers, how well the heart valves work and any defects in the way the wall of the heart moves. This test has been around for decades and, according to George J. Saviano, M.D., associate director of the Saint Peter's University Hospital Cardiac Catheterization Laboratory, "It has not changed in many years." But the technology behind it has—and Saint Peter's has opened a new, state-of-the-art Cardiac Catheterization Laboratory that Dr. Saviano calls "a very big thing."
He's excited about a new machine that offers what's called rotational angiography. This includes a camera that captures a 360-degree, multidimensional view of a patient's heart in just four X-ray image shots, rather than the eight or more that are required with older technologies. Fewer images means a 60 percent or greater reduction in radiation exposure for patients, a level of exposure that is lower than what patients get with any other cardiac catheterization lab in Middlesex and Somerset counties. Not only are procedures safer with this new technology, they are faster too.
Physicians' and technicians' own exposure to harmful X-ray radiation is markedly reduced as well. In fact, when this equipment was used in a hospital in Denver, which Dr. Saviano visited while researching its effectiveness, he learned that radiation detection badges worn by the staff were reporting such low doses "they thought the monitors were malfunctioning," he says.
An additional advantage, says Dinesh K. Singal, M.D., director of the cardiac cath lab, is that with fewer images needed, less contrast dye is required. "In a traditional lab we have to turn the camera around to get different views of the structures and each time we inject more contrast dye," he says. The dye has to be filtered by the kidneys. "A normal kidney has no problem with this, but for older patients or those with diabetes or kidney disease, the process can put stress on the organs." Cutting down the number of injections from as many as seven to 10 to only two or three greatly reduces the chance of kidney damage.
The new angiography technology also features the most advanced flat panel monitor imaging, enabling clearer images of the heart and arteries. Dr. Saviano and his associates at Cardiovascular Interventionalists of Central Jersey—Gary Avendano, M.D., Lawrence Chai, M.D., and Josh Blog, M.D.—have been using the new equipment since last fall for all their angiographic studies at Saint Peter's. The procedures themselves, as he said, aren't new.
"We do what all other cardiac cath labs do—but we add a lot more in terms of patient safety," says Dr. Singal.
To find out more about services available at Saint Peter's University Hospital, please call 732.745.8600 or visit saintpetershcs.com.