An Industry Leader
Monmouth's MRI units get "gold" for safe, cutting-edge imaging technology.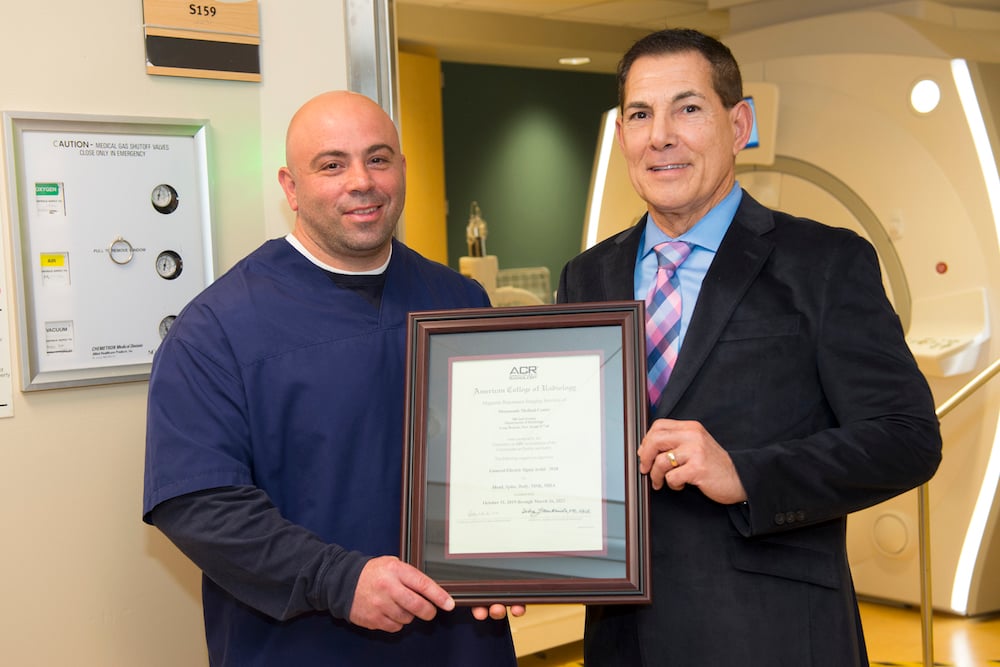 Magnetic resonance imaging (MRI) units at Monmouth Medical Center (MMC) recently received accreditation from the American College of Radiology (ACR), an achievement recognized as the gold standard in medical imaging.
"The accreditation assures patients that Monmouth Medical Center's two MRIs are of the highest quality and that the hospital's Radiology Department offers the safest, most cutting-edge imaging technology," says Tom Piccoli, the hospital's chief medical physicist. He adds that the accreditation was approved for a host of categories, including clinical image quality for the head, spine, body, knee and MRA (examines blood vessels), as well as phantom image quality.
"This accreditation is a very involved process and requires that we document all requirements for equipment, medical personnel and quality assurance," he says.
"The ACR requires the physicist test each coil, including surface, body, breast, wrist, knee, etc., for 10 parameters each, which took at least three days for each unit, and our MRI technologist also had to meet the requirements for each of the clinical images. On the full 22-page report on each unit from the ACR, there was not one recommendation for improvement on either the physics or clinical images."
In 2018, MMC introduced the most advanced MRI, providing patients with state-of-the art technology that increases patient comfort, while helping radiologists and doctors receive more precise imaging through adjustable receiver coils. The scanner works faster than older MRI machines, and produces less noise. This technology is also revolutionary because patients, who may have felt claustrophobic in older machines, can now enter the scanner feet first.
MMC's Radiology Department has always been a leader in the industry. In 2003, it received one of the first CT (computed tomography) scan accreditations from the ACR for safety and appropriate usage. The department was also among the first in Monmouth County to introduce both uterine fibroid embolization, an interventional radiology procedure that shrinks fibroid tumors by blocking their blood supply, and a nuclear medicine department, fully equipped with Gamma and Spect cameras and computer systems.
To learn more about advanced imaging capabilities at Monmouth Medical Center, call 732.923.6800.
CLARIFICATION
In "Experts In Epilepsy" published in the November 2019 issue of Monmouth Health & Life, the biography information for Aviva Bojko, M.D., should have read as follows: Aviva Bojko, M.D., is board certified in Neurology with special qualifications in Child Neurology and in Epilepsy. After receiving her medical education in Italy at the University of Rome La Sapienza, she completed an internship at the Sackler School of Medicine, Tel Aviv University, Israel, before coming to the United States. Once in the U.S., she completed a pediatric residency at The New York Hospital-Cornell University Medical College, followed by a residency in child neurology at The New York Hospital/Memorial Sloan Kettering Cancer Center-Cornell University Medical College, and a fellowship in clinical neurophysiology at Montefiore Medical Center-Albert Einstein College of Medicine. Dr. Bojko is a member of the Israel Medical Association, the American Epilepsy Society and the American Academy of Neurology