An Italian Romance
You won't miss trendy décor or hip twists at Il Mondo Vecchio, a tiny but outstanding Italian BYO on Madison's Main Street.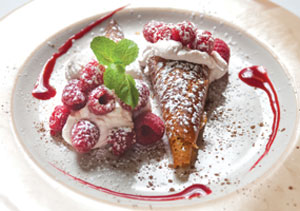 You won't find trendy décor or hip twists on classic dishes at Il Mondo Vecchio, a tiny Italian BYO on Madison's Main Street (the name means "the old world," after all). But who needs them when you have food that's nothing short of outstanding?
Owned by chef Michael Cetrulo (he also runs the pricier Scalini Fedeli restaurants in Chatham and Manhattan), the elegant, romantic eatery is bursting with oldfashioned charms-exposed-brick walls, tin ceilings, dark furniture. But it's the impeccably prepared traditional Italian fare that left our culinary hearts aflutter.
That said, as with any love affair, our romance with the eatery had a few small thorns: The closely packed tables in the main dining room made trips to the restroom a challenge. And as our meal neared its end, a staffer brusquely informed us of a "two-hour table limit" on Saturday nights (we had been dining for an hour and 45 minutes and had ordered everything from "soup to nuts"). What happened to that leisurely leave-as-you-please feeling we enjoy at most upscale Italian restaurants?
But ah, the dishes themselves! Our first starter, zuppa d'otolana-a hearty soup similar to pasta fagioli delighted our palates with a flavorful blend of cannellini beans, bowtie pasta, prosciutto, fresh oregano and plum tomato in a savory broth. The insalata di rugola, which the kitchen kindly split in two, arrived as a generous bed of crisp arugula with fresh buffalo mozzarella cheese dressed with balsamic vinegar and olive oil. We adored the sweet roasted peppers and sundried tomatoes mixed in, though the fresh tomato slices weren't quite ripe and might as well be eliminated when not in season.
The real showstopper was the Portobello alla Milanese-five large wedges of juicy Portobello mushrooms breaded in Parmesan and lightly sautéed with shallots, garlic and chopped tomatoes in a reduced mushroom-and- veal broth. With distinct tones of red wine, the broth was mouthwatering to the last drop.
Our entrées were also divine: Intent on sampling a pasta dish, we opted for the ravioli porcini special and found the heaping portion of delicate porcini-filled ravioli in a light, earthy white truffle cream sauce positively heavenly. The medaglioni alla Gorgonzola consisted of two medallions of perfectly tender filet mignon served in a thick, creamy Gorgonzola sauce. Three asparagus spears, arranged atop the meat, and a side of roasted veggies (carrots, zucchini and a potato) were healthy complements.
For dessert, the warm chocolate torte, served beside a dollop of creamy hazelnut gelato, was sinfully rich with slightly bitter undertones. The cannolocini-two crispy, sweet conical shells filled with an irresistible whipped raspberry Chambord cream with fresh raspberries strewn on top was lighter but equally lovely.
On the whole, our experience at Il Mondo Vecchio was a passionately positive one. We look forward to our next rendezvous.