Andalusian Shellfish Stew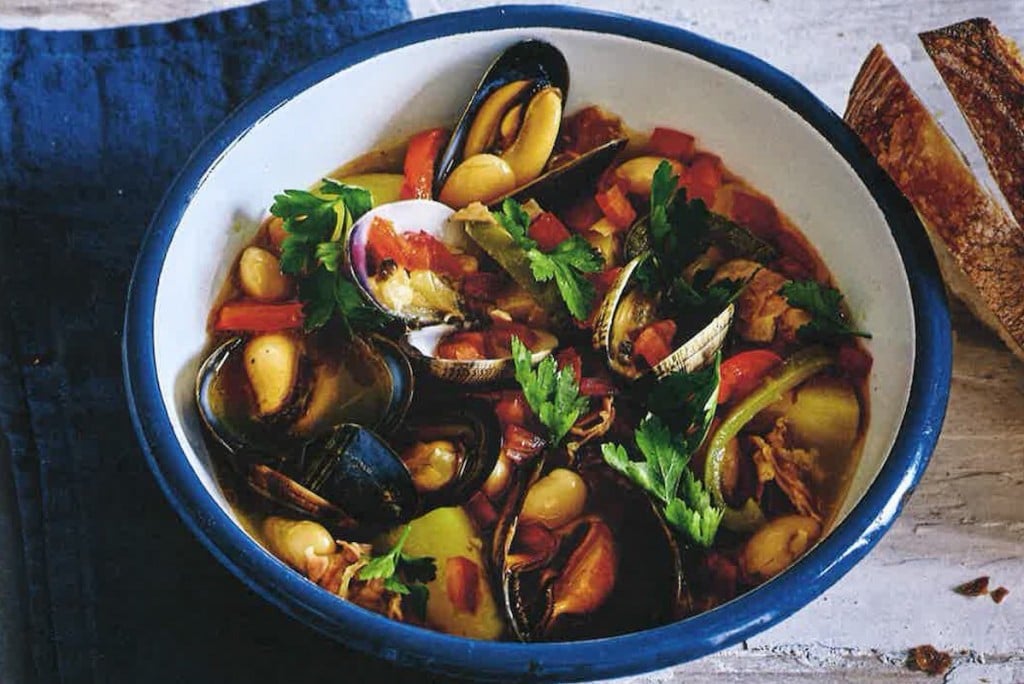 INGREDIENTS
1⁄2 tsp. saffron strands
21⁄2 cups chicken stock
Approximately 6 Tbs. Extra virgin olive oil
2 onions, chopped
2 garlic cloves, crushed
1 large red bell pepper, seeded and sliced
1 large green bell pepper, seeded and sliced
6-12 waxy potatoes, cut into 1-inch dice
33⁄4 oz. piece of Serrano ham, cut into 1⁄2-inch dice
14-oz. can of lima beans or cannellini beans
4 lbs. cockles or mussels, or a mixture, scrubbed and washed really well
sea salt flakes and freshly ground pepper
4-6 ripe tomatoes, peeled and very finely chopped
sprigs of flat-leaf parsley
DIRECTIONS
Put the saffron into a bowl and cover with 2-3 tablespoons of chicken stock. Set aside to infuse.
Heat the olive oil in a 10-inch sauté pan over gentle heat and sweat the onions and garlic for 4-5 minutes until soft and slightly colored. Add the sliced peppers, season with salt and pepper and continue to cook over medium heat for 6-8 minutes until the peppers are beginning to soften.
Add the diced potato, Serrano ham and lima beans and pour in the chicken stock and saffron-infused stock. Bring to a boil and season to taste. Reduce the heat and simmer for about 10 minutes until the potatoes are cooked. The stew can be prepared to this point ahead of time.
Just before you are about to serve, return the pan to the heat and tip in the cockles or mussels. Cover with a lid. They will open in the heat. Cook for 2-4 minutes. Taste the sauce and season with salt and pepper.
Serve in deep soup bowls, topped with finely chopped fresh tomato and parsley. Accompany with crusty sourdough bread to mop up the juices.