Andrew Spector, D.M.D., F.A.G.D., F.I.C.O.I. • Jennifer Hade, D.M.D.
Gentle Dentistry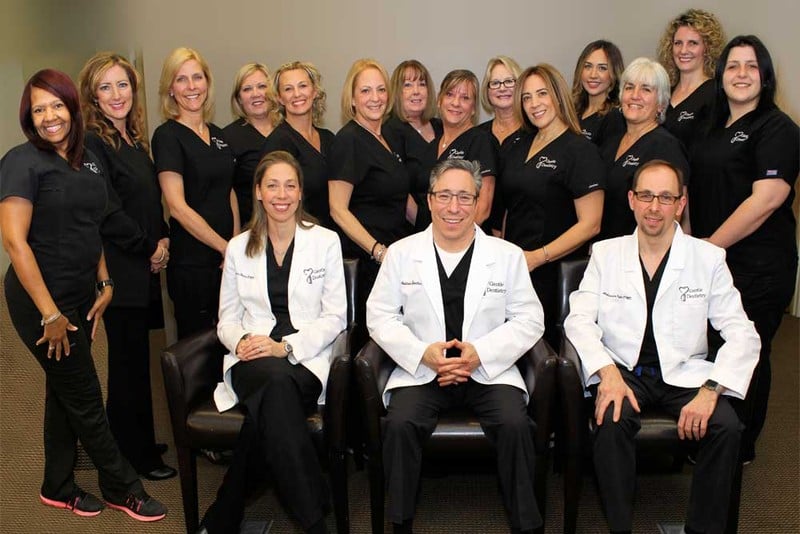 GENTLE DENTISTRY is a state of the art Multispecialty dental practice located in Haworth N.J. "Our goal is simplify all your dental procedures through technology driven minimally invasive technique," says Dr. Andrew Spector. Serving Bergen County and its surrounding areas for over 50 years and continuing the legacy of Dr. Michael Migdal and Dr. Joel Spector, Dr. Andrew Spector and his Associates provide advanced comprehensive dental care for all ages all under on roof. "From the simplest laser child filling to the most advanced implant techniques in the industry patients really appreciate being able to stay in house with us for there care," notes Dr. Spector.
Today, Dr. Spector takes great pride in bringing together his long standing expert team of associates capable of handling any possible dental procedure. His associates Adam Brisman, DMD, is an oral and maxillofacial surgeon, Jennifer Hade, DMD is a general dentist and Invisalign provider and Aleksander Iofin, DMD is a nationally renowned endodontist providing "microscopic endodontic care". "Our staff is unparalleled as a team, we do whatever it takes to make our patients experience comfortable, efficient, and pain-free. They are whom I most deeply appreciate and are a large part of our success in treating our patients the way we do," says Dr. Spector .The doctors and their skilled cohesive staff, all with long tenure in the practice, form a dynamic group prepared to support all of your family's dental needs. Dr. Spector specializes in Implant, Cosmetic, and advanced General care. He is nationally renowned in the field for his expertise using today's latest technologies and has lectured on minimally invasive implant placement nationally for over eight years. "There is nothing we do that we don't also teach, it is all geared to make the best dental experience possible for our patients today."
Gentle Dentistry pioneered the use of CEREC dentistry in 1998 which uses computer-aided design and manufacturing to create ceramic tooth restorations in a single visit. He has taught over 2500 dentists nationally on CEREC digital technology including metal free crowns and porcelain onlays. Dr. Spector is also one of eight national certified trainers for the Solea Laser, the most advanced tooth and gum laser in the field of dentistry which delivers unparalled comfort across a wide range dental procedures. Included amongst only a handful of area dentists certified in the Chao Pinhole Technique, they offer this breakthrough treatment for gum recession. Unlike traditional grafting, this very effective, minimally invasive option is scalpel and suture free. He is also certified in the Hybridge Accelerated Full mouth Dental Implant technique ridding patients of dentures in the most efficient way possible.
Dr. Hade joined Gentle Dentistry in 2004. She is a graduate of Wake Forest University. She Graduated from the university of Medicine and Dentistry of N.J. Dr. Hade completed a General practice residency at Morristown Memorial hospital. She is highly experienced in the use of all the technology Gentle Dentistry has to offer. "Being here over the years and being able to embrace the best of dental technology for our patients has been wonderful," says Dr. Hade.
Dr. Spector is a graduate of the University of Pennsylvania School of Dental Medicine. He completed a two year program in Full Mouth Rehabilitation and a second 2 year Surgical Restorative Implantology program. He has served as Clinical Associate Professor at New York University, teaching surgical and prosthetic implantology and has been awarded a Fellow of The Academy of General Dentistry and The International Congress of Oral Implantology. The office has had the honor of being voted top dentists year after year. A visit to Gentle Dentistry will change the way you view dental care.
173 Terrace St. Haworth, NJ 07641 • 201.384.1611 • gentledentistry.com • bergenhybridge.com