Asbury Park
Arts and culture abound at the popular shore town.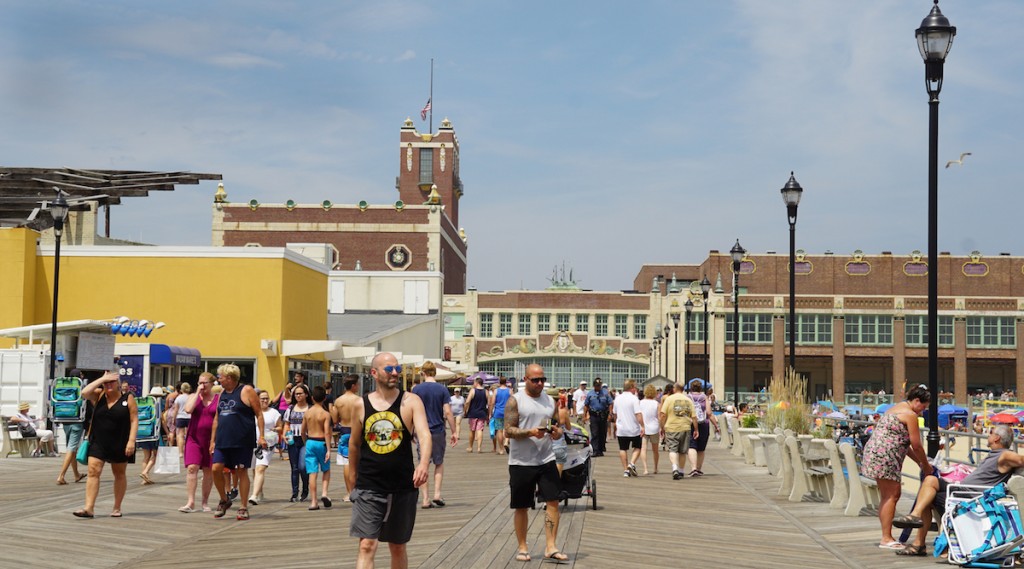 "GREETINGS FROM ASBURY PARK" IS MORE THAN A Bruce Springsteen album title—it's a welcome to the city that was named "America's Coolest Small Town" in 2017 by Budget Travel magazine and the second-best beach destination in the U.S. in 2018 by Money magazine.
With a mile-long beach, an iconic boardwalk, unique boutiques, eclectic waterfront restaurants, the newly restored Paramount Theatre and Convention Hall, Asbury Park has distanced itself from the Springsteen song "My City of Ruins" that was written to help promote the revitalization of the town.
That revitalization is evident in the restaurants and stores that line Cookman Avenue and projects such as The Asbury hotel, which was named the "Best New Hotel" in the country by USA TODAY in 2017. Developer iStar has pledged to invest more than $1 billion in the city over the next decade.
Today, Asbury Park is diverse and progressive with a growing population of artistic residents. In particular, it's welcomed the LGBTQ community—the annual Jersey Gay Pride parade draws thousands to the city, and Garden State Equality's headquarters is on Main Street.
Its history was also one of culture and innovation. James Bradley, a New York City native, founded Asbury Park in 1871, naming it for Francis Asbury, the first American bishop of the Methodist Episcopal Church. Bradley's plan was to develop the location into a residential resort. By 1874 it was incorporated as a borough with a cutting-edge infrastructure that included the boardwalk with pavilions; electric and trolley systems; an artesian well; planned parks and churches; and an oceanfront business district.
Much of the original plan has since been upgraded, including the education system. There are five schools in the city: three elementary schools, one middle school and Asbury Park High School.
DINING
Asbury Park has a variety of options: Brando's Citi Cucina, an authentic Italian restaurant; Barrio Costero, a purveyor of modern Mexican cuisine; and Pascal & Sabine, a European-style eatery specializing in French comfort food. Casual options include Talula's, a pizzeria and community hub; MOGO Korean fusion tacos; and Langosta Lounge, a beachfront restaurant. Need a drink? Check out Asbury Festhalle & Biergarten—it's modeled after an old German beer hall.
FUN FACTS
The stages at Convention Hall and The Stone Pony have hosted musical greats, including Bruce Springsteen, Duke Ellington, The Rolling Stones, The Who, James Brown and Led Zeppelin.
In 1943, the New York Yankees held spring training in Asbury Park.
Actor Danny DeVito (right) of It's Always Sunny in Philadelphia was raised in Asbury Park.
In 1934, a ship named the SS Morro Castle caught fire and beached itself off Asbury Park. Before the ship could be hauled away, it was used as a ghoulish city attraction.
LOCALS LOVE
Attending free bonfires on the beach every Friday from 8 to 10:30 p.m. during the summer.
Watching Indie movies at The ShowRoom Cinema.
Walking along the boardwalk and trying all the different restaurants and nightlife spots.
MEDIAN HOUSEHOLD INCOME
Approximately $36,512, according to the latest U.S. Census Bureau statistics.
HOUSING COSTS
The median home value in Asbury Park is currently $324,500––up 32 percent over the last year. There is no predicted rise for the following year, according to Zillow.