Autumn by the Sea
The charming Victorian town of Cape May is a perfect spot for an impromptu autumn getaway.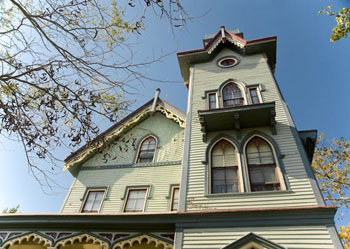 "Seaside charm" doesn't get much more charming than Cape May. America's oldest oceanfront resort (and the first entire town to be named a National Historic Landmark), its streets are bursting with quaint delights. Thanks to its famous "gingerbread" Victorian homes and a host of family-friendly activities, it's a perfect spot for an impromptu autumn getaway when the crowds drawn by its beautiful beaches have departed.
Upon your arrival, you'll want to explore the visual treasure trove—and there are several ways to do so. You can sign up for an entertaining Historic District Walking Tour (609-884-5404, www.capemaymac.org), stop by the Emlen Physick Estate (1048 Washington Street) to buy an audio cassette and tour at your own pace, or hop aboard a Trolley Tour (609-884-5404, www.capemaymac.org)—some feature intriguing titles such as "Pirates and Plunder" and "Cape May Unzipped."
The aforementioned Physick Estate is a don't-miss destination. This Victorian mansion–turned-museum, built in 1878, departs from the Cape May gingerbread, embodying instead the "Stick" style of architecture, featuring bays, towers and a gridwork of boards over clapboard walls. Also Autumn by the sea worth a peek is the Colonial House, built in 1775. Cape May's oldest surviving building, it was originally a tavern and home of Revolutionary War patriot Memucan Hughes.
The 157-foot Cape May Lighthouse (609-884-5404) is proof that "the third time's the charm." The first lighthouse, built in 1823, was carried away by soil erosion; the second, constructed badly in 1847, simply crumbled. This one, from 1859 with a beacon that still aids navigation today, is open to visitors.
Cape May is renowned as a birdwatcher's paradise, and fall "is our busiest season, because of migration," explains a representative of the Audubon Society's Cape May Bird Observatory.The organization has 138 events planned for October alone, from "Hawk Identification Mini-Workshops" to "Songbird Morning Flight." Want to spot larger creatures? Take a two- to three-hour trip aboard the Cape May Whale Watcher or its new comrade, The Spirit of Cape May (609-884-5445, www.capemaywhalewatcher.com).
For high-flying fun, stop by the Naval Air Station Wildwood Aviation Museum (609-886-8787) at the Cape May County Airport. Your kids can check out a Vietnam-era helicopter and sit at the controls of a torpedo bomber from World War II .
The Cape May area abounds in wineries, thanks to the moderating climatic influence of the Atlantic and Delaware Bay. Check out Natali Vineyards (609-465-0075, www.nataliwines.com), Turdo Vineyards (609-884-5591, www.turdovineyards.com) and the Cape May Winery and Vineyard (609-884-1169, www.capemaywinery.com). All offer events or tastings.
When hunger strikes, options are abundant, but here's a tip: At 5:30 p.m. most Thursdays in September, head to the Towne Crier information center on the Washington Street Mall for Taste of the Towne, where you'll sample dishes from local chefs before deciding where to dine. Two notable dining options include The Mad Batter at the Carroll Villa (609-884-5970, www.madbatter.com), set in a landmark 1882 hotel, and The Blue Pig Tavern, located in the renowned Congress Hall (609-884-8422, www.congresshall.com/content/bluepigtavern.html).
When it's time to rest your head, you'll find an array of hotels and bed-and-breakfasts that embody the town's many enchantments. The Chalfonte Hotel (609-884-8409, www.chalfonte.com) is one prominent option. Built in 1876, it's the town's oldest continuously operating hotel. Book a land-side room for as little as $80, or try the Presidential Suite for up to $499. Whichever you choose, be sure to get plenty of rest—an exciting day of exploration awaits when you awake.