Awareness is the First Defense
A manchester woman's immediate action was key in diagnosing and treating uterine cancer.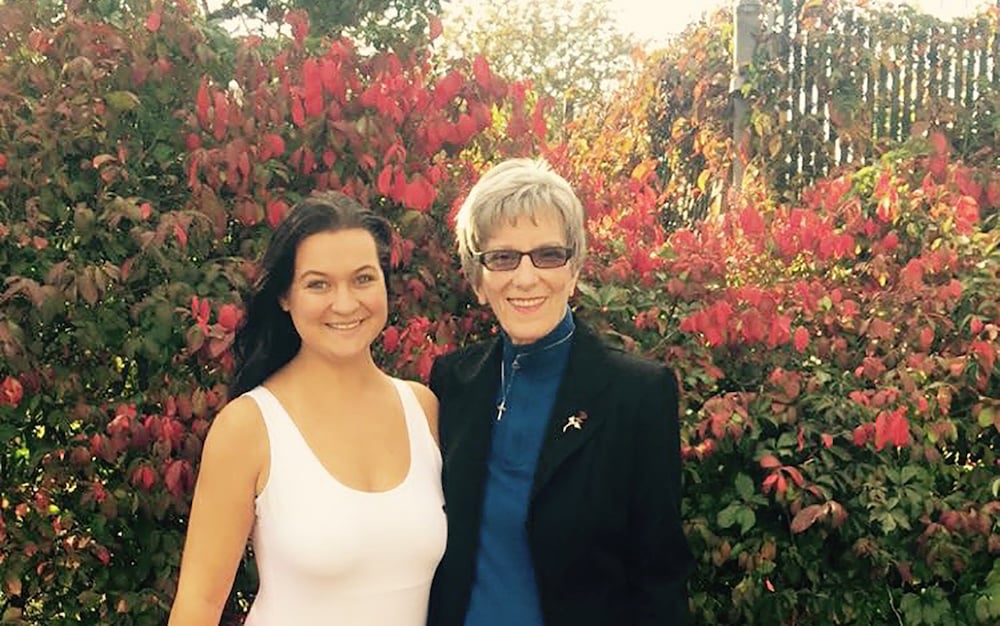 According to the Centers for Disease Control, approximately 71,500 women in the U.S. are diagnosed with gynecologic cancer each year and nearly 26,500 women die from it. Monmouth Medical Center, a leader in advanced gynecological robotic surgery, is committed to educating women that awareness and vigilance are keys to identifying cancer early. Gynecologic malignancies comprise cancers of the female reproductive organs, such as the uterus, ovaries, cervix, vagina or vulva. At times, patients are unaware of the symptoms related to these conditions and delay seeing a doctor.
"In cases of ovarian cancer, for example, patients may have vague symptoms that they may attribute to the gastrointestinal tract, such as bloating, change in bowel habits, intermittent nausea and early satiety, so they may not seek care early on," says Nonna Kolomeyevskaya, M.D., gynecologic oncologist with Monmouth Medical Center and Barnabas Health Medical Group. "By the time they come to us, the disease is at a more advanced stage. When women are more aware of changes in their bodies and the symptoms associated with different types of cancers, they seek medical guidance sooner. Diagnosis at an earlier stage correlates with better prognosis." Signs and Symptoms Vary
Not all gynecologic cancers have the same symptoms, and each individual may experience different ones. Common gynecologic cancer symptoms include: abnormal vaginal bleeding or discharge; pelvic pain or pressure; feeling full too quickly or difficulty eating; bloating and nausea; increase in abdominal girth; changes in bowel movements; abdominal or lower back pain; itching, burning or pain in the vulva; appearance of new lesions or pigmentation on the vulva.
While ovarian cancer—known as a silent killer because of the difficulty detecting it—is frequently diagnosed after it has spread, women with certain types of uterine cancer are often diagnosed earlier.
"The most common and typically the only symptom of uterine cancer or pre-cancer is postmenopausal bleeding or spotting," says Dr. Kolomeyevskaya. "This frequently brings women to their gynecologist for an initial evaluation."
One Woman's Fight
Such was the case with Loretta Schuck. When the 77-year-old Manchester resident noticed a small spot of blood after urinating, she immediately contacted her gynecologist. "I knew something was up, and that I needed to have it taken care of," she says.
Loretta acted promptly, quickly scheduling an appointment with her gynecologist. After a sonogram and biopsy revealed the cause of the bleeding was cancer, likely uterine cancer, she enlisted the help of Dr. Kolomeyevskaya. Based on Loretta's test results, Dr. Kolomeyevskaya recommended Loretta undergo a total hysterectomy with removal of ovaries and fallopian tubes along with removal of the lymph nodes.
Dr. Kolomeyevskaya performed Loretta's surgery at Monmouth Medical Center a short time later. Using minimally invasive robotic technology, Dr. Kolomeyevskaya performed surgery through small cosmetic incisions across Loretta's abdomen—resulting in faster recovery, minimal abdominal discomfort, essentially no blood loss, short overnight hospitalization and an overall quick return to normal daily activities.
"In the past, these procedures were all done via open surgery with a big vertical midline incision across the abdomen resulting in a longer hospital stay, longer recovery, more pain and more time required before returning to normal functioning," says Dr. Kolomeyevskaya. "This approach expedited Loretta's recovery, which in turn allowed her to move ahead with other treatments without delays." Loretta was discharged from Monmouth Medical Center the following day and spent the next few weeks at her daughter's home recovering. "The healing was phenomenal," she says. "All along I felt very good. I was never in agony and stopped the pain medication within days—all of which I attribute to Dr. Kolomeyevskaya's skill and the robotics."
Because the results of Loretta's hysterectomy confirmed the diagnosis of Stage IA serous uterine cancer, the chosen course of treatment was chemotherapy followed by radiation and completion of chemotherapy. Loretta underwent three cycles of chemotherapy over the course of three months. Following a short break, she was then treated by high-dose rate brachytherapy to destroy the cancer cells, while sparing her normal, healthy tissue.
Now, at the beginning of her second round of chemotherapy, Loretta credits her success to her quick decision to seek treatment, the tremendous support of her family and friends, the power of prayer and the high quality of care and compassion from those treating her. "Hearing you have cancer is not light news, but when you know you've gotten it early, that all the care you're getting is state-of-the-art and delivered by gifted doctors and nurses, it's not the nightmare it used to be," she says.
How to Protect Yourself
"Women should seek prompt medical care if they develop any new symptoms, and know their family medical history," says Dr. Kolomeyevskaya. "Those with close family members who have been diagnosed with colon, breast, uterine or ovarian cancers, especially affecting several generations or diagnosed at a younger age, may benefit from genetic counseling. Regular pelvic exams, even when a Pap test is not indicated, can help with diagnosis. Many conditions, including certain types of gynecologic cancers, can be picked up on the exam. Most importantly, always be aware of your body. Any changes should be a sign to see your doctor," she emphasizes.
Gynecologic oncologists
Committed to Women's Reproductive Tract Health
It is so vital that women with cancer of the reproductive tract be accurately diagnosed and managed for the duration of their illness, as appropriate treatment and follow-up mean the difference between mere survival and a return to good health. Gynecologic oncologists are the physicians most experienced in nuances of reproductive tract cancer surgery and are experienced in the selection and sequencing of treatment modalities likely to benefit the patient while minimizing the hazards of over-treatment or under-treatment. The Gynecologic Oncology Program at the Leon Hess Cancer Center at Monmouth Medical Center is dedicated to addressing the individual needs of each patient in a caring and supportive environment. Gynecologic oncologists work with primary care and OB/GYNS to assure a continuity of care during a patient's treatment.
Monmouth's gynecologic oncologists are the most experienced in the region in robotic hysterectomy, an advanced surgical procedure with benefits including less pain and blood loss, fewer infections and a significantly shorter recovery time. This minimally invasive advanced laparoscopic surgery employs state-of-the-art robotic technology and magnified 3D vision. The robotic micro-instruments translate the precise movements of the surgeons' hands while high-definition scaled 3D imaging allows for optimum viewing and manipulation of sensitive nerves and tissues.
Additionally, Monmouth was the first in the region to offer remote after loading high-dose rate (HDR) intracavitary brachytherapy. This outpatient procedure dramatically reduces a woman's hospital stay from several days to several hours. Advances in radiation treatment such as HDR brachytherapy have dramatically improved the outcomes of diseases such as endometrial and cervical, and even ovarian, cancer.
To learn more about the gynecologic oncology program at Monmouth Medical Center, call 732.870.5500.
To share this article with a friend or to recommend it on your Facebook page, visit monmouthhealthandlife.com.