Back Home By Nightfall
Same-day hip replacements at Saint Barnabas have patients climbing stairs within hours.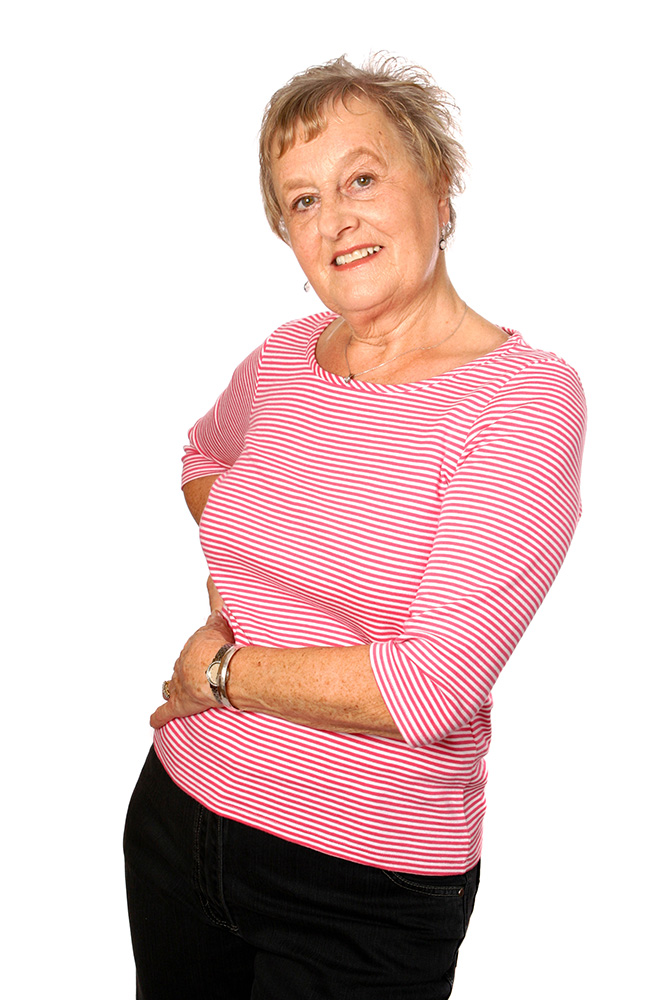 Hip Replacement is on the rise. From 2000 to 2010, government statistics show, the number of people between ages 45 and 54 who had total hip replacement procedures jumped by 205 percent. And with new implants and improved surgical techniques, these surgeries have kept increasing among baby boomers not ready for the rocking chair just yet.
In fact, some people can now get a new hip without even spending a night in the hospital. Saint Barnabas Medical Center's Same-Day Hip Replacement Program allows patients who qualify to come in for surgery early in the morning, gets them walking up steps by the afternoon and sends them home for dinner that evening. You could say it's not your father's hip replacement.
"Appropriate patients don't even have to pack a toothbrush," says Luciana C. Mullman, manager of specialty surgical programs at the hospital.
The program has been in operation for about a year, thanks to the insistence of orthopedic surgeon Timothy Henderson, M.D. "We were approached by Dr. Henderson, who was interested in same-day hip replacement and wanted to provide it for his patients," says Brian George, administrative director for clinical operations. "We are always looking for the latest and greatest technologies and care pathways, and same-day joint replacement is the future.
Indeed, it's the present, at least for hip surgery. (Same-day knee replacement is more complex and probably a few years off.) To qualify for same-day surgery, patients need to meet certain criteria—for instance, their body-mass index must be below a certain level and they must be in generally good health beyond the hip.
Patients who meet the requirements and are approved for same-day surgery by Dr. Henderson first attend an informational seminar with Mullman. "My role is to educate all patients having joint replacement surgery," she says. "Whether they're going to stay overnight or not, it's in their interest to learn about the procedure and ways to take good care of themselves."
The seminar covers many topics. Mullman talks about preparing the home by removing potential fall hazards like throw rugs, having pre-cooked meals at the ready, moving items to be easier to reach and having a support system in place. "You won't need someone 24/7, but you should have a friend or family member ready to help," she says.
Mullman then covers "pre-habilitation"—preparing for surgery—by, among other things, using an antiseptic body wash the night before surgery to help reduce infection and speaking with a physical therapist about a home exercise plan, which patients are encouraged to start prior to surgery. "The better shape you're in coming in, the better shape you'll be in leaving," she says. "We have patients work on conditioning muscles that will help support their new hip."
Dr. Henderson talks about the surgery itself, what implants he uses, how recovery will proceed and what medications he prefers for pain management. "Our goal is to manage pain after surgery, so our pain specialists and surgeons have created a pain management protocol to minimize discomfort," Mullman says.
Patients having same-day surgery arrive at Saint Barnabas Medical Center early in the morning and leave the medical center that evening. Dr. Henderson enters the leg from the front in order to spare muscles and ligaments from cutting, as is necessary in more traditional, rear-entry surgery. Once the patient wakes up in the recovery room, he or she begins the rehab process almost immediately. A physical therapist helps the patient get out of bed and walk to a chair with crutches. Then it's time to begin walking around the unit. Eventually, patients practice on a small set of stairs in the recovery room.
"That is really remarkable to see on the same day as surgery," George says. "A year ago they would walk with a walker on wheels. These patients are skipping that step and going right to crutches."
Patients must be able to handle 10 to 30 stairs before they can be discharged. For most, that's not a problem. "Our patients are leaving the medical center in the evening on the same day they have surgery," George says. It's really amazing; 15 years ago patients stayed a week in the hospital. That changed to a three-day stay and recently to one or two days. Now these eligible patients aren't even here 12 hours."
And that's just how today's active hip transplant patients want it. "Today, implants are much more durable than they used to be, so people can undergo replacement procedures younger," Mullman says. "Some people put off having a replacement because they need to get back to their routine quickly and don't want a procedure that will have them laid up for months. But it's not like that now. If you need to have your hip replaced, you don't have to wait—and you shouldn't wait."
To find out more about the Joint Institute at Saint Barnabas Medical Center, please call 973.322.9908 or visit barnabashealth.org/sbmc.