Back in Action
A crossfire enthusiast returns to his active lifestyle after knee replacement surgery.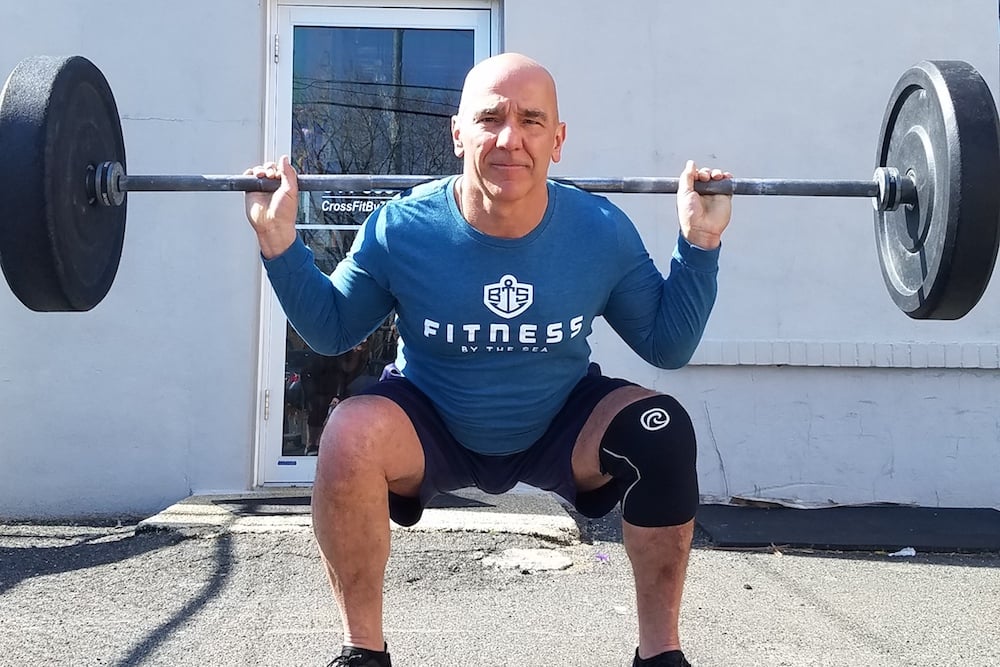 TWENTY YEARS AGO, BILLY HARMER was sledding with his kids in Vermont when he lost control and slammed into a parked car. The impact fractured of his left tibial plateau, the top of the leg bone that creates the knee joint. He had that injury surgically repaired, and needed three more operations over the next two decades to remove torn cartilage caused by his incredibly active lifestyle that included half-marathons and Tough Mudders, mountain climbing and a variety of sports. He also was a regular at CrossFit competitions.
By last fall, though, there was no cartilage left to prevent the bones in his knees from rubbing together. The pain and swelling caused by arthritis and bone-on-bone contact became too much for him to bear. "In October, I said I can't do this anymore," says Harmer, 55, of Wall Township. "My right leg was compensating, and my back was thrown out of whack." His orthopedic surgeon, Christopher Spagnuola, M.D., recommended total knee replacement. "I was fully on board. I said, 'Let's do it,'" recalls Harmer, a facilities manager of Boutique and Outlet Services at LVMH Watch & Jewelry USA in Springfield.
Dr. Spagnuola performed the surgery at Monmouth Medical Center (MMC) in November. It was a bit more complicated than other knee replacements, he says, because of Harmer's previous surgeries. "I had to remove the screws from the earlier surgery, and there was some tough scar tissue to get through," he says. But the surgery was a success. "The goal is for him to get back to being active, not just decrease pain," Dr. Spagnuola says. "His lifestyle was altered, and we wanted to return him to his natural state."
Treatment at MMC was top-notch, Harmer says. "From preregistration to the end, the staff at Monmouth Medical Center took care of me. I didn't want for anything. And their in-house therapy was aggressive, which I loved." Harmer admits that the recovery was challenging.
"It was definitely painful. They push you more than they did when I had my first surgery 20 years earlier. I was walking a few hours after surgery," he says. But as an athlete he knew that "you get out of it what you put into it." Sometimes, in fact, he put too much into it. "Some days, my physical therapist said I had to scale it back, take a couple days off and recover. He said, 'This is a year-long recovery. You can't do it in two months.'"
Harmer was back to work by mid- February, and he re-enrolled in CrossFit later that month. He says he is about 80 percent fully recovered. "I do physical work, and I am more sore at the end of the day," he says. There is still some slight pain, which he tolerates, "knowing it will go away in few months."
But he also realizes that some of his previous activities may be behind him.
"We want to get him as close to what he was doing before as possible," Dr. Spagnuola says. "Running—he might not be able to do that." Anything with jumping or quick cutting, like basketball, is also out. He can, however, play doubles tennis, lift weights, bicycle and even compete in a modified CrossFit.
"That's fine," Harmer says. "You make adjustments."