Battling Cancer
Only the best hospitals are accredited for the "front lines" in this long struggle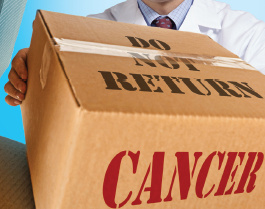 President Richard Nixon famously declared "war" on cancer in 1971, when he signed the National Cancer Act, but the battle really began decades earlier. In 1922, the American College of Surgeons (ACOS) established the Commission on Cancer, a consortium of professional organizations dedicated to improving survival rates and quality of life for patients with this dreaded cluster of diseases.
The Commission sought to set standards in prevention, research, education and the monitoring of comprehensive quality care. "Only by standardization of measurements can you say whether a hospital is doing a good job," says Gopal Desai, M.D., chairman of Radiation Oncology at Saint Peter's University Hospital. Those hospitals that meet or exceed these measurements earn accreditation by the Commission.
There are currently more than 1,500 Commission-accredited cancer programs in the United States and Puerto Rico, including Saint Peter's, which has been accredited since 1985 and recently was granted a new three-year accreditation with commendation. Although such a designation applies to just 30 percent of all hospitals, they diagnose and/or treat approximately 80 percent of all new cancer patients. In other words, only those hospitals on the front lines of the war on cancer, those that have committed to providing the highest level of quality cancer care, receive this highly regarded commendation.
"It's a great honor and accomplishment," says Bruno Fang, M.D., an oncologist with Central Jersey Oncology Center in East Brunswick.
The Commission on Cancer designates hospitals that provide:
• comprehensive care, including a range of state-of-the-art services and equipment,
• a multispecialty, team approach to coordinate the best treatment options,
• information about ongoing clinical trials and new treatment options,
• access to cancer-related information, education and support,
• a cancer registry that collects data on type and stage of cancers and treatment results and offers lifelong patient follow-up,
• ongoing monitoring and improvement of care, and
• quality care close to home.
Obviously, the standards are high. But they need to be to fight this war. "Credit goes to the ACOS," says Dr. Desai, a fellow of the organization. "Before any other group, it organized to find better ways to treat cancer."
Related Read: Fighting Prostrate Cancer with the Cyberknife