Be There
December | January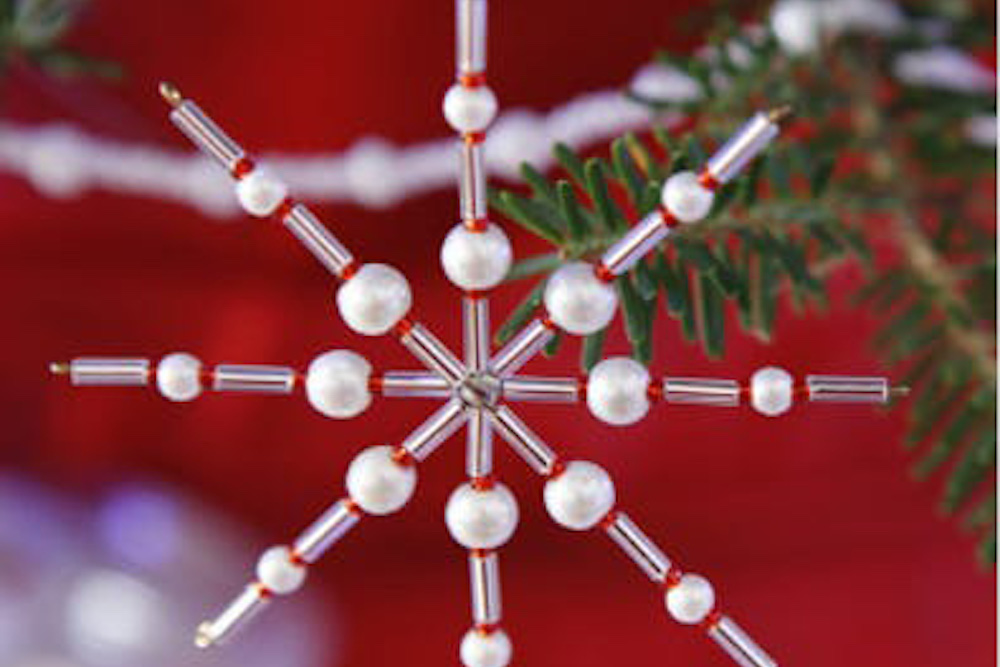 DEC 7 Ornaments are classic holiday decorations that you can hang on your tree for years to come. If you're going to have it for years, why not make it personal? The Eclectic Chic Boutique in Montclair is hosting an ORNAMENT MAKING WORKSHOP that will allow you to create a wondrous holiday ornament. From 7 p.m.-9 p.m., choose from three patterns and create the ornament using beads and wire. You could keep the ornament for yourself as a festive holiday memory or use it as a gift! All materials are provided at this BYOB event, so you'll only need to bring yourself, a bottle and your artistic side! Tickets: $20. Visit eventbrite.com to purchase tickets.
DEC 14 Experience the spirit of Christmas at the CANDLELIGHT READING OF A CHRISTMAS CAROL 2018 in Kingsland Manor ballroom, Nutley. From 7 p.m.-10 p.m., take a trip back to the 19th century as you listen to John McCullough read the classic Christmas story written by Charles Dickens. Stick around until the end; holiday refreshments will follow the reading. This event is recommended for ages 12+. Tickets: $15. Visit eventa.us for more info.
DEC 15 Enjoy an evening of good food, good drinks and a good cause. Morristown's finest bars and taverns are participating in ANGELWISH HOLIDAY PUB CRAWL, 6 p.m.-9 p.m. The Laundromat, South Street Social, Iron Bar and Horseshoe Tavern are joining in to help raise money for Angelwish, an organization that grants holiday wishes to children living with chronic illnesses. Festive holiday attire is encouraged. Tickets: $40. Visit eventbrite.com for more info.
DEC 29 Teach children the importance of cooking and healthy eating at the KIDS COOKING CLASS by Dietitian Kimberly at Randolph's Weis Markets, 10 a.m.-11 a.m. Meet Kimberly by the produce and prepared food sections, where she will be showing kids two to three no-cook recipes using healthy and tasty food. This class is FREE and recommended for ages 5-10. Sign up by contacting Kimberly at kasman@ weismarkets.com or 973-442-5539.
DEC 31 The 27TH ANNUAL FIRST NIGHT MORRIS COUNTY 2019 NEW YEAR'S EVE EVENT, from 4:45 p.m.-12 a.m., celebrates the new year with 70 performances, including dance, theater, music, visual arts, world culture and children's programs.This event is family friendly and substance- and alcohol-free. Tickets: $20. Go to firstnightmorris.com for more info and to purchase tickets.
JAN 5 & 6 Calling all crazy cat ladies (and gentlemen)! You won't want to miss THE CENTRAL JERSEY CAT FANCIERS CAT SHOW at The Hanover Marriott in Whippany, 9:30 a.m.-5 p.m. on Saturday and 9 a.m.-4 p.m. on Sunday. More than 200 cats are expected to compete. There's even going to be a special category for kittens and household pets. If watching all the incredible cats inspires you to take your own home, Angel Paws, a rescue group, will be in attendance with homeless pets up for adoption. Tickets: $10 adults, $7 seniors, $7 children 4-12, and under 4 is FREE. Visit ticama.org/cj for more info.
JAN 6 There's no better way to start the new year than with a laugh. So, kick off 2019 right by attending the LAUGHTER YOGA IN THE PARK class in Yanticaw Park, Nutley. The half hour class starts at 10 a.m. and is hosted by The Love Guru, who will present standing moves only and include exercises that will increase happy hormones and decrease stress hormones. Bring comfortable clothes and a water bottle as you laugh and stretch your way into a healthier state of mind. Tickets: $20- $25. Visit eventbrite.com for more info.
JAN 11 All are welcome to watch the stage play NOT THIS TIME, presented by Endurance Productions. Swing by the Upper Montclair Women's Club for a night full of laughter and tears for the whole family. The play details the life of a family that looks perfect on the outside but is actually falling apart. Since this is Endurance Productions' first show of the New Year they'll have raffles and giveaways. Tickets: $25. Visit eventbrite.com for more info.